20 Awesome Personalized Gifts You Can Buy On Etsy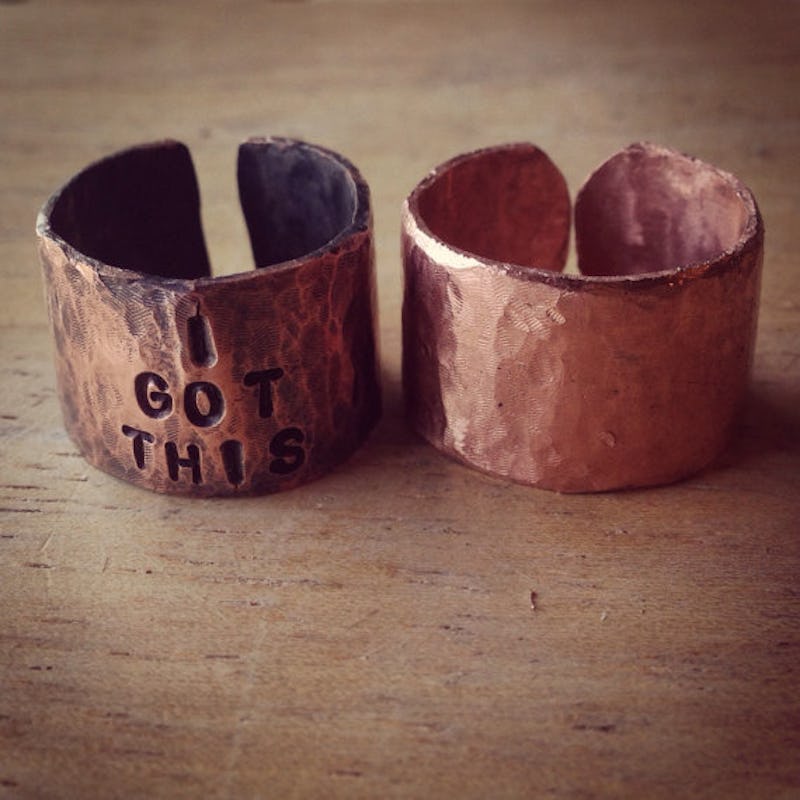 I know that some people think the perfect gift idea is one that will make people laugh, but I happen to think it's one that is as equally likely to make them laugh as it is to make them cry. In my experience, the best way to hit that sentimental/funny sweet spot is through a custom, personalized, handmade gift, because they combine the beauty of inside jokes with true foresight and thoughtfulness. But where to find them? If you're not sure, clearly, you haven't heard of Etsy.
In the great wide world of craftsmen that is the online artisan marketplace Etsy, there are seemingly endless options to choose from: customizable hidden message rings, morse code bracelets, and personalized quote posters, just to name a few. I've spent more time than I'd care to admit perusing options, so I thought I'd put my online shopping habits to good use and share some of the best personalized gift ideas I've found among the many, many options on the site.
Pick one of these 20 personalized, custom handmade gifts out this holiday season for your boo, your best friend, your mom, your dog — or even yourself — and rest assured that not only are you getting a great gift, but you're also supporting independent artists.
1. Custom Pet Portrait Pillow
For the person who couldn't love their pet more, this artist will take a photo of their pet and turn it into a pillow. Pretty cool. Pretty creepy. (One of my favorite combinations.)
ShebboDesign, $69.00
2. Latitude Longitude Sterling Ring
Yes, you could give your special someone the coordinates where you met or got married, but this could also make a great inside joke with a friend — the place a super-embarrassing moment happened, or the location where you decided you'd be friends forever.
YorkAvenueStudio, $29.80
3. Personalized Map Print
Pick two locations and this artist will make them into one customizable heart-map. Yes, this is a cute wedding or moving present, but it could also make a great gift for someone who wants to remember where they came from — and where they're going.
Paperbility , $72.50
4. Any State Cutting Board
This is perfect for the friend who has mad hometown cooking pride. Even better, you can put her name, or whatever inside joke you want, in the middle of her state.
SayAnythingDesign, $39.50
5. Hand Stamped Bookmark
For the book lover in your life, this is the perfect way to let them know you get them. (Or know their favorite passage.)
SKbeadsandcharms , $20+
6. Custom Dog Tee Shirt
Now this is truly an inside joke, since I'm pretty sure the dog can't read.
lcdezines, $25.00
7. Hidden Message Skinny Tie Bar Clip
You could obviously get more creative with your custom engraving, but this is great for the person who wears a lot of ties (or perhaps takes a lot of business trips...)
CelebrateToday, $20
8. Custom Boxer Briefs
Why not take it a step further and literally stamp your name on his junk?
minjing, $19.90
9. Fingerprint Ring
This would be creepy if it didn't look so damn cool. They suggest this for a baby shower, if you can get your hand on the baby's prints, that is.
harmonywinters, $95.00
10. Custom Quote Poster
I ordered one for my friend with a personalized quote this year, so I can attest that this seller is reliable and that the end result is awesome. Perfect for an inside joke, or for a quote that you know will inspire them.
TheBookwormPrints, $18.69
11. Custom Moon Phase Necklace
Now this is just cool. Pick a special date in someone's life, and this artist will make a necklace (or ring) based on what the moon looked like that day. Also maybe a good first period present for your niece?
AlejandraGiannoni, $33.69
12. Custom Inscription Spinner Ring
I used to have a spinner ring, and let me tell you, it was really fun to play with. This handmade recycled sterling silver ring takes it next-level by letting you inscribe a secret message that the spinning bands will cover. The person wearing this is bound to feel like they have a secret note in their pocket all day long.
TwoSilverMoons, $92.00
13. Custom Coffee Mug
You really can't go wrong with this one. They'll think of you every groggy morning.
SushiandQueso, $22.00
14. Copper Cuff Unisex Ring
For those you want to send an exterior (or interior) message to all day long.
traceytomtenephoto, $36.36
15. Custom Tea Infuser
For the sentimental tea lover in your life.
KellectiveDesigns, $13.48
16. Puzzle Necklace
An inside joke to be reckoned with, this artist will take a phrase or a few words and turn it into a custom word search.
DMCharmCo, $55.00
17. Custom Morse Code Message Silk Bracelet
Spell out a special message or a name using morse code dashes.
MinimalistMeDesigns, $15.58
18. Custom iPhone Case
Make their iPhone truly unique.
AfterImages , $12.99+
19. Personalized Guitar Pick
For the guitar player in your life. Go with the pun above, or whatever phrase you'd like.
DMCharmCo, $18.00
20. Custom Cross Stitch Family Portrait
You could either use this to make your mom cry, or you could take it in some truly hilarious roommate directions. The possibilities are really endless.
clothandtwigshop, $50+