11 Holiday Books For Your Book Club Festivities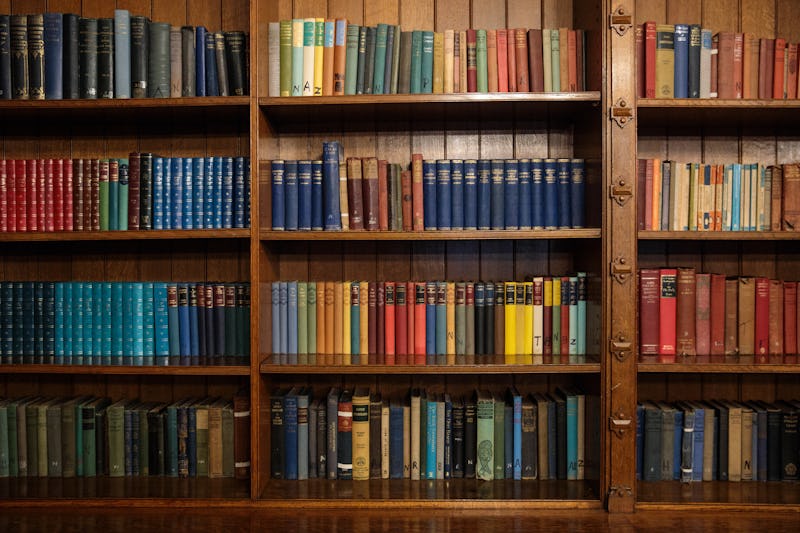 Jack Taylor/Getty Images News/Getty Images
Picking out the next incredible book club book is no easy task, but if there's one thing you can all probably agree on around this time of year is that choosing a book focused on the holiday season is a step in the right direction. Reading about winter snowstorms, Christmas morning, and yummy holiday treats on the page makes everything around you feel even more magical. Even though it may be cliché, the thought of sitting next to the fireplace with a book taking place during New Year's Eve just as that time of year approaches is a comforting and wonderful experience.
There are plenty of classic holiday books like A Christmas Carol and fun ones to read to kids like The Polar Express, but for your book club you want something new — something that inspires conversation and excitement within your group. Because the best part about being in a book club is getting to gush over beautiful writing, fun characters, and relatable (or non-relatable) circumstances.
From Christmas to New Year's Eve, and the many other holiday festivities before and after, these books are sure to be perfect fits for your December and January book club reads. So grab a blanket and cozy up somewhere nice, because these 11 stories are just as impossible to resist as that second gingerbread cookie.
With the new year quickly approaching, it's safe to assume resolution lists are being scribbled down, and probably talked among your book club group. Bridget Jones's Diary , a hilarious and straight-up delightful story about a woman who is determined to lose weight, become a better person, and learn new things — like how to record on her VCR machine — during the new year is a perfect fit for your book club this holiday season if you all haven't already read it. Your entire group will easily relate to Bridget Jones, and will more than likely spark a few anecdotal stories between everyone to share, which is what being in an awesome book club is all about!
If you already read and loved David Sedaris's Santaland Diaries, this is the next book you should add to your book club TBR list. This collection of Christmas stories that are painfully funny captures the outrageousness of this time of year, and it isn't afraid to show the darker side of the seasonal blues. You Better Not Cry also dives into Burroughs' dark family past, substance use, and some difficult holiday experiences.
If you live somewhere where a white Christmas is inevitable, The Snow Child is the perfect book to read with friends this season. It captures the story of Jack and Mabel, two newcomers to the harsh land of Alaska, that are breaking apart like thawed ice as the stresses of being childless and overworked wears them down. But during the first snowfall, the two build a child out of snow, and the next day it's gone — only to be replaced by a small blond girl running through the wintry forest. Over time, the couple come to love this fairy-tale snow child as their own, only to be reminded of how quickly things disappear in this violent Alaskan climate.
Alice Hoffman's novels are ideal for book clubs as they're filled with intricate story lines and magic that sparks as you turn each page. The Red Garden starts off during a brutal winter in 1750, when a group of settlers get stranded in Massachusetts and decide to form a town. Hoffman covers 250 years, multiple generations, and the captivating stories that make up this mysterious, mystical town. This book doesn't revolve around the holidays, but it does capture the importance of family, history, and the sense of home all in one which is something everyone looks for around this time of year.
I love reading young adult books around the holidays because so many of them are filled with hope, along with overwhelming emotions that enhance the spirit of the season. This co-written, spontaneous, and exciting adventure story of a boy and a girl whose paths cross during Christmas Eve is one you and your book club will never forget. Dash has no desire to celebrate Christmas this year, but Lily does, and when she leaves her red notebook on her favorite bookstore shelf full of clues on how to find her, something within Dash tells him to listen and find this girl in the busy, holiday-lit streets of New York City.
This heart-breaking and gorgeously written novel is a must read, as far as I'm concerned, for every midwestern book club during the winter. Campbell writes the story of Margo Crane, a nearly silent, resilient, and strong-willed 16-year-old who recently lost her father and sets out on a journey to find her runaway mother along Michigan rivers. But even with a rifle in hand and her survivalist mind, a brutal winter along a frozen river is no safe place for Margo. This novel isn't afraid to reveal the truth behind how deep family rivalries can go, and how strong you must be to face a midwestern winter alone.
If your book club is in search for a historical-fiction novel to sink your snowshoes into this winter, then look no further. City of Thieves takes place during the Nazis' siege of Leningrad, and when two survivors are given the chance at saving their own lives, they'll do whatever it takes. Lev and Koyola set out on a mission to find a dozen eggs for the Soviet colonel to use in his daughter's wedding cake in the war-driven and frozen landscape of Russia. Yes, this book is a little dark, but it's also filled with Benioff's sarcastic wit and cinematic writing. After reading this during the holiday season, I couldn't stop recommending it or giving it away as a gift, and I have a feeling your book club will feel the same way.
This mystery novel is a must-read right before New Year's Eve. Rules of Civility takes place during the celebratory atmosphere of New York City on the last night of 1937, and the chance encounter of Katey Kontent and Tinker Grey. This sets the stage for a significant year where Katey goes from a Wall Street secretary to a sophisticated member of NYC, but she quickly realizes her most exciting choices easily pave the way to her most prominent regrets. If you and your book club are looking forward to an adventurous new year in 2016, make sure to pick up this book ASAP.
9. Landline by Rainbow Rowell
Right before Georgie McCool is supposed to leave for a Christmas vacation to Omaha, Nebraska with her husband and kids, she backs out, blaming her absence on a work-related project. But in reality, Georgie knows her marriage is falling apart and can't face the holidays faking it. That night, as her family leaves, she finds a way to talk to her husband, Neal, in the past and wonders if this is her chance to fix everything — or make sure the marriage never happened in the first place. This novel showcases Rowell's abilities to capture honest relationships, heartbreak, and hope in a story that's perfect for discussing among other book lovers.
10. Blankets by Craig Thompson
Who ever said that a graphic novel isn't ideal for a book club hasn't read Blankets . This massive book tells the story of a sibling rivalry, a harsh Wisconsin winter, and a coming-of-age romance that'll melt your heart. It's everything you could want and more to read next to a cozy fireplace and discuss with your club. Plus, with Thompson's gorgeous drawings and plenty of scenes to talk about, you'll spend the rest of your book club meeting wondering what other graphic novels you guys should try out next.
If your book club is in need of something inspirational and mind-blowing, something that isn't focused around the holidays but more so on bettering yourself for the new year, pick up Jane McGonigal's SuperBetter . This is one psychology and nonfiction book that's as delightful as it is motivational to read. Focusing on years of scientific research on games and how they make us happier, less stressed, and productive — McGonical created a game called SuperBetter that can and should be played in everyday life circumstances. The book also focuses on how important it is to have allies, people you can trust as you make significant life changes, so it's more than perfect to discuss in a book club setting this season.
Images: condesign/flickr