'Game Of Thrones' Might Be The Biggest GG Snub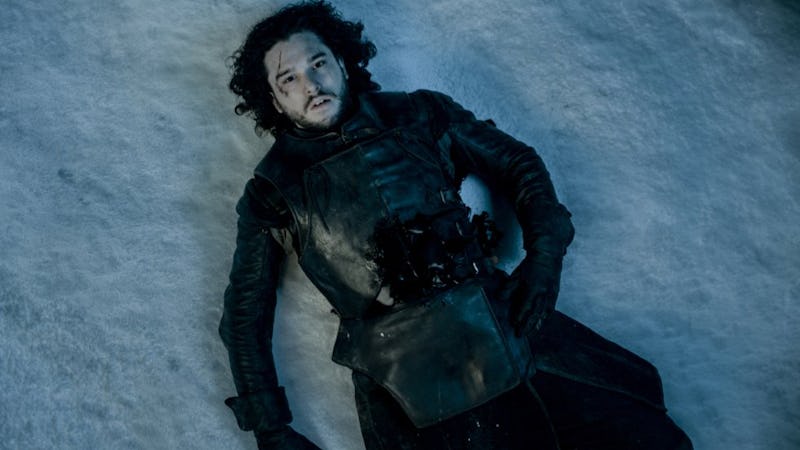 All congratulations due to Game of Thrones for its Best Television Series — Drama Golden Globes nomination, but we have to pause for a second and acknowledge that not one member of the amazing ensemble that comprises Game of Thrones' cast members was nominated for a Golden Globe award. Why, Hollywood Foreign Press Association, why? From Kit Harington to Peter Dinklage, Emilia Clarke to Lena Headey, Game of Thrones was home to some of the most impressive performances of the 2015 season. Consider, for example, Cersei Lannister's nude trudge through the streets of King's Landing, a horrible nun over her shoulder ringing a bell in her ear and crying "shame" over and over for the entire capital to hear. Controversial as they might have been, those 10 minutes alone were worthy of a nomination. So why didn't Game of Thrones receive more nominations?
It's an admittedly fierce crop of contenders among the acting awards this year: From Viola Davis of How To Get Away With Murder (nominated for Best Actress) to Christian Slater of Mr. Robot (for Best Supporting Actor), the stars in each of the television categories have strong awards potential and would make challenging competitors for even a series with the acting caliber of Game of Thrones. But Game of Thrones all but swept the 2015 Emmys. Peter Dinklage won Best Supporting Actor, while the show took home nine additional awards for its production, crew, and casting. Yet, in spite of the award for casting, the cast itself wasn't as successful as the series as a whole. Lena Headey and Emilia Clarke were both nominated for Best Supporting Actress, yet neither took home an award.
Maybe Game of Thrones really is better as an ensemble show. Though a couple performances stand out beyond the rest, it's an extremely well cast series with strong actors throughout. And, as seen at the Emmys, HBO would likely enter its talent among supporting actors, which rings false for characters like Daenerys Targaryen, who, though she doesn't occupy as much screen time as lead roles for other series, is undoubtedly one of the show's leads. And, given the cast's un-success at the Emmys, it's not too much of a shock that the cast wasn't among the nominees at the Golden Globes.
Yet it's still surprising that Peter Dinklage, a fan and awards-show favorite after all these years, wasn't among the Best Supporting Actor nominees. He won the award at the Golden Globes back in 2012, and he was the only individual cast member to win at the 2015 Emmys. Still, the Golden Globes lack an ensemble cast award (in contrast to, for example, the Screen Actor's Guild Awards), putting a series that relies heavily on its peripheral characters at a disadvantage when awards season rolls around. With just one nomination, it's not certain that Game of Thrones will take home any Golden Globes (it lost Best Television Series — Drama when it was last nominated in 2012). But we can take some comfort in knowing that really, every actor on the show is among the best actors.
Images: HBO