"See You Again" Could Win A Golden Globe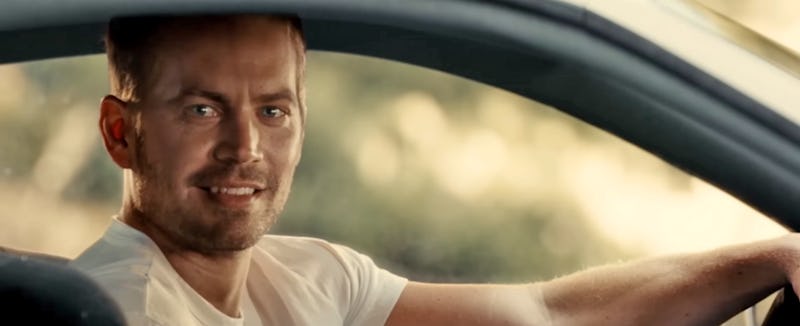 The Fast & Furious franchise picked up its first ever Golden Globe nomination on Thursday when Furious 7 anthem "See You Again" was nominated for Best Original Song. Rapper Wiz Khalifa and singer Charlie Puth's emotional track is dedicated to late actor Paul Walker, who tragically died in a car accident in November 2013 before filming for Furious 7 was complete. "See You Again" was a massive hit in 2015 — and it was just recently nominated for Song of the Year at the 2016 Grammys — but I was still a little surprised to see it recognized by the Hollywood Foreign Press Association (HFPA) — the group that votes for the Golden Globes — this morning.
Historically, rap songs have not fared well at the Golden Globes. (At the last five ceremonies, no rap tracks were nominated for Best Original Song.) And although "See You Again" is an incredibly affecting record, the Fast & Furious franchise has never received major award season attention. (It lacks the "prestige" that's often required to be nominated at these shows.) So, in other words, I wouldn't have been shocked if, despite its success, "See You Again" had been overlooked. However, now that it's managed to make it into the Best Original Song race, I actually think it could win! Let me explain...
I think "See You Again's" moving message will resonate with HFPA voters — they may see it as one of the Hollywood community's last opportunities to honor Walker. Further, the competition for Best Original Song this year doesn't seem to be too terribly stiff. For example, Ellie Goulding's "Love Me Like You Do" from Fifty Shades of Grey may pose a threat (it too was a big hit in 2015), but it doesn't have "See You Again's" touching backstory. Sam Smith's James Bond theme, "The Writing's on the Wall," from Spectre is also be a contender, but many people (myself included), found it to be rather disappointing. (It's no "Skyfall," that's for sure.)
Though I'm still not convinced of "See You Again's" Oscar chances (is it "prestigious" enough for Academy voters?), I do truly believe it could triumph in Best Original Song at the 2016 Golden Globes. Personally, I'd be happy to see it take home the award. The 73rd Golden Globe Awards are set to air live on Jan. 16, 2016 on NBC.
Image: Wiz Khalifa/YouTube