The Extraordinary Way One Woman Helps The Poor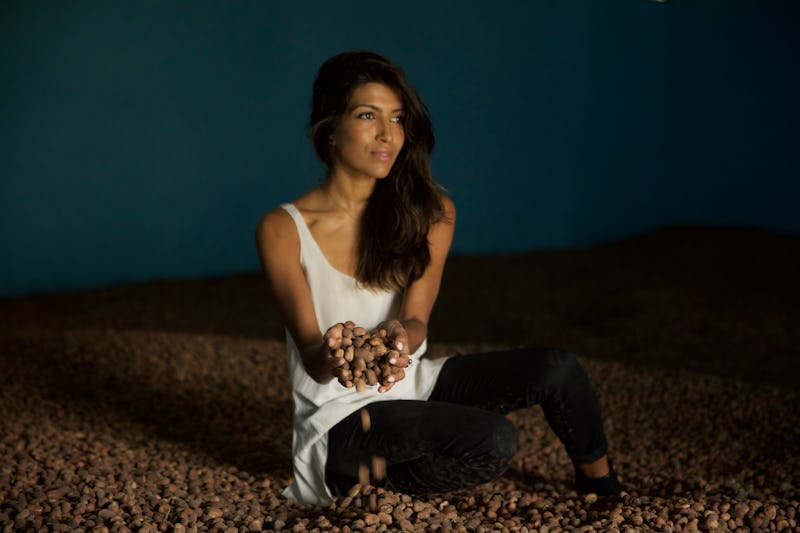 It was while consulting for an Indian call center in 2005 that Sama Group founder and CEO Leila Janah met a young person from Dharavi in Mumbai — a locality considered South Asia's largest slum — who was working in a call center, that Janah realized the Internet's potential to provide work for people with few opportunities. The idea for her first non-profit, Samasource, hit her — someone could use the outsourcing model for good, rather than simply for making money, by giving the poor across the globe tech jobs tagging, transcribing, and data-mining.
Working in Africa since she was a teenager, Janah knew the best way to help the poor was to connect them with work, giving them power over their own lives. "This is much better than giving people a service or product (like clean water or malaria nets), because it allows them to determine what they need and choose the best products and services for them," she tells Bustle.
Since Janah created Samasource in 2008, her organization has moved about 7,000 people from an average income of $2 a day to $8 day, according to Janah, lifting them and their families out of poverty. The overarching Sama Group — "Sama" means equal in Sanskrit — now oversees Samasource and Samaschool, a U.S.-based job-training program. The 33-year-old has dedicated her life to helping the poor and believes enabling them to work is the best way to do so. "Work is at the core of human dignity," Sama Group's website says. "It is how we define ourselves and make a contribution in the world. It's also the best way to end poverty."
Janah's Sama programs (including Samahope, a crowdfunding platform for medical treatments, recently combined with Johnson & Johnson's CaringCrowd platform) have helped a combined 19,308 workers, patients, and students in 12 countries across North and South America, sub-Saharan Africa, and South Asia. But the social entrepreneur views her work as much more than just finding jobs and medical treatment for the world's poor — she's dedicated to helping them actually overcome poverty and improve their lives, and, in turn, their communities. "A lot of businesses say they're advancing social justice because they hire people from a poor country," Janah told Wired in July. "But it was important to me to start this business in a way that would track people's income, find people below the poverty line, and move them above it."
When a single person increases their income, their household becomes more financially stable, and as more and more families in an area do so, the entire community becomes more secure. Because of this, Sama Group has impacted nearly 41,000 lives since 2008.
This winter, Sama Group decided to hold an "UnGala" instead of a traditional fancy gala fundraiser. "A grassroots event on the cheap," as Janah put it. One of Samasource's first workers in Kenya — a young woman named Vanessa — showed up at the event and revealed that after Samasource, she got a scholarship to Santa Monica College and was studying computer science and working part-time as a nursing assistant. "She attended our event and even donated $100, bringing tears to everyone's eyes," Janah tells Bustle.
Tracking Sama Group's impact is important to Janah, as she believes non-profits should be held to the same standards as other types of companies. "Good intentions don't translate to good outcomes," Janah says. "If we want to make the world better, we have to be sure the things we're doing in the name of philanthropy are measurably improving people's lives. Otherwise, these projects are merely feel-good outlets for the wealthy and the powerful." With this philosophy, Janah is helping improve the way the entire non-profit industry functions.
As if running Sama Group wasn't enough, Janah launched her first for-profit project online in November — Laxmi, a luxury skincare brand that uses rare, organic, and sustainably-harvested ingredients, named after the Hindu goddess Lakshmi. Like Janah's other ventures, Laxmi is committed to transforming low-income communities and promises to invest in social programs and pay fair wages, as much as three times the local average. "Deeper luxury is about making yourself and the world more beautiful, and refusing to accept anything less," Janah wrote on Laxmi's website. "We believe that skincare should be highly effective, beautifully packaged, safe enough to eat, and sourced with care and compassion for people and the environment — we shouldn't have to compromise."
By giving women across the globe the ability to buy humanely-produced luxury skincare products, Laxmi also empowers women to make a difference through their purchases. Even if you don't work for a non-profit or spend your time helping the poor, you still have the power to do good through the shopping decisions you make regularly.
Janah's nonstop philanthropy is truly encouraging, and without knowing it, she summed up why she's such an inspiration in her own words — Janah says: "My passion in life is creating good work for poor people who lack opportunity."
Images: Courtesy of Leila Janah/Chloe Aftel (2); Loïc Le Meur (2)