What We Know About The 'RHOA' Miami Trip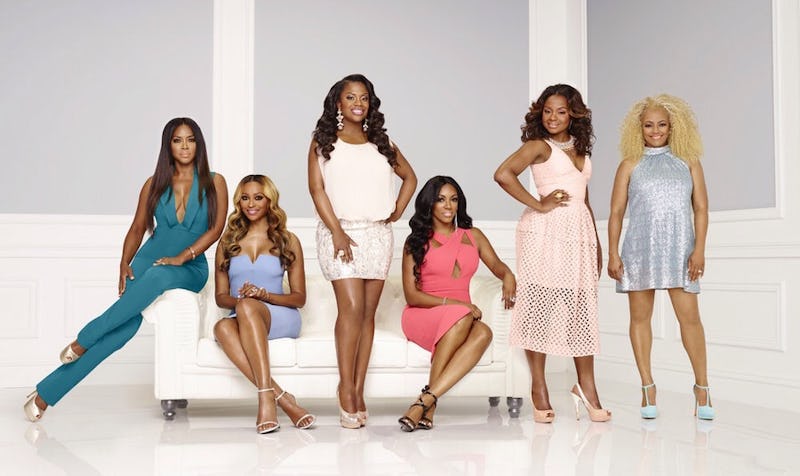 Get ready! The ladies from Real Housewives Of Atlanta are going to Miami, as on this Sunday's episode they'll pack up their designer luggage bags and take a girls trip. Bravo's promos for this week's episode show the ladies taking a group trek, and of course, their excursion looks chock-full of everything you would expect to see on a Real Housewives vacation. There is champagne, skimpy bikinis, and absurdly gigantic mansions. Wait, am I forgetting something? Oh yes, copious amounts of drama.
The promos give us a glimpse into the ladies' arrival in an over-the-top Miami mansion, where they are greeted by Porsha's friend Shamea. She is wearing a leopard-print bikini and flanked by two beautiful men holding trays of strawberry-garnished champagne. That's how we all vacation, right? I know I don't go anywhere unless there is (at the very least) one buff man holding a cocktail, waiting for me upon my arrival.
Of course, the subject of the room assignments comes up before the Housewives even arrive at the mansion. This seems like it could be the beginning of some serious drama but they all actually agreed on at least one thing. Kenya stepped up and suggested that Kandi get the master bedroom because she is pregnant. I even caught someone saying that she was "sleeping for two." Bless. Check out the full promo from Bravo to get some more tidbits about what's ahead on this Miami excursion.
Of course, I still needed to know more, so I did some investigating on the Housewives' various social media accounts, and I have to say, I'm actually impressed. Bravo managed to keep this trip heavily under wraps until recently. There is next to nothing on any of their Instagrams or Twitter accounts that refers to the trip.
What we do know is that the trip likely happened sometime in September, because people were reportedly starting to spot them in Miami around that time. It also appears that a couple of non-Housewives joined them on vacation, as according to Reality Tea, in addition to Shamea, Tammy McCall-Browning was seen hanging with the ladies on their trip.
You may remember Shamea from previous RHOA appearances, but she has been spending more time with the ladies recently. She is a former Atlanta Falcons/Hawks cheerleader and now DJs at a radio station, according to Reality Tea. Tammy, a stylist with her own fashion line called Planet Freedom, is married to the head tennis coach at Atlanta's Emory University, John Browning, according to Reality Tea.
While the group surely got into all kinds of shenanigans in Miami, it seems like we'll have to wait until Sunday's episode of Real Housewives of Atlanta to see what exactly went down.
Images: Mark Hill, Rodrigo Valera/Bravo