How To Walk In Heels In The Snow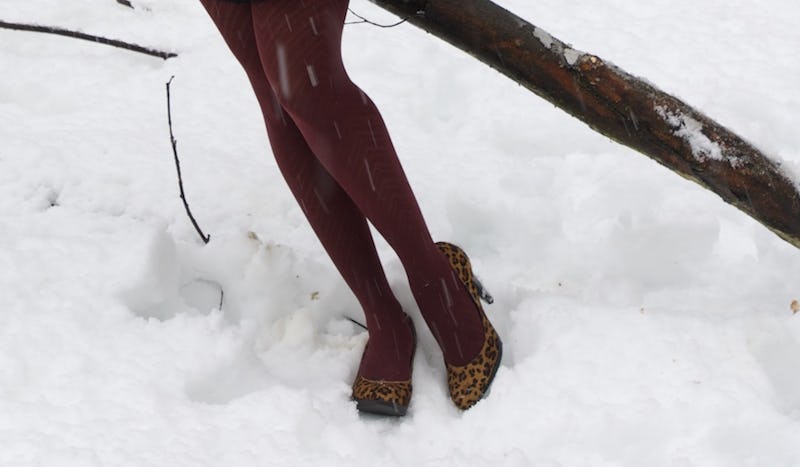 Nothing will stop diehard high heels fans from strutting in them through the snow in the winter. That said, if the weather forecast includes lots of snow and ice, make sure you know how to walk in heels in the snow. Trust me, the last thing you want is to take a tumble down onto the pavement.
Fortunately, I've yet to have any major slips on the icy streets of Manhattan during the winter, but I've seen many women take some really intense falls due to their stilettos. More important than following the tips below is stopping to determine whether or not it's truly safe to wear heels out in the first place. I know sometimes it sucks to sacrifice those heels and "ruin" your perfectly pulled together outfit, but is possibly taking a hard fall really worth one outfit? I don't think so.
But if the snow is light and there's salt on the streets helping the ice dry up, then I say pop on those heels and get out there. Just remember to follow the advice below, take your time, and always try to be near a railing or in crowds in case the unexpected slip does happen. Good luck out there!
1. Make Sure Your Heel Fits
First and foremost, check out the signs your heels don't fit right. If any of the signs sound familiar, go get resized. Having a properly fitting heel is essential to not slipping around in the snow.
2. Aim For A Thicker Heel
Block Heel Chelsea Boots, $157.99, Hunter
Thicker heels give you a broader center of gravity which will make it much harder for you to fall in heels.
3. Use Ice Grips
WinterTrax, $14.95, Yaktrax
Ice grips on shoes are the equivalent of chains on tires in the snow. If you're trekking through intense weather, definitely invest in these.
4. Sand The Bottom Of Your Heels
3M 9005NA 9-Inch by 11-Inch Aluminum Oxide Sandpaper, $2.97, amazon.com
Sand the bottom of your heels to create traction and make it harder to slip.
5. Hold Someone's Hand
Seriously, there is safety in the buddy system. If you're going down in your heels, reach for someone ASAP!
6. Soak Your Feet In Cold Water
Most heels will cause inflammation, so be sure to take ten to fifteen minutes once you take them off to just soak your feet in cold water to reduce the swelling.
Want more style tips? Check out the video below, and be sure to subscribe to Bustle's YouTube page for more hacks and tricks!
Images: m00by, Sean MacEntee, gfpeck, Betsssssy; Courtesy of Brands