Here's What It Meant To Be A Man In 2015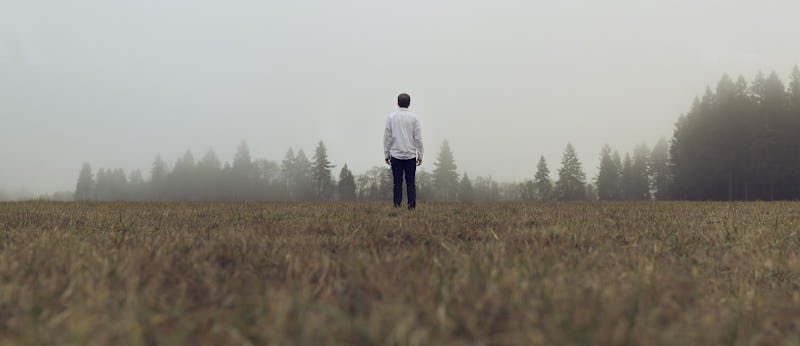 The question posed in a recent video from The Representation Project is a loaded one: What did it mean to "be a man" in 2015? On one hand, the limited scope of masculinity so often portrayed in media would have us believe that "being a man" in 2015 meant being powerful. It meant being rich and lucky and irresistible to women. But another perspective of masculinity this year — a kinder, more inclusive one — emerged and, in highlighting it, The Representation Project hopes to expand the idea of what it means to be a man.
The video is the fourth in an annual series of year-end round-ups aimed at combating harmful stereotypes and demanding better representation in the media and in our culture. If you're curious about how far we've come on that front in the last few years, I urge you to take a look at how the media failed women in 2013 and how the many accomplishments of women in 2014 were overshadowed by sexist representation. It's harrowing. But are the tides finally starting to turn? In 2015's end-of-year video, it's clear there's still much work to do if we want to overturn gender roles and their damaging effects on women and men; however, there's also hope.
It's true that, in 2015, there was no shortage of hyper-masculine imagery and the implication that the ultimate status symbol is not in having certain things but in being one thing: a man. Ads, movies, and magazines depicting scantily clad and/or Photoshopped women encouraged men to objectify women; so, for that matter, did the denigrating voices of many public figures.
The video also shows, though, that there is hope on the horizon. Companies are beginning to celebrate the sensitive side of being a man.
And more men are using their voices for change, from Terry Bradshaw:
To Matt McGorry:
To Dwayne Johnson:
To Terry Crews:
Positive messages about masculinity are catching on. Are we where we need to be yet? No. The very fact that there this video exists serves as a reminder of that. But, with more men than ever speaking out on behalf of gender equality and identifying as feminists, we are making progress.
The video closes with a portion of President Obama's eulogy for Reverend Clementa Pinckney, who lost his life during the church shooting in Charleston earlier this year. After referring to Reverend Pinckney as a good man, President Obama says, "Sometimes I think that's the best thing one can hope for when eulogized — just to have someone say he was a good man." Not a strong man. Not a rich man. Not a powerful man. A good man. And that couldn't have been truer in the case of Reverend Pinckney. So here's hoping that in 2016, we continue to expand what it means to be a man and, in doing so, discover the inherent goodness in broadening our narrative about masculinity.
Check out the full video below:
Images: Pixabay; The Reprsentation Project/YouTube (6)