Hack Your Way To The Ultimate Bar Cart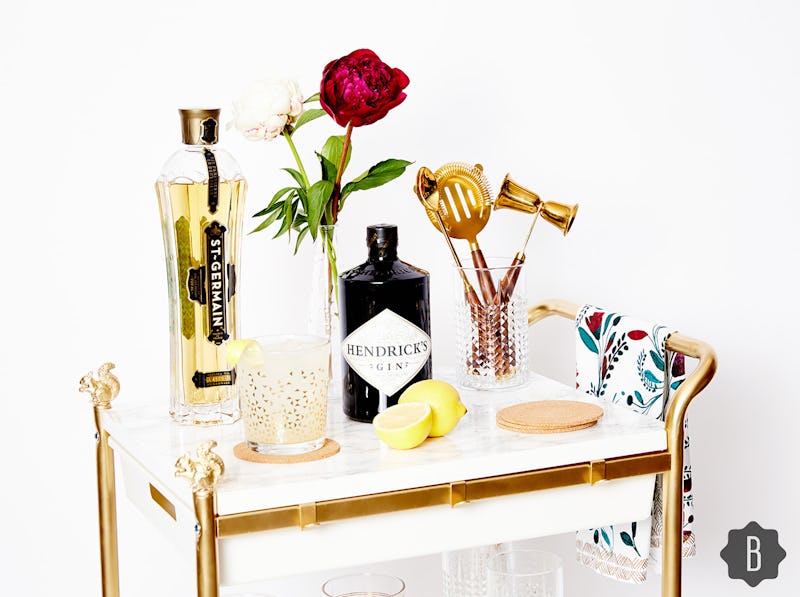 Bar carts might be the ultimate in grown-up furniture. Pretty, chic, and based firmly in pleasure over practicality, they have the power to instantly elevate any room. That is, if you do it right. You're probably thinking "YES, I know, but they're so expensive, and I need to be responsible with my furniture purchases." True, fancy bar carts are usually pretty pricey — but lucky for you, we're about to share the ultimate hack for DIY-ing your way to the bar cart of your Don Draper dreams, for way under $100. Even if your craft skills aren't super advanced, this is a project you can totally handle. A little hot glue, a little spray paint, some contact paper, and you're in business. The best part is, when you do it yourself, you can make it completely personalized and unlike anything you'd find in stores.
We've partnered with Ellen's Design Challenge on HGTV to show you just how easy it is. Putting together a home that you love doesn't have to cost a crazy amount of money, and getting a little creative is one of the best ways to fake it till you make it. Things like bar carts may seem out of reach, but they don't have to be. Even if you don't drink, this piece can be used for extra kitchen storage or even beauty products. The options are literally endless, and you're going to want to apply marble contact paper to everything in your house when you're done. OK, maybe don't do that.
Ellen's Design Challenge premieres on Monday, January 18 at 9 p.m. ET.
What You'll Need:
Utlity cart of your choice — I used this IKEA cart that's only $29.99!
Spray paint primer
Metallic spray paint
Contact paper — I used this marble print
2 matching small plastic figurines — I used these guys
A pen
A hot glue gun
An X-Acto knife
Scissors
The best part? Excluding regular craft supplies like scissors, hot glue, and the X-Acto knife, this haul came out to $55.45.
1. Hot Glue Your Creatures
First, attach your small plastic figures to your pole tops with hot glue. Make sure your poles are facing the right way.
Pick figures with a relatively flat base that will stay put.
2. Prime & Spray Paint
Gather all of your pieces to be painted. This includes all the metal bars, poles, hooks, and wheels. Just don't spray paint your screws — paint will clog up the grooves you need for them to work.
Then, apply your spray primer in a cool, ventilated area (preferably outside). Wait for that to dry before applying your metallic spray paint. You may only need one coat, but see how it's looking and apply a second layer of paint if you notice any gaps or inconsistency in color.
Make sure all of the pieces are fully dry before you build your cart.
Ta-da! You're fooling everyone already.
3. Cover Your Shelves
While you're waiting for the paint to dry, get started on your shelves. To get the right size contact paper, lay your shelf face down on the reverse side of the paper. Hold it steady and trace the perimeter.
Cut your contact paper out, and carefully stick it on the top of your shelf. Start at the edge with your corners lined up, and secure it slowly and carefully, being sure to push air bubbles out as you go. I found that peeling just a little at a time was easier than peeling the entire backing off at once, and that pressing firmly from the center out worked best.
With your shelf face down on a scratch-resistant surface, use an X-Acto knife to trim any excess and get around the corners. This little step will give the whole cart a much cleaner look.
4. Assemble Your Cart
On a soft surface (you don't want the new paint to scratch), assemble your cart according to instructions.
Now for the fun part!
5. Stock It Up
Now you can fill the cart up with all of your favorite spirits, glassware, and bar tools. Some fresh flowers, citrus, and a pretty bar towel can add a lot of charm.
Your living room just got so much cuter.
Images: Lauren Perlstein
This post is sponsored by Ellen's Design Challenge. Tune in to the Season 2 premiere on Monday, January 18 at 9 p.m. ET.