Where To Buy Star Wars Holiday Sweaters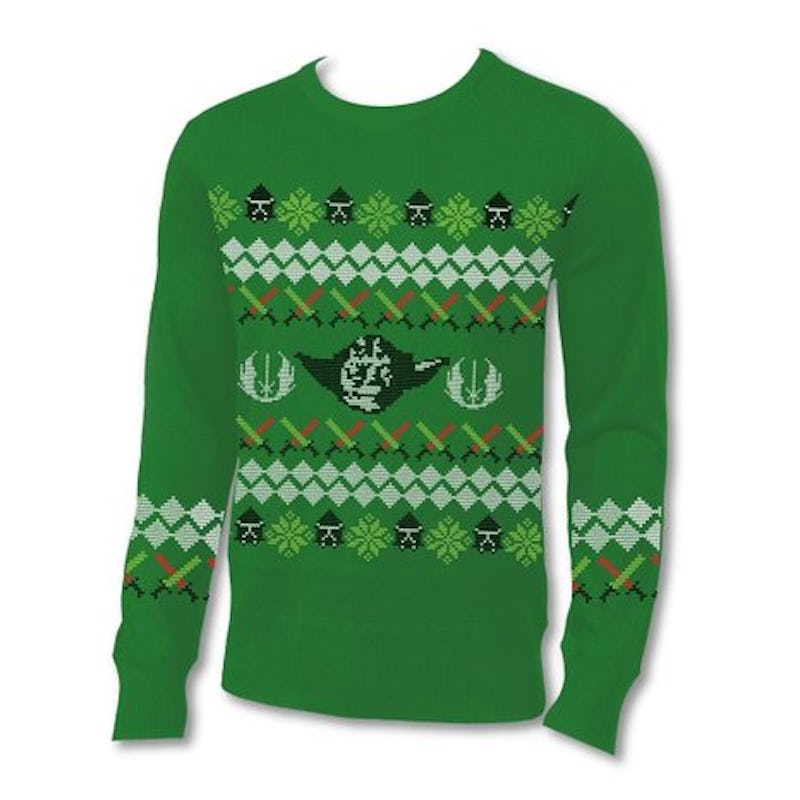 It's the most wonderful time of the year, so mix up your favorite hot drink, light a candle, and snuggle up in a fuzzy sweater next to a fire. The weather is getting cooler, families are putting up decorations, and everyone is becoming more and more festive — because the new Star Wars movie is finally about to be released! That's not what you were expecting me to say, was it? Star Wars Episode VII: The Force Awakens will be out in a movie theatre near you next week, and if that isn't reason to celebrate, I don't know what is!
This holiday season brings together two of my most favorite things: Star Wars and ugly sweaters. That's right! The best holiday sweaters will not be found by scoring your local thrift store, but instead by surfing the web. What better way to show your enthusiasm for both the new movie and the holiday season than by sporting a Star Wars themed ugly sweater?
Star Wars sweaters work for all holiday occasions. Because the first trilogy likely came out when your parents were younger, everyone at the family gathering will be fawning over your new look. Wearing a Chewbacca sweater to a holiday party will be the perfect conversation starter. A droid-themed sweater would be the perfect thing to wear to the movie if you want to show your support. And once you've seen the movie, I'm sure you won't want to rock anything but these ten toppers until summertime.
1. Jedi Carols
Star Wars Christmas Jedi Carols Sweatshirt, $35, Zavvi
I think everyone would have benefitted from a musical number in the Star Wars series. Try this sweater if you agree!
2. Star Wars Gingerbread Characters
Star Wars Christmas Gingerbread Characters Sweatshirt, $33, IWOOT
Merging super cute gingerbread men with Star Wars characters is ingenious. Gingerbread Stormtrooper is too cute.
3. Darth Vader
Darth Vader 'Holiday Sweater' Sweatshirt, $20, Kohl's
Here is the perfect holiday sweater for all you Darth Vader fans out there
4. Chewbacca Socks Again
Star Wars Christmas Chewbacca Socks Again Sweatshirt, $35, Zavvi
Practice your Chewbacca impression and grab this holiday sweater.
5. Yoda
Star Wars Adult Yoda Green Ugly Christmas Sweater, $50, Amazon
Go green in a Yoda-inspired sweater this season.
6. Droid Tangled Lights
Star Wars Fairly Lights Tangle Sweatshirt, $34, IWOOT
Mini versions of C3PO and R2-D2 only get cuter when they're tangled up in holiday lights.
7. Merry Sithmas
Star Wars Merry Sithmas Sweatshirt, $13, Macy's
The perfect sweater for a lover of Star Wars and puns.
8. Fighter Sweater
X-Wing Vs TIEE Fighter Christmas Sweater, $55, Merchoid
The holiday sweater for anyone who wants a more subtle nod to the iconic series
9. Star Wars Tree
Star Wars Christmas Tree Sweater, $45, Merchoid
This piece encapsulates all of the Star Wars series onto one convenient place!
10. R2-D2 Sweater
R2-D2 Christmas Sweater, $47, Merchoid
A holiday sweater dedicated to everyone's favorite droid, R2-D2.
Want more holiday tips? Check out the video below, and be sure to subscribe to Bustle's YouTube page for more hacks and tricks!
Images: Courtesy Brands