21 Perfect Holiday Gifts For Teachers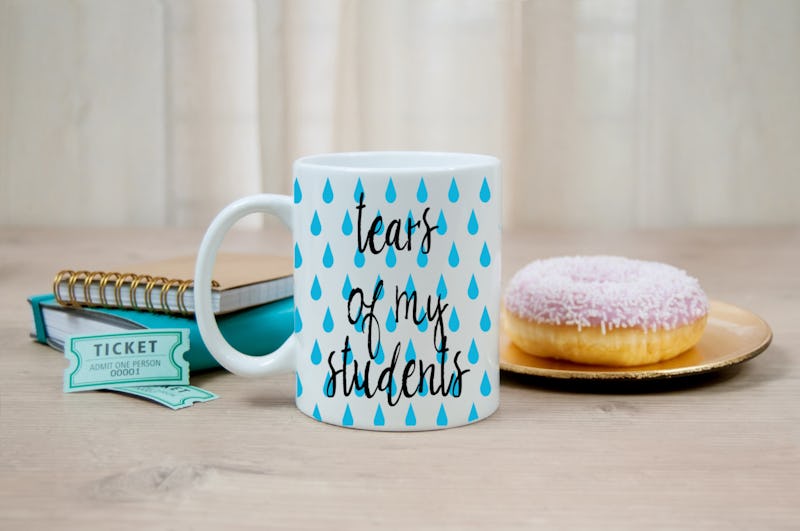 The holiday season is a time to say thanks — not just to your parents and best friends, but also to the people who have helped you to become the person you are today. Your children's teachers make a major impact in their lives that goes beyond just teaching them how to spell or how to add fractions, so gifts for teachers are an important part of any holiday shopping list. And even if you don't know them personally, it's totally possible to get a gift for a teacher that they will truly love.
By now, we have become pros at getting gifts for people we don't know. All it takes is a little careful thinking and planning. Think about what you'd enjoy getting: a cheeky mug? A stunning ornament? An adult coloring book? Pick out something with some thought, but remember that a personalized, unique holiday card is what really counts. Words speak louder than things.
If you're not trying to spend a lot of money, a nice note with a batch of fresh cookies can also make a sweet gift, but it's totally possible to get a thoughtful gift that doesn't cost an arm or leg as well. These 21 gifts are sure to please your kids' teachers, and make it a very happy holiday season indeed.
1. Whistle While You Work Tackle Box
Teachers spend a ton of their own money on office supplies, so they're sure to appreciate this stunning set.
Whistle While You Work Tackle Box, $32, katespade.com
2. Teacher Print
A framed print is a sweet gift that looks equally great in a classroom or home.
Teacher Print, $17, etsy.com
3. Grammar Teacups
We all know and love someone who is dedicated to grammar. This may be the perfect gift for them.
Grammar Teacups, $32, etsy.com
4. Speaking Of Unique Ornament
Ornaments are a no-fail gift — they're small, pretty, and can easily find their way onto a Christmas tree year after year.
Speaking of Unique Ornament, $17.99, modcloth.com
5. Black Beauty Writing Gloves
Teachers are likely to receive scarves as gifts, but you can stand out from the crowd with literature-inspired gloves.
Black Beauty Writing Gloves, $26, uncommongoods.com
6. Mindfulness Coloring Book
Everyone — especially teachers — can use a little gift. Pair this adult coloring book with a set of new colored pencils.
Mindfulness Coloring Book, $9.95, urbanoutfitters.com
7. Air Plant Terrarium
Breath a little life into a classroom (or home) with this easy-to-care-for terrarium.
Air Plant Terrarium, $34.50, potterybarn.com
8. The Leather Pouch Wallet
Small, universally appealing, and affordable, this leather wallet makes a winning gift.
The Leather Pouch Wallet, $29.50, madewell.com
9. To Sip in the Shade Mug
It is a truth universally acknowledged that any English teacher must be in want of this Jane Austen mug.
To Sip in the Shade Mug, $14.99, modcloth.com
10. Novel Teas
This is the tea that your teacher's going to want to sip.
Novel Teas, $12.50, uncommongoods.com
11. Crackle Candle
Don't know what to get? A gorgeous candle can add a breathtaking glow to a teacher's home.
Crackle Candle, $12, urbanoutfitters.com
12. Big Magic: Creating And Living Beyond Fear
This motivational book should be on everyone's reading list. This read can easily be devoured over winter break.
'Big Magic: Creative and Living Beyond Fear,' $13.72, amazon.com
13. Playable Art Cube
An art cube makes a fun gift for every puzzle-loving person.
Playable Art Cube, $20, uncommongoods.com
14. Teacher Notecards
A set of personalized notecards will be a gift that a teacher will actually use. No re-gifting here!
Teacher Notecards, $18, etsy.com
15. Delfonics Pen Case
A pretty pen case guarantees that no highlighter will go astray ever again.
Delfonics Pen Case, $22, madewell.com
16. Math Mug
Math teachers deserve some love too.
Math Mug, $15.95, uncommongoods.com
17. Teacher Bookmark
A personalized bookmark is the perfect way to make sure a teacher always remembers a special student.
Teacher Bookmark, $23.90, etsy.com
18. Tears Of My Students Mug
Believe it or not, teachers have a sense of humor. This mug is sure to please.
Tears of My Students Mug, $15, etsy.com
19. Moleskine Notebook
Nothing feels as elegant as a sleek black Moleskine — perfect for taking notes, or writing the next great American novel.
Moleskine Notebook, $5.95, target.com
20. Box of Flowers Soap
Fancy soap always makes a great gift for people you don't know what to get. A box of nice bars can be divided amongst several people.
Box of Flowers Soap, $28, uncommongoods.com
21. Amazon Gift Card
Sometimes a gift card is the best way to go — that way your kids' teachers are sure to get something they really want.
Looking for more holiday cheer? Check out Bustle on YouTube.
Images: katespade.com; etsy.com (5); modcloth.com (3); uncommongoods.com (5); urbanoutfitters.com (2); madewell.com; amazon.com (2); target.com