Donovan Could Be In Trouble On 'AHS: Hotel'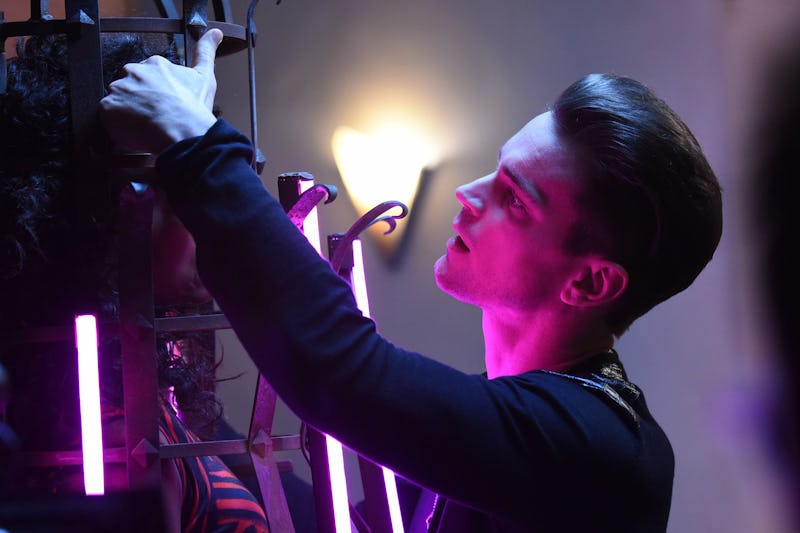 If there's one thing we learned from last Wednesday's American Horror Story: Hotel episode "She Wants Revenge," it's not to cross Countess Elizabeth. Lady Gaga's sinister vampire does not like to be tested, and she exacted her revenge in a way that likely surprised most viewers. Though it seemed that Donovan and Ramona had teamed up to take down the Countess once and for all, Donovan still wasn't over the woman who turned him into a bloodsucker. Ultimately, Donovan double crossed Ramona by locking her up in the Countess' newly designed "enemy chamber." Donovan proved that his addiction to the Countess' love was hardly broken, but he may be in for even more pain than ever expected. Donovan finally learned that the Countess is playing him and is really in love with vamp actor Valentino, and there's no way that he's OK with sharing. Ultimately, he might not need to — because the Countess could kill Donovan on AHS: Hotel.
There was something very suspicious about the Countess deciding to take back her spurned lover just hours after reuniting with the love of her life. We now know why she did it: She needed his help to get Ramona into her chamber of terror. Ultimately, though, Elizabeth isn't loyal to anyone, and that includes Donovan, a man she clearly picked because of his resemblance to her real love. Now that she has the real deal, Donovan is no more than a cheap imitation — albeit a useful one.
Unfortunately for Donovan, his usefulness to the Countess may be waning. Now that he's proven his loyalty and helped her torture Ramona — and, somewhat accidentally, get rid of Will Drake — Donovan serves very little purpose for Lady Gaga's character. The Countess has emotionally cast Donovan aside, and Donovan knows that after seeing her at the motel with Valentino. Could she get rid of him for good, too?
It might happen, especially if Donovan decides to plan his own revenge. He finally got a taste of what it was like to lose the Countess, and now it seems like a far more permanent kind of loss: She's truly in love with someone else, not just using them like she was with Tristan. Donovan might realize that he made a serious mistake by choosing the Countess over Ramona, and ultimately decide that he does want revenge. If he attempts to follow through for real, though, he may be met by a very angry Countess: One who will kill Donovan once and for all.
Watch your back, Donovan. There's no telling what The Countess will do to you in the next episode.
Images: Ray Mickshaw/FX; justsomemultifandomimagines/Tumblr