The Best Fireworks Displays For The New Year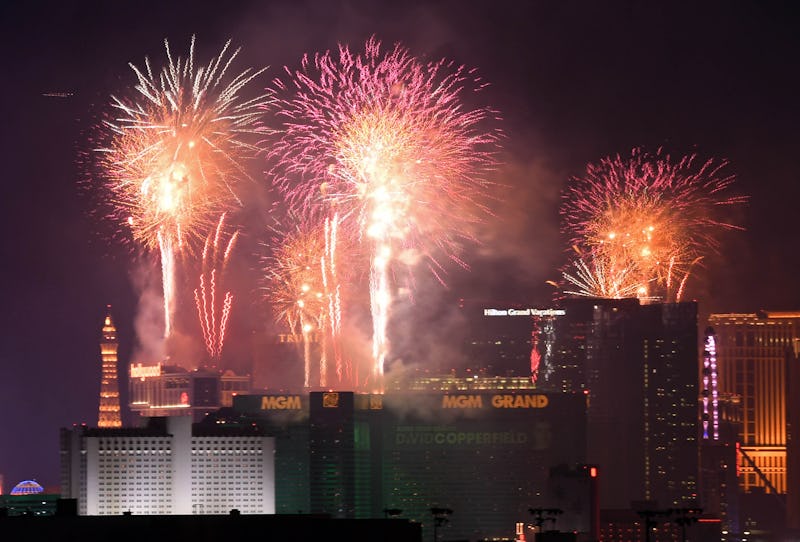 Ethan Miller/Getty Images News/Getty Images
New Year's Eve is a night filled with expectations: the ideal venue, the stellar dress, the flawless cat eye, the perfectly timed kiss, and of course, the best New Year's Eve fireworks displays. While it's realistic to understand that some things may not go as planned, one thing is certain — if you find yourself in one of these seven cities just as the clock strikes midnight, you will surely be dazzled by some of the most spectacular pyrotechnics this planet has to offer.
Ringing in 2016 stateside? Make the pilgrimage to New York City along with a million other bacchanalians for what may be considered one of the best New Year's celebrations in the world. Just arrive early, dress warmly, and uh, devise a solid bathroom plan ahead of time. Longing for warmer weather? Head to New Orleans, where party mavens excel at ushering in the New Year with a giant descending fleur-de-lis and kaleidoscopic bursts of light over the Mississippi River. More interested in packing your passport to welcome 2016 from abroad? Paris, aka the City of Light, stays true to its moniker by lighting up the midnight sky with a magnificent barrage of chrysanthemum flash-sparkle-and-fades.
Bottom line? Whether you're cheering from the Champs-Élysées, or popping bottles from a Bourbon Street veranda, if you're looking for an epic show of light, it's safe to say that these seven cities are sure to showboat.
1. New York City
As cliché as it may seem, nothing compares to watching a 12,000-pound crystal ball drop from One Times Square alongside one million partygoers. If you're looking to go a bit more low-key, consider booking a New Year's Eve fireworks cruise along the East and Hudson Rivers where you'll experience breathtaking views of the Statue of Liberty, Empire State Building, and Brooklyn Bridge blanketed by an impressive display of colorful fireworks.
2. Paris
It's no surprise that the City of Light boasts one of the most dramatic New Year's Eve light shows in the world. Gaze in awe as the Eiffel Tower stands proud amidst a backdrop of luminescent flares across the Parisian midnight sky. And when it's time to give your neck a rest, divert your attention to the massive street party along the Champs-Élysées, where there's no small shortage of champagne and papillotes — France's famous chocolate wrapped in shiny gold paper that crackles like a celebratory firecracker when unwrapped.
3. Sydney
Congratulations, because if you're in Sydney you'll be the first to the 2016 party, as Sydney is the first major city in the world where the clock strikes midnight. Not only is Sydney home to one of the largest fireworks displays on the planet, it offers two spectacular showings — one at 9 p.m. and another at midnight. Both shows include aerial acrobatics, an Aboriginal smoking ceremony, and a flotilla of 50 illuminated boats dotting the harbor.
4. Montréal
Each year, Old Montréal attracts more than 40,000 spectators to its mind-blowing light show above the Jacques-Cartier Pier in the historic port of the Saint Lawrence River. And when the fireworks conclude, warm up with a hot beverage and ice skating at the Bonsecours Basin, which stays open until 2 a.m.
5. New Orleans
Ring in 2016 with a "symphony in the sky" over the Mississippi River, as the iconic fleur-de-lis descends from her perch and "Baby New Year" is dropped from the roof of Jax Brewhouse in the French Quarter's historic Jackson Square. (Note: no actual human babies are harmed in the dropping of Baby New Year.)
6. Reykjavik
With only four hours of daylight in late December, Icelanders kick off New Year's celebrations early with fireworks and community bonfires throughout the city (bonfires symbolize burning away the troubles of the last year). As the clock approaches midnight, revelers convene at famous landmarks such as Perlan and Landakotskirkja church for the main pyrotechnic events.
7. Copenhagen
Copenhagen's world famous amusement park, Tivoli Gardens, boasts an incredible 10 p.m. display of fireworks above the garden's illuminated Japanese pagoda. And for those looking to ring in 2016 in style, the park includes 16 restaurants offering special prix-fixe New Year's Eve menus. Diners can choose from international cuisines ranging from Austrian and Croatian to Norwegian and Japanese.
Looking for more holiday cheer? Check out Bustle on YouTube.