8 Feel-Good Books To Cure You of the Bah-Humbugs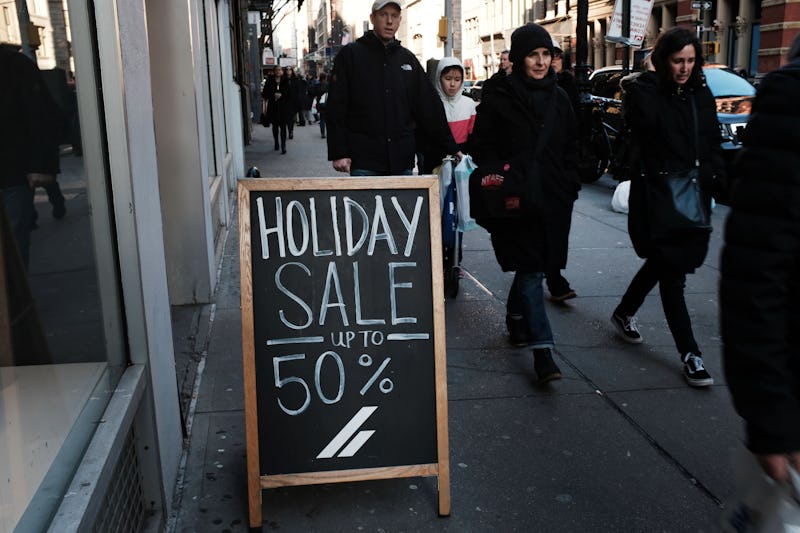 Spencer Platt/Getty Images News/Getty Images
It's been… a year. News streams have been flooded with a whole lot of horrible and way too much Donald Trump. It can be hard to feel all the happy holiday cheer that you're supposed to be drowning in right now when the state of everything seems to be in sharp contrast to anything even resembling warm and/or fuzzy. But it certainly isn't helping anyone to sit around with your best frown, fantasizing about cruel fates for Tiny Tim, and bah-humbug-ing every caroler and holiday advertisement you see.
It's OK though. Don't worry. There's a cure for humbug-ery. In fact, there are several, so many that you'll doubtlessly find one that's exactly perfect for you. Whether you get the feel goods from a sweet romance, from a high seas adventure (with a happy ending of course), or from a nostalgic throwback to your days of comic books and crayons, you can count on the right book to de-Scrooge-ify yourself at least long enough to enjoy a little hot cider and family time.
Don't let the news and airport security get you down. If holiday cheer hasn't quite infected you as much as you'd like, take up a book and throw yourself right into oncoming warm fuzzies, and you'll find yourself as giddy as you were when you unwrapped a Barbie Dreamhouse 20 years ago.
1. Mr. Penumbra's 24-Hour Bookstore by Robin Sloan
You love books, so why not read about them? Book-lovers are often so nerdy that they go full-on redundant and actually find themselves reading about… well, reading. It's ridiculous, yes, but it's also likely to put a reader in the best possible mood. Throw in a mysterious bookshop, a secret society, and a band of nerdy friends caught in the middle, and it's basically book lover heaven, or Mr. Penumbra's 24-Hour Bookstore.
2. The Black Count by Tom Reiss
"Feel good" doesn't have to mean lovey dovey romances or even inspiring tear-jerkers. Sometimes the best feel goods you can get is from a good superheroic level adventure. I'm talking The Three Musketeers, Justice League types adventures. Fittingly, The Black Count is about famous author Alexandre Dumas' father, who was actually the inspiration for Dumas' stories like The Three Musketeers and The Count of Monte Cristo. The senior Dumas was basically a real life musketeer and hero, and reading about his life (and his beautiful love for wife and son) is the best kind of feel goods.
3. Hyperbole and a Half by Allie Brosh
It doesn't seem possible, but if you don't actually know what Hyperbole and Half is, go, now, and discover it. Now! This hilarious comic is pretty much dead on about all of our messy, ridiculous, super flawed lives, and it has an amazing way of making it all seem insanely funny. Hey, you can't always control how things go, but you can draw a hilarious stick figure comic about it and laugh your ass off.
4. Heartbreak Soup by Gilbert Hernandez
Honestly, you could pick up any of the Love and Rockets books and feel like you were walking right into a family reunion or a block party in your childhood neighborhood. With Love and Rockets you get an intricate portrait of a town and all of the people that make it what it is, as they change and the town changes and the world changes. It's pretty darn incredible and you easily and quickly grow to love the characters, so that you always come away from it feeling like you just waved goodbye to your family at the airport after the warmest reunion.
5. The Art of Asking; or, How I Learned to Stop Worrying and Let People Help by Amanda Palmer
Amanda Palmer is not always right, but she is always badass. One time we should all listen to her when she gives excellent advice like "let people help." This book will leave you feeling like a big weight has been lifted from your shoulders. Sometimes you can just ask for help.
6. The Importance of Being Earnest by Oscar Wilde
Because sometimes you need a classic, because Oscar Wilde is hilarious, and because sometimes you just need a story where everything gets hilariously muddled but turns out OK.
7. Everything Everything by Nicola Yoon
It's so delightful. A girl who's allergic to the world, literally, finally meets a boy who makes her want more. It's as adorable as possible and will leave you smiling that big flashing smile you can't get rid of, like all your favorite rom-coms.
8. Boy Meets Boy by David Levithan
David Levithan creates a fantasy playland where LGBTQ issues are just not issues really. Where the high school quarterback, formerly known as Daryl, now known as Darlene is the homecoming queen, where queer love can just be. Sure, it might not be at all similar to the at-times more hateful world we live in, but sometimes that's just the thing you need. Boy Meets Boy is an insanely adorable romance that will have you laughing and cheering on the romantically crossed heroes and wishing we lived in an infinitely better world.