Still Love Barbie? You'll Love These Clothes More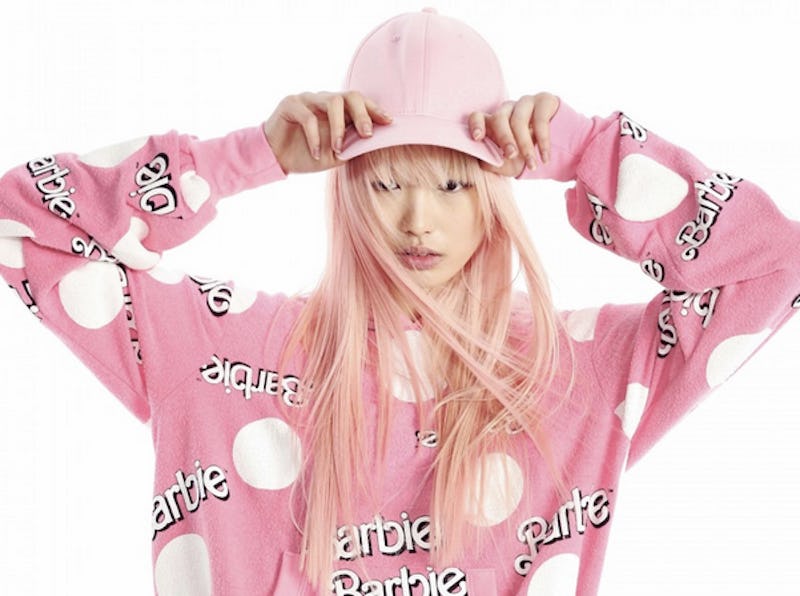 Barbie is probably one of the most adored women in the entire world. As a little girl I was in awe of her grown up makeup, her pink car, and of course her signature Barbie fashion. I loved the sparkly dresses, the mermaid fins, and the teeny tiny plastic shoes. Of course, I am not alone in my love of this iconic doll.
There are tons of Barbie collectors out there in the world and some women love Barbie so much that they are trying to become her, like the infamous Valeria Lukyanova, AKA The Human Barbie. In his interview with Valeria Lukyanova, Michael Idov of GQ Russia was hoping to have a conversation with a small town girl obsessed with dolls, but he describes that instead, "I get a racist space alien." Possibly not the image that the original Barbie was trying to portray. However, just days ago, Lukyanova admitted she dislikes her nickname — which seemingly threw her into fame in the first place.
It appears Barbie has gone high end as well, influencing Moschino's spring/summer 2015 show. This collection is a Barbie fan's dream come true including: Moschino logo prints in the Barbie font, head to toe pink, Barbie mirror inspired phone cases, and Barbie t-shirts. But not all of us have a large disposable income to play with like Barbie's never ending imaginary allowance, so for those who want in on the Barbie fashion empire but can't afford high end, then here's a selection of Barbie doll fashion at Sindy doll prices.
1. The Logo Sweater
ASOS Cropped Sweatshirt with All Over Barbie Print, $51, ASOS
Go back to basics with this classic, Barbie logo sweater. In black, it will go with pretty much anything; but IMO, I think it would look awesome with a pink mini skirt and sky high heels.
2. The Comedic T-Shirt
Barbie Think Of Me Girls T-Shirt, $16, Hot Topic
If you enjoy a bit of tongue in cheek humor then you'll need to add this hilarious t-shirt to your summer wardrobe. At least your admirers will know where they stand!
3. The Barbie Pink Swimsuit
That Sport of Thing Swimsuit Top, $70, Modcloth & That Sport of Thing Swimsuit Bottom, $45, Modcloth
Barbie has always been a sporty kinda' gal, so rock a sporty style swimsuit like this gorgeous, bubblegum pink number.
4. The Heartbroken Barbie Tank
Heart Broken By Ken Hiker Tank, $64, Wild Fox
Has Ken broken your heart? You poor dear! Do an Elle Woods and stay in bed all day munching on chocolates and watching your fave soaps while wearing this cool tank. If you're a die hard Barbie fan you're going to want to check out Wildfox's Barbie Dreamhouse collection.
Warning: Viewer discretion is advised, you will have no money left after viewing.
5. The Barbie & Ken Socks
ASOS Barbie And Ken Ankle Socks, $9, ASOS
Want to pay homage to Barbie and the love of her life? Well now you can with these quirky Barbie and Ken ankle socks!
6. The Dreamhouse Sweater Dress
My Other Place Roadtrip Sweater Dress, $117, Wild Fox
If you wish to be a bit more subtle with your Barbie references, choose this awesome Dreamhouse sweater dress as only the hardcore fans will be in the know. Feelings of nostalgia come free.
7. The Basic Crop Top
Barbie Inspired V-neck, $17, Etsy
Barbie is the least basic "person" in the universe; she's got all the latest gadgets and fashion accessories, she lives in a mansion, and she has a pony. Thus, this crop top is totally ironic and totally amazing.
8. The Barbie Shoe
Get It — Pink Iggy Azalea Heel by Steve Madden, $110, Heels
I think I am in love with these shoes. Well they do look like something Barbie would wear and they were inspired by Iggy Azalea, who in my eyes is a real life Barbie doll.
9. The Barbie Girl Dress
I'm a Barbie Girl Ruffled SweetHeart Mini Dress, $135, Etsy
This dress is handmade, super cute, and has a Barbie print. What's not to love? Pair with the above heels and you've got a perfect Barbie inspired summer outfit.
10. The Barbie Bandage Skirt
Knit Bandage Skirt, $10, Forever 21
Barbie loves anything pink and anything skin tight. So this plus size, pink bandage skirt ticks all the boxes!
11. The Tartan Barbie Leggings
Tartan Barbie Toasties, $64, Black Milk Clothing
The genius folk at Black Milk have triumphed again. These Barbie inspired leggings are so fabulous and totally '90s. They have strong Clueless vibes and remind me of Iggy Azalea's outfits in her music video for "Fancy."
So be a Barbie girl in a Barbie world this summer with Barbie inspired fashion!
Images: Courtesy Wildfox; Courtesy Brands; Giphy