15 Pieces You Should Own When It's 15 Degrees Outside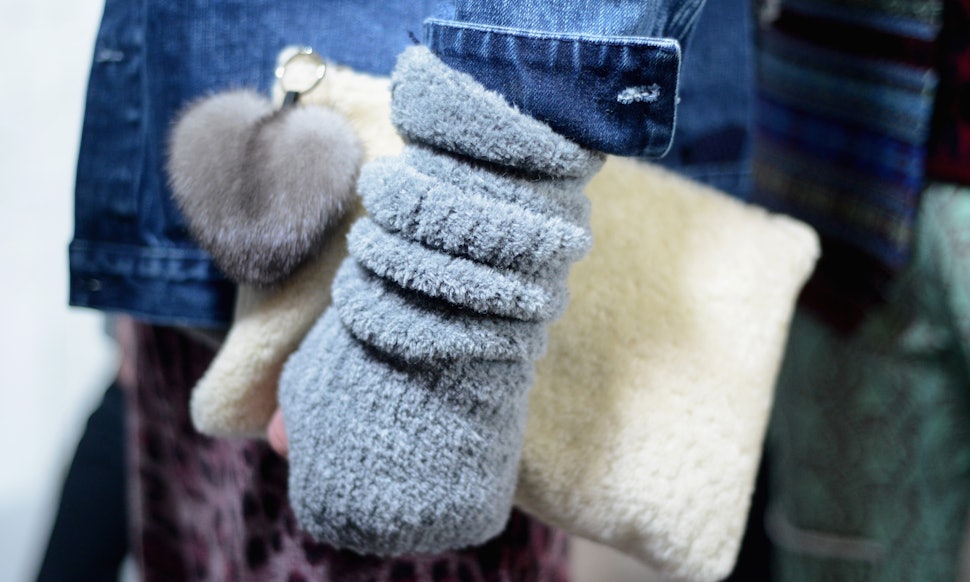 Eamonn M. McCormack/Getty Images Entertainment/Getty Images
If there's one thing that's going to ruin my night out (or basically any other activity that involves getting out of bed and putting on pants), it's painfully cold temperatures. While 'polar vortex' still sounds more like a Transformers movie than a weather phenomenon, call it what you may: It was FREEZING outside for the first couple weeks of 2014 — and the cold may be coming back. To prepare, here are 15 must-have items that will keep you warm (and cute) in the chilliest of weather.
Thick Sweater
Perfect for layering, an extra-warm sweater is a necessity for winter.
Touchscreen Gloves
Because staying warm and still being able to operate our iPhones are equally important goals.
Msoft Echo Touch Glove, $32, Echodesign
Earmuffs
Nothing is worse in winter than cold ears. Stay stylish and cozy with this ear warmer from DVF.
Lothbury Rabbit And Printed Wool Earmuff, $50, Diane von Furstenberg, Net-A-Porter
Chic Beanie
This stylish hat is both obsession-worthy and practical for keeping your head warm (which is important).
Roma Crystal-Embellished Wool Beanie, TNTees, $255, Net-A-Porter
Snood
Also known as the infinity scarf (snood is just much more fun to say), this accessory is key to staying warm in freezing temperatures.
Neon Textured Snood, $27, ASOS
Winter Coat
A high-quality winter coat is maybe the most important piece of any winter wardrobe.
Wintress Puffer, $268, J.Crew
Leather Pants
Leather pants are the perfect chic layering piece for winter weather.
Imitation Leather Trousers, $345, H&M
Oversized Flannel Shirt
Warm, cozy, and something I'll still be able to style in the warmer months? Yes, please.
Frankie Boyfriend Flannel Shirt, BDG, $39, Urban Outfitters
Over The Knee Boots
These over the knee boots are flattering (hello, leg-lengthening powers), warm and comfortable — perfect for winter.
Reserve Boots, Stuart Weitzman, $598, Nordstrom
Cozy Cardigan
Add some color (and warmth) to your outfit with a cardigan like this.
Cozy Dolman Cardigan, $25, Forever 21
Boyfriend Coat
You'll have this trendy piece to layer under your huge winter coat if things get really dire.
Slouch Boyfriend Mohair Coat, $90, Top Shop
Classic Booties
This super-chic spin on classic booties is the perfect finishing touch to any winter look.
Anouck Chelsea Booties with Rhodium Plate, Alexander Wang, $596, Shopbop
Fur Vest
Wearing a faux fur vest is the perfect way to stylishly layer.
Boxy Fur Gilet, $65, Top Shop
Knit Dress
Great to pair with over the knee boots, beanies, vests, scarves, and just about everything else listed in this post, this sweater dress is the perfect winter staple.
Fisherman Sweater Dress With V Back, Daisy Street, $37, ASOS
Slouchy Sweatshirt
Styled the right way, a casual sweatshirt like this can be stylish for any season (especially winter).
Zipped Sweater, Just Female, $145, ASOS