Things You Must Do Before Your Next Salon Visit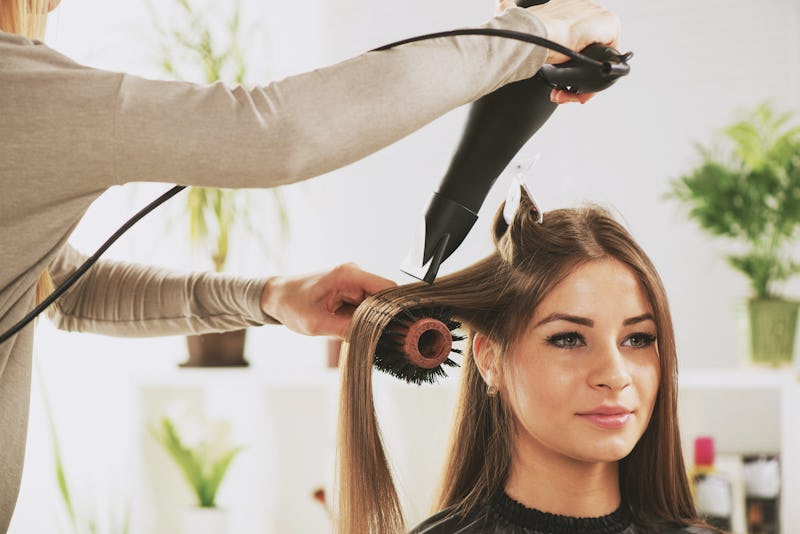 Before your next hair appointment, you might want to brush up on salon etiquette. There are plenty of dos and don'ts of being in a salon, however, most salon etiquette happens before you ever sit in a stylist's chair. Being prepared for your hair appointment is just as important as the appointment itself. Doing just a few extra steps before you come in will help you make the most of the time with your stylist.
My other job is as a receptionist at a busy hair salon, so I've pretty much seen it all in the ways of client-stylist relationships. There are some clients who show up 30 minutes late, and then there are some who arrive with on-time with baskets of cookies (it only happened once, but it was glorious). Be the best client that you can be by being prepared. This doesn't mean that you have to bake your stylist cookies (though I'm sure no one would mind) but it does mean that you should do a few extra steps before your salon visit. For instance, it's best to have a clear image of what you would like done to your hair. While you may think dyeing it blonde means going two shades lighter, your stylist could have a completely different perspective. As any stylist will tell you, having a photo of what you want helps them tremendously. Wondering what else you should do before your next hair appointment? Here are seven salon etiquette tips that you need to know before your next appointment.
1. Book In Advance
Unless your salon explicitly encourages walk-ins, make sure to book your appointment in advance. Many stylists rarely have appointment times available the same day or even the same week that you're calling. Stylists tend to schedule appointments in advance for color touch ups or special events. If you're needing an appointment around prom or any holiday seasons, then I suggest booking an appointment at least a month ahead of time. Salons are absolutely crazy during those times of year.
2. Know The Lingo
Don't ask for what you think is trendy — ask for what you want. While styles like balayage, babylights, and sombre all sound fancy, be sure to really understand what those words mean before you ask for them. You don't want to be disappointed with your hairstyle, because you didn't know the lingo. When in doubt, it's always best to bring a photo.
3. Know What You Want
Saying that you "just need a change" doesn't let your stylist know what type of change that you want. A short cut? A drastic color change? A few more layers? Before your next appointment, do a bit of research on what you would like to do to your hair. If you aren't sure how to communicate it, then (I can't express this enough) bring in a photo or two. It's the easiest way to convey to your stylist exactly what you want.
4. Set Up A Consultation
Want to dye your hair a vivid color or try a crazy new haircut, but unsure how it may look? Set up a consultation with your stylist. These consultations usually take less than 10 minutes, and allows the two of you to work out the perfect plan for your style before your next hair appointment.
5. Plan Accordingly
When I schedule appointments, I always block off 45 minutes for a woman's haircut and two hours for color application. In my experience, however, every stylist uses different techniques for different hair types, so timing a haircut isn't always an exact art. So, when it comes to planning your day around your hair appointment, always plan a little wiggle room.
6. Make Arrangements
Do you have a pet, grandmother, or long-lost friend that you need to pick up during your appointment? Make sure to make the proper arrangements beforehand. You might think this is a no-brainer, I've seen many clients walk out mid-haircut to run various errands. Not only is this inconvenient for your hair, it's also quite inconvenient for your stylist.
7. Confirm Your Appointment
Oh, your hair appointment is for Tuesday at 1 PM? Are you sure? Really? Call and double-check before you come in. I can't even explain the number of times I've had to figure out a polite way to tell a client they may have written down the wrong date on their calendar, and that no, we can't squeeze them in now.
So, before your next appointment, help your stylist by being on-the-ball. It's the best thing that you can do for your hair.
Images: milanmarkovic78/Fotolia; Pexels (6)