15 Things Your Hairstylist Wishes You Knew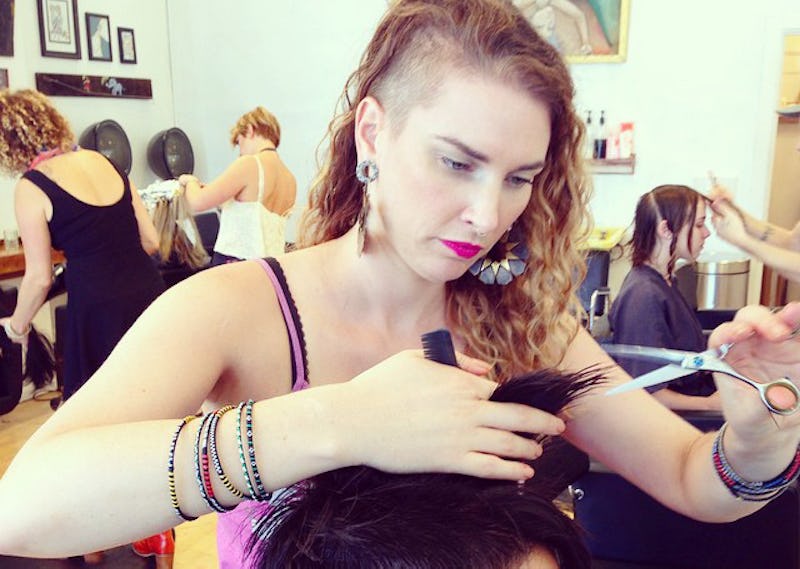 Your hairstylist may be a magician, but psychic they are not. There are plenty of things that your stylist wishes you knew before coming in for an appointment. Sure, they're capable of transforming your strands into your dream color or cut, but they often need a bit of direction from you first. In a perfect world, they would be creative creatures who lived only to make wearable art. How is it, then, that we so often leave the hair salon frustrated, our hairdresser wishing we had a bit more knowledge? Because in the (imperfect) real world, we walk into salons living in a fantasy. We think we can get fabulous hair dye and a complete style makeover in under two hours and for less than $200. Prepare to be educated, ladies.
Jayne Matthews, owner and stylist at Edo Salon in San Francisco's hip Lower Haight District, has been doing hair for over two decades. She was kind enough to share what hairstylists wish you knew before you walked through the door and sat down in their chairs.
1. Instagram Photos Are Part Fantasy
Instagram is the romance novel of hair pictures: totally glamorous, but not real life. Everything, from the angle to the filter to the sometimes shameless Photoshopping, is staged. Your new 'do will look fabulous, but it may not look exactly like your Instagram vision. So be inspired, but also be realistic about outcomes.
2. Bring In Lots Of Photos
The more pictures you can bring in, the more a stylist can hone in on the vibe, texture, and color you want. It's like having a visual conversation.
3. Be Honest About Wanting A Change
Stylists cannot read your mind. If you want to change what has been happening, then talk to them! Don't keep quiet 'cause you're afraid to voice your opinion. This is your head, and a stylist's end goal is for you to be happy.
4. Creative Colors Take Time, And Can Get Expensive
Blue hair may be partly inspired by punk rock styles, but they involve so much more than a bottle of Manic Panic. The elegant and modern-day versions involve a lot of time, work, and skill. Consequently, they can be expensive.
Manic Panic Atomic Turquoise Hair Dye, $11, Amazon
5. Rainbow Ombres Are A Big Commitment
Money-wise, time-wise, and upkeep-wise, a peacock of colors is a serious investment. Expect to be in the chair for at least five or six hours, and to spend upwards of $500. Having previously-dyed hair that needs to be lightened before it can take a new color will up the ante. Matthews recommends researching the cost, time, and upkeep involved before arriving at your salon expecting a magical transformation in two hours.
6. Corrective Color Also Takes Time
If you had a tragic case of mismatched drugstore-dyed hair and roots and need a professional rescue, it might be a big, expensive project. Make it clear what has happened, what you want to have happen (bring pictures!), and for the best results, schedule a (generally free) consultation so that all parties know what will go down.
7. Trendy Colors Fade Fast
Any color that is not a brown or a blonde (think pink, silver, blue, etc.) may be gone within as few as five washes. For it to look fabulous, it needs to be retouched at least once a month (Matthews updates her pink nearly every week). Often, you can buy the color from your stylist to retouch at home, and go for a professional redo every other month. These fun, playful colors require maintenance.
8. Bring In Several Examples Of The Style/Color You Want
Matthews recommends Pinterest for finding endless variations on the style you're searching for. Remember that while you may not get exactly what any picture shows (because your hair may have a different texture, etc.), they are infinitely helpful in guiding the stylist to give you the best option that will work for you.
9. Having Some Split Ends Is OK
For long, beachy hair, it's okay to have a few split ends. For those who want messy, sexy, natural hair, Matthews suggests living with a few split ends instead of the standard recommendation to cut them every four to six weeks. She will tell you to oil ends and cut at least a half-inch every six months.
10. Hair Care At Home Is Important
If you're not protecting your hair at home, you're making your life harder than it should be. Stylists want you to use a hydrating hair mask once a week. This is especially true if you're planning an extreme shift, such as from black to blonde. Apply the mask to towel-dried hair three inches down from the roots, then work through to the ends and leave it on for 20 minutes. Voila.
Try: Arzavallia Hydrating Argan Oil Hair Mask, $12, Amazon
11. Permanent Color Isn't What You Think
Using permanent dye does not mean that your hair's color will be brighter, last longer, or stay in better than it would with semi-permanent dye. Permanent color lifts and takes out original hair color and deposits new color in. Semi-permanent dye does not lift out color — it only adds/deposits new color. Both dye types fade equally fast. For pre-colored ends, you don't need permanent dye, because the natural color has already been lifted out. Only use permanent dye on roots and grays. Use semi-permanent dye to freshen up all-over color. It is less damaging, lasts longer, and is way shinier. And your stylist will be happy, because you won't walk in with a home hair dye disaster.
12. It Takes More Than One Step To Make Dark Hair Light
If you have dark brown or black hair, and want to go silver or pastel, it's gonna take a lot of love and a lot of work. If you have ever dyed your hair dark, even if it was years ago, the ends are not virgin hair. If you have dyed it more than once, you have layers of color that need to come off. Don't be scared if the first two layers of bleaching result in a yellow-looking funk. Be patient. It's a process.
13. Get A Hair Consultation
Most stylists offer these free of charge to existing or prospective clients. If you need a bang trim, you don't need a consult. But if you are thinking of going from pageant hair to pixie cut, with a drastic color change to boot, then sit down with your stylist and talk strategy first. Tell your stylist before your appointment what your hopes are, and about your hair dyeing history. And if it's a big color change, get a consult!
14. White-Blonde Hair Takes A Lot Of Work
If you are bleaching your hair white, you need to come in at least once a month for a touch-up. Otherwise, the irregular dyeing can create a yellow banding around your hairline. To fix the banding, you'll have to bleach twice, which is more expensive and takes longer. If you want Khaleesi-inspired locks, see your stylist once a month.
15. Short Hair Makeovers Need Lots Of Pics
If you want to cut your hair short, then bring a lot of photos that demonstrate the style, vibe, and look of what you want. Don't fear change — short hair can be beautiful, piecey, and feminine.
Stylists adore creative hair. They love to do it. The main point Matthews stresses is that they want people to be prepared for how long certain things might take, what the costs may be, and what maintenance will entail. Do a little research so that you have realistic expectations. And don't forget your inspiration pictures!
BTW, your bartender also wishes you knew these five things about dating:
Images: @EdoSalon&Gallery/Instagram