Every 'Full House' Holiday Episode, Ranked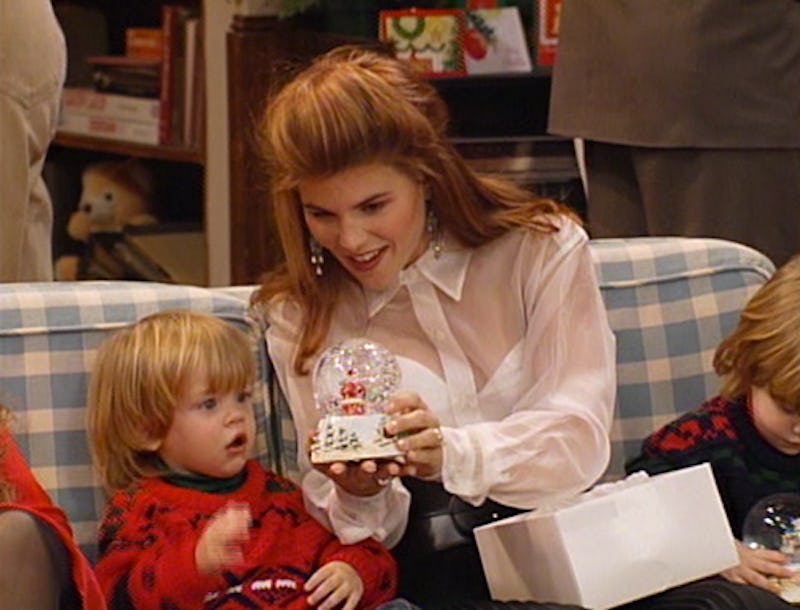 When it comes to holiday television viewing, few shows do it better than '90s sitcoms, especially Full House. On a show that's all about hugging, family, and teaching moments, it's not surprising that Danny Tanner and his crew know how to do Christmas right — even though basically everything always goes wrong. And, in a time where ugly Christmas sweaters were worn in earnest and there was no such thing as tracking Santa on Twitter, it's just so easy to feel all warm and cozy when you're watching Full House holiday episodes.
And, if you're considering a rewatch this season, you definitely need to add it to your holiday TV to-do list (or am I the only one who has one of those?). After watching the show's Christmas and New Year's Eve themed episodes, you'll almost feel like you're actually in the Tanner family, but with less mandatory chores on the weekends. That's good, because you'll need the extra time to catch these episodes over and over again. (On a similar note, you can find the whole series on iTunes for your viewing pleasure.)
Here is every Full House holiday episode, ranked, from moderately festive to jolly extravaganza.
4. Season 4, "Happy New Year"
A golden episode, but it comes in last place just because it's the least eventful of this list. The best part is when Jesse and Danny trick perpetually single Joey into recording a video dating ad (yes, that was a thing in the '90s), leading to him meeting a woman named Christine. They hit it off so well that they actually almost get married during their first date. Also, Rusty — the awful son of a woman Danny is dating — is there, and he ruins everything.
3. Season 8, "Arrest Ye Merry Gentlemen"
OK, so it all starts when Michelle picks out a gift for Danny, a tie that doubles as a drink holder. The entire family makes fun of the gift, which I definitely don't get, because nothing says Christmas like the luxury of not having to hold your own glass of wine while you're unwrapping your presents. So Michelle gets sad and convinces Jesse to take her to exchange it. Naturally, the owner of the store they go to is Mickey Rooney, and he imprisons them because he's lonely on Christmas Eve. Not cool, Mickey Rooney. Not cool.
2. Season 2, "Our Very First Christmas Show"
The entire family gets trapped in the airport overnight on their way to Colorado to spend the holiday with even more Tanners (if you can believe that's possible). Their gifts get lost, and everyone's miserable, but Jesse eventually reminds everyone of the meaning of Christmas: Family togetherness, goodwill towards others, etc. Miraculously, the presents show up, and everybody has the best Christmas ever.
1. Season 6, "A Very Tanner Christmas"
This is the best Full House holiday episode based solely on the fact that there is so much going on. D.J. and Steve almost break up, Becky is heartbroken that she can't have a white Christmas because they live in California, and Michelle and Stephanie get way too greedy with their wish lists. So Jesse, ever in the spirit of Christmas (again), takes the girls to feed the homeless to remind them that there are people who have much less, and he somehow manages to cover the yard in snow for Becky. Oh, and Steve dresses up like Santa and wins D.J. back, which would totally work on me too.
Now, if you'll excuse me, I have to make hot chocolate and go back to my Full House marathon. Jesse's sentimental speeches about the holiday season just really get me in the Christmas spirit.
Images: Warner Bros. Television; Nicole Pomarico/Bustle (4)