Ranking The 'O.C.'s Best Chrismukkah Moments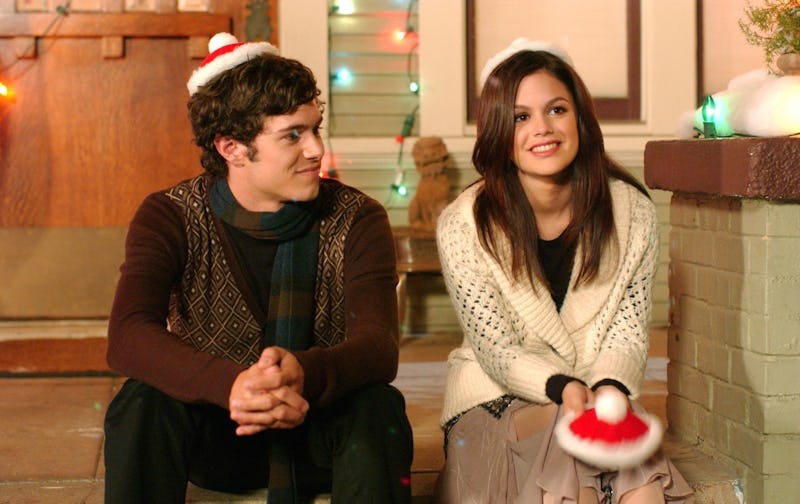 Every holiday season, I dream of spending Chrismukkah with the Cohen family in Newport Beach. The concept of a sunny, 70 degree day in December is foreign to me — but I just know I'd love it. And, as The O.C.'s best Chrismukkah moments show, Seth was 100 percent correct when he declared that it has twice the resistance of your average holiday. Why wouldn't it? It was a celebration hosted by the best TV family of all time (I'm still waiting for Sandy and Kirsten to adopt me) and it included awkward Christmas sweaters, Chinese takeout, killer holiday tunes, and Yamaclauses for all.
Of course, since this was The O.C., there was always a healthy dose of drama at Chrismukkah. Whether it was Marissa getting arrested for shoplifting, the revelation that Ryan was dating Caleb's illegitimate child (awkward), or Johnny Harper (RIP) preparing to rob a convenience store at gunpoint, the Newport Beach drama never took a holiday break. Luckily, Chrismukkah was impossible to ruin — which is why each holiday episode concluded with the line, "best Chrismukkah ever."
To get in the holiday spirit, let's all put on our Yamaclauses and take a look back at the best Chrismukkah moments from The O.C.
8. The Invention Of The Yamaclaus (Season 2)
Sure, Lindsay Gardner didn't stick around for long, but she deserves major props for creating the "yamaclaus," a brilliant combination between a Santa hat and a yamaka. Even Seth was wowed.
7. When Sandy Sold Balboa Heights To Caleb For A Dollar (Season 1)
Nothing gets me in the Chrismukkah spirit more than watching Sandy outwit his father-in-law.
6. When Julie & Kirsten Shared This Bonding Moment (Season 3)
Sure, their relationship had its ups and downs (like that time Julie got mixed up in Charlotte's plot to rob Kirsten), but I maintain that this was one of the show's best friendships. Deep down, Julie always knew Kirsten was her only true friend in Newport — she stuck by her no matter what happened, and Julie's Chrismukkah in a trailer was no exception.
5. When Ryan Convinced Kirsten To Emerge From Hiding (Season 2)
Learning that Caleb had been unfaithful to her mom and had a child with someone else understandably put a damper on Kirsten's Chrismukkah. After she locked herself in the closet, no one could convince her to emerge until Ryan reminded her that Lindsay was "part of a family that's pretty good at letting in new members." Ryan used his sentimental words sparingly, so this was a particularly sweet Chrismukkah moment.
4. When Everyone Danced Together At Ryan's Bar Mitzvah (Season 3)
Seeing the whole gang on good terms with one another was a rarity in Newport Beach — and that's why the closing scene of the "Chrismukkah Bar Mitz-vahkkah" episode stands out. Plus, Seth finally got to celebrate a Bar Mitzvah with true friends, so it was a Chrismukkah win for everyone.
3. When Seth Introduced Ryan To Chrismukkah (Season 1)
When Seth explained Chrismukkah to Ryan, his world changed for the better — and mine did, too.
2. When Ryan Hung Up His Stocking (Season 1)
When Ryan hung up his stocking next to Sandy, Kirsten, and Seth's, it sunk in for him that he finally had a loving family he could count on. Excuse me for a moment, I think there's something in my eye.
1. When Summer Saved Chrismukkah (Season 2)
After all the Caleb drama, even Seth was ready to call off Chrismukkah. But Summer refused to give up on the holiday, and she wisely reminded everyone that, since Chrismukkah is meant to bring people together, this was the year they needed it most. What better way to welcome Lindsay into the Cohen family than by bedazzling her house with holiday decorations? From then on, Summer was referred to as the person who "saved Chrismukkah." Is it a coincidence that in the series finale she headed off to save the world? I think not.
Images: Warner Bros. Television (7); Giphy (2)