12 Ways To Hack Your Eggnog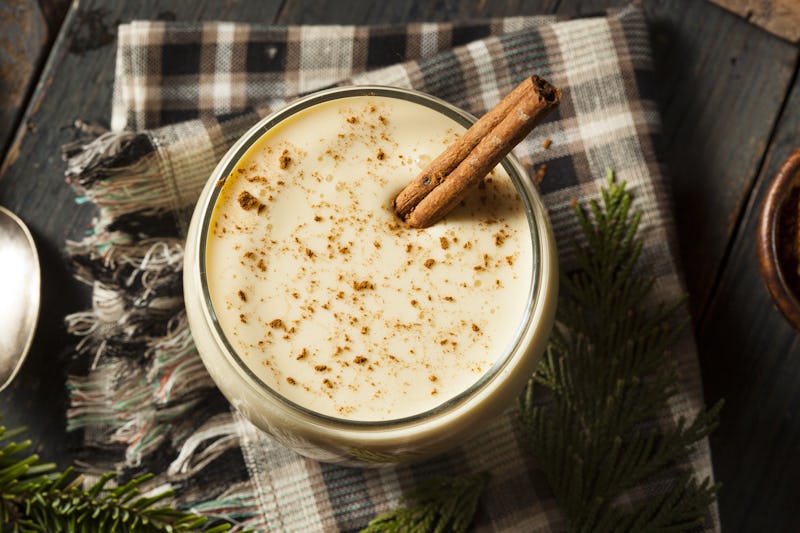 Oh eggnog, you weird holiday drink, you. Not quite milk, not quite a milkshake. What should we do with you? Better question — what shouldn't we do? Believe it or not, there are some eggnog hacks and ideas that make this miracle drink even more amazing by incorporating its deliciousness into other aspects of your diet. Get ready to have your mind blown.
To eggnog haters: the door is over there. I have no time for your nonsense. Eggnog is a Christmas classic. In my Christmas fantasy, I'm standing around a piano with my family and friends and we are singing carols while we sip on eggnog and not a single person is asking for hot chocolate instead.
Maybe it's a little depressing if my Christmas wish is for everyone to just enjoy eggnog, but I prefer to think of it as a happy thing. I am just very much #TeamEggnog, and I think it should be a bigger part of all of our holidays. Pour it in my coffee, put it in my oatmeal, make me an eggnog sandwich for lunch, give me an eggnog milkshake for dessert. I want it all, except for maybe that eggnog sandwich. I'm not sure what that would be like, and the more I think about it, the less I like it.
For all the other #TeamEggnog players out there, check out these 12 eggnog hacks below, and enjoy!
1. Top It With Homemade Whipped Cream
Turn to Adventures in Cooking for this sea salt whipped cream recipe, which you can add to eggnog, hot chocolate, or any holiday drink. It's the easiest hack in the book, and also the most delicious.
2. Bake It In Cinnamon Rolls
A Beautiful Mess has the perfect recipe for an eggnog-themed Christmas morning.
3. Use It For Ice Cream Floats
Make an eggnog float with eggnog ice cream using this recipe from Baked By Rachel.
4. Put It In Coffee
Create your own eggnog latte (like this one by Savory Sweet Life) by using it in place of your coffee creamer.
5. Spike It (Duh)
If you have yet to add alcohol to your eggnog, I strongly encourage it. Try rum, Kahlua, peppermint schnapps — or, make like Averie Cooks, and add a splash of Baileys.
6. Try It With A Milk Alternative
If you are lactose-intolerant or vegan, you shouldn't have to miss out on the holiday fun. Stores are now selling eggnog made with milk alternatives, like the almond 'nog above.
7. Put It In (Or On Top Of) Waffles
Cookie Monster Cooking has an eggnog waffle and eggnog whipped cream recipe you must try immediately.
8. Make It A Milkshake
Brave Tart's (gluten-free!) recipe for an eggnog milkshake is just as delicious as it looks.
9. Use It In Your French Toast
Follow this recipe from Taste of Home to holiday-ify your favorite breakfast.
10. Mix It In Your Oatmeal
One Sweet Mess has the steps to turning a boring bowl of oatmeal into a fun one.
11. Turn It Into Marshmallows
Homemade marshmallows are heaven on earth, and The Merry Thought found a way to make them even better.
12. Put It In Rice Pudding
As if rice pudding could get any better, enter Joy The Baker's recipe.
Looking for more holiday cheer? Check out Bustle on YouTube.
Images: Fotolia; A Beautiful Mess, Baked By Rachel, Savory Sweet Life, Averie Cooks, Silk, Cookie Monster Cooking, Brave Tart, Rachel Hathaway/Flickr; The Merry Thought, Joy The Baker