9 Best Television Soundtracks Of 2015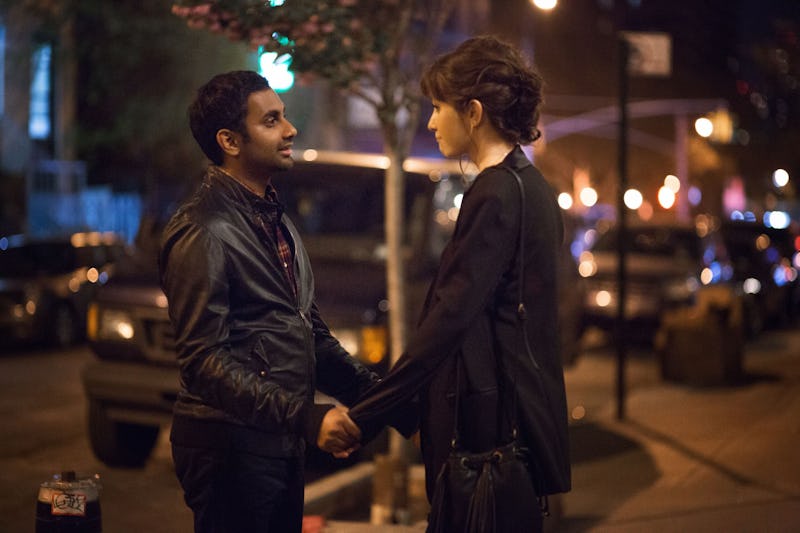 So, I hear you want to learn about and/or rediscover the best television soundtracks of 2015. Unless you've been studying abroad in outer space, then you are well aware of the fact that television has pretty much taken over earth. What I mean by that, of course, is that TV shows are at an all time peak. (No seriously, FOX CEO John Landgraf coined the term "peak TV" back in August, in an effort to explain what an over saturation of television feels like for our current culture.) Though one could argue that peak TV is a negative (see: too many shows, not enough time!), I view it only as a positive. Because guess what happens to be one of the (many) perks in having do many damn good television shows? That's right. So many damn good television soundtracks.
The crossover of music and TV isn't something new (quick shout out to The O.C. for defining my music tastes between the era of '05 and '07), and the importance of soundtracks and scores in cinema has always been a thing. But, with all the incredible TV shows this year, it's become clear to me that the musical stylings of all my favorite shows — and even my new favorites — have really upped their game. (And, trust, my ears are a lot better for it.) In every one of these shows, music played an important role in defining either mood, character details, or plot points. Here's my best stab at the greatest TV soundtracks of 2015.
1. Master of None
From Lou Reed to the classic and influential beat "Return of the Mack," music supervisor Zach Cowie's selections for the Netflix Original Series include songs from the likes of the Animals, Aphex Twin, the Slits, New Edition, Arthur Russell, Spandau Ballet and even Billie Holiday.
2. Broad City
So, yes, in my opinion, there was possibly no greater Drake parody than Abbi Jacobson and Ilana Glazer's in Season 1 of Broad City, but this isn't about me. Music supervisor for the Comedy Central hit, Matt FX Feldman, knows how to put together a pretty dope soundtrack. In fact, he's auctioning off his beats to Bed, Bath & Beyonds everywhere, as we speak. (Fine, I made up that last part.) Listen to: "No Love for the Boys" by Ducky, "All This Time" by Belle Mare, "Gimme All Your Money" by Effie Liu, and "Steady Now" (Karman Remix) by Cubby Feat. Tasha the Amazon. YAS QUEEN.
3. Empire
Quick existential Q: If a list regarding TV soundtracks doesn't include FOX's Empire, does the list even exist? The soundtrack, composed of 19 original songs, is a banger. Featuring the voices of Yazz (Hakeem Lyon) Jussie Smollett (Jamal Lyon), and Terrence Howard (Lucious Lyon), Alicia Keys, Timbaland, Pitbull and a few other notable R&B game changers can be found throughout.
4. Fargo
The soundtrack to Fargo Season 2 is pure, unadulterated '70s GOLD. Cue the polyester pans. Cue the peace signs. Listen to the music here.
5. Unbreakable Kimmy Schmidt
If "Females. They're strong as hell." wasn't stuck in your head for approximately three months after watching Unbreakable Kimmy Schmidt, then you might need to get your hearing checked. Executive producer and composer Jeff Richmond put together some original songs for the series — including (thankfully) the gloriously talented Tituss Burgess — and every single one of them is devastatingly catchy.
5. The Leftovers
From the blueglass vibes of Iris DeMent's "Let The Mystery Be" to the classical feelings of Philharmonia Slavonica and Henry Adolph's "La Traviata: Overture", to Pixie's iconic jam, "Where Is My Mind", to Rihanna's "Stay," music from The Leftovers Season 2 was as interesting and compelling as the characters and story lines themselves.
6. Jessica Jones
Jessica Jones had a wide variety of music on its first season that seemed to echo every aspect of Jessica Jones's own complex, and dynamic character. Included in the line up were songs from Of Monsters and Men, Joan Jett, Ocha La Rocha, Nathan Fox, Kendrick Lamar, and Sleigh Balls.
7. Orange Is The New Black
The music from Orange is the New Black has always been clutch, but, this season, the musical choices became important, character wise. For instance, at the end of Red's episode, Bikini Kill's "Rebel Girl" plays. At the end of Silent Norma's episode, The Byrds' "Wasn't Born To Follow" plays. And Nicky's episode is bookended to the musicalities of the Dum Dum Girls' "Coming Down." Each song works as a way to tie up the character's narrative.
9. Crazy Ex Girlfriend
Crazy Ex-Girlfriend was a smart and delightfully strange debut this year. Thankfully, most of the show's original music (oh, yeah, did I mention the show was a musical?!) is available for purchase on iTunes. Now you can forever get ready to "The Sexy Getting Ready Song."
10. Scream Queens
From the time "Waterfalls" became an important narrative device, I theorized that the musical stylings of Scream Queens would hold a special place in my heart. And when The Breakfast Club's classic "Don't You (Forget About Me)" roared on my TV screen as the Chanels were taken to an asylum in the finale, I proved myself right.
Jam on, friends.