The One Beauty Product To Pack If You're Traveling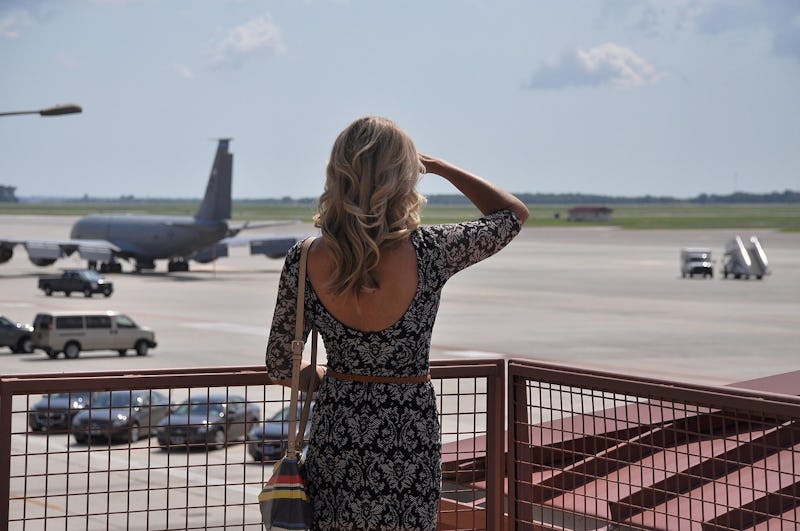 Everyone can agree: Traveling does a number on your skin. Recycled airplane air and the extra activity involved with traveling can suck the moisture from your face, leaving it dull and susceptible to break outs. That's why it's so important to know the one beauty product to pack if you're traveling: a hydrating sheet mask.
If you're spending hours on a plane this holiday, you're likely going to experience dehydration. That's because an airplane uses recirculated air within the cabin, so the air is almost entirely moisture-free. When that happens, the air will try to suck out as much moisture from any available avenue, including your skin. That means dry skin gets drier, while oily skin goes into overdrive to moisturize the face. In short, it's a pretty gross and unpleasant experience. You can mitigate the relentless effects of dry air by keeping your face moisturized before, during, and after the flight. So, how does one go about doing that during a flight? A sheet mask!
Although it can be a bit embarrassing to slap on a sheet mask if you're not sitting in your own first class suite, think about how soft and hydrated your skin will be at the end of the flight. The slight embarrassment is well worth it if you ask me (and if you ask fellow Bustle writer Maxine Builder — who actually tried it — it wasn't embarrassing at all!). Many celebrities, including Chrissy Teigen, are fans of in-flight hydrating with a sheet mask, so if it's good enough for them, it's probably good enough for us, too.
Here are a few sheet masks to consider if you're traveling this season:
Flora•py Sheet Mask
Flora•py Sheet Mask, $8, florapybeauty.com
Flora•py makes eight different sheet masks, including one that focuses on deep hydration. Need I say more?
WHAMISA Hydrogel Mask
WHAMISA Organic Flowers & Aloe Vera Fermented Hydrogel Facial Mask, $9, glowrecipe.com
OK, so this isn't a traditional sheet mask, but it's just as easy to put on. It's soaked in skin-plumping botanical serum, according to glowrecipe. Who wouldn't want some of that?
Dr. Jart+ Water Replenishment Cotton Sheet Mask
Dr. Jart+ Water Replenishment Cotton Sheet Mask, $7.50, sephora.com
If you're looking for an instant boost of moisture (which you will be in the first 30 minutes of your flight), this sheet mask is the perfect solution. It's great for all skin types and will cool and hydrate your skin, all before your flight is over.
Want more beauty tips? Check out the video below, and be sure to subscribe to Bustle's YouTube page for more hacks and tricks!
Image: Skeeze/Pixabay; Courtesy of Brands