The 16 Stages Of Waiting For 'The Force Awakens'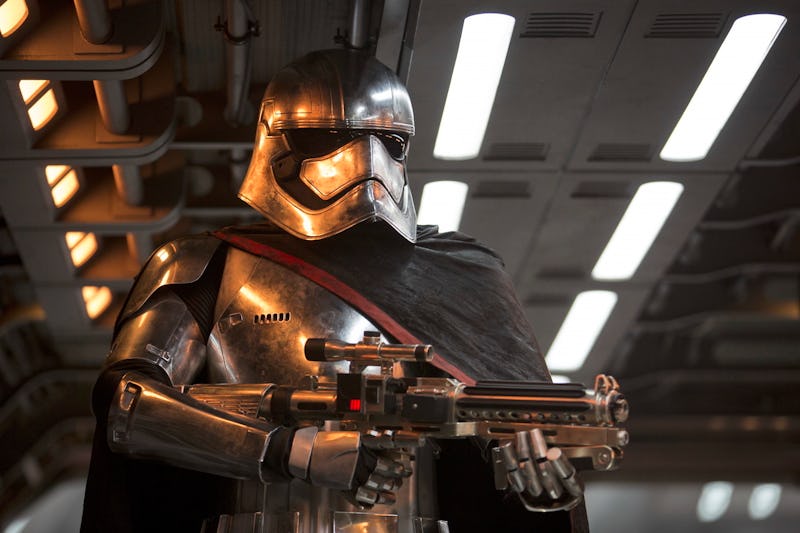 You've done it, Star Wars fans. You've survived killer teasers, conspiracy theories, and slight spoilers all in the name of the early holiday treat that is The Force Awakens, which we're all only a day away from seeing in theaters at last. The reviews from critics are in and I am proud to report (so that you don't spoil yourself by checking) that they've been overwhelmingly positive, which means you're pretty much guaranteed to have a fantastic time when you go out to see the film in theaters. And as with most life-changing, big event films, there's a certain number of emotional stages The Force Awakens will make you experience as you realize you only have one more day to see it on screen.
The fan mania for Star Wars can be compared to the likes of The Hunger Games and the Harry Potter franchises, let's be real. But the best part about this sort of wild anticipation is the fact that you get to drive yourself crazy with fans all over the country and the world, because there's nothing like feelin' the Force with your Star Wars crew in real life and on social media. Here are the 16 stages of realizing "holy moly, I get to see The Force Awakens tomorrow!"
1. Realizing That Yaaaaas, Finally After 10 Years, A New Star Wars Movie Is Here To Geek Out Over!
You scream as you feel yourself crying profusely, from joy — not sadness.
2. Getting Your Fan Goods For The Midnight Screening Together Like: "Mom, Is My Light Saber Still In The Basement? Yeah, I Kind Of Need It Again."
"Yes mom, recognizing that I have the Force within me is a part of #adulting."
3. Triple Checking Your Ticket Situation Is On Point
Even though you've ordered far in advance and have your receipt, you're still a little paranoid that something, somehow might go wrong at the last minute which will prevent you from sinking your teeth in Star Wars goodness.
4. You Remember That Daisy Ridley As Rey Is A Lead Character
And you start feeling those feminist ~vibes~ hardcore. Yaaaas, work it Rey, yaaaas!
5. You Also Remember That Adam Driver Is Baddie Kylo Ren
And evil is a hot look on him. The Thirst is officially with you.
6. For One Brief, Paralyzing Moment, You Feel A Deep Sense Of Dread In Thinking That The Force Awakens Could Be Bad
It's happened with certain Star Wars movies before...
7. But Then Cheer Yourself Up Because Even IF You End Up Not Liking The Film, It's A Good Excuse To Marathon All The Good Star Wars Movies For An Entire Weekend In Your PJs
Star Wars and Chill > Netflix and Chill.
8. Thinking About The Previous Movies, You Remember Why You're A Star Wars Fan In The First Place
For the space glory... and memes.
9. And You Find Yourself Talking To Anyone And Everyone About The Force Awakens
Hint: If they aren't as excited as these guys in this gif, then they're not your real friends. Cut them loose.
10. You Start Planning All Of The Force Awakens Merchandise You're Going to Collect, Especially Since BB-8 Exists
"Yes, I want an image of that cute little robot on my pants, specifically on my butt. Don't ask me again."
11. You Stay Up All Night Before The Force Awakens Re-Reading Fan Theories On Reddit
So you remember what to look out for, i.e. Darth Vader maybe returning.
12. "The Imperial March" Takes Over Your iTunes
There is no room in your life at the moment for any other song but this classic to end all classics.
13. At 3 A.M. You Find Yourself Wide Awake Wishing You Could Time Warp To The Force Awakens Now
Easier said than done, Yoda. Why is it that when we're waiting for something to happen that time decides to go painfully slow? It's the worst.
14. In A Desperate Attempt To Make Time Go Faster, You Re-Watch The trailers And All The Teasers For The Billionth Time
Then you squeal to yourself because how frickin' cool is this movie going to look?!
15. You End Up Not Sleeping At All. Lo And Behold, The Sun Rises And Star Wars Day Has Come
All chill is lost. I repeat, all chill is lost. You've ascended into Jedi-hood and you won't be becoming back from it anytime soon. Hopefully all of your non-Star Wars friends and family have said their goodbyes.
16. You Are Officially Here — The Day The Force Awakens Will Change Your Life Forever
And you end up running to the theater like:
Knowing full well the maddening wait has been worth it.
May your holiday season be filled with light sabers, droids, and epic adventures across the galaxy with this long-awaited gem of a movie.
Images: Disney/Lucasfilm; Giphy (16)