22 Gifts For Your Mother-In-Law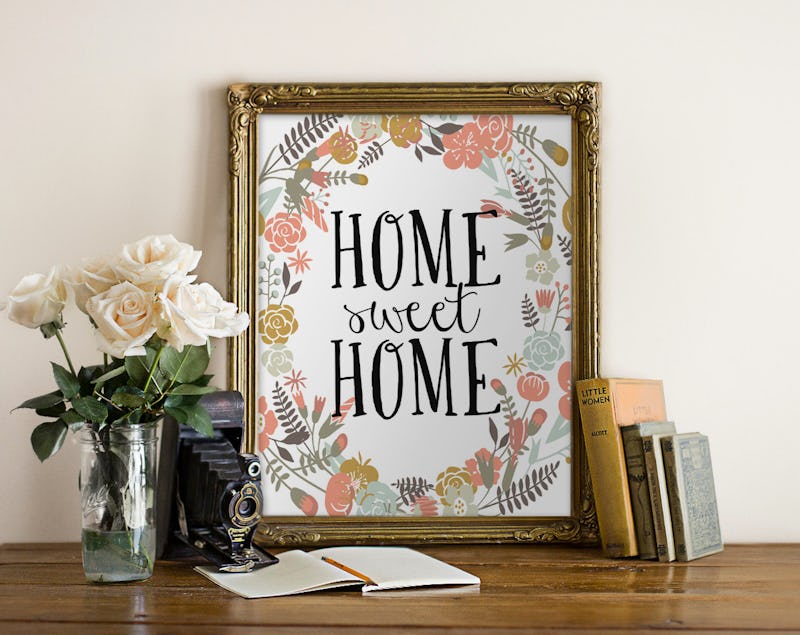 Buying a gift for your mother-in-law can be tough, I know. If you live in another state or country and don't know your MIL very well, you might not know what to get her. And if you and your in-law are besties, you want to show her what she means to you. Here are a few gifts for your mother-in-law she's bound to like, no matter your relationship.
I don't have a mother-in-law, technically, but after five years with my boyfriend, his parents are my in-laws in all but name. We spend a good deal of time with them since they live close by, and I've had the opportunity to get to know his mother over the years. She's a cool woman who likes wine, books, yoga, and, most importantly, her family and loved ones. She's also an ace when it comes to giving gifts — which makes it even more stressful for me to give her a gift. I know she'll like just about anything I give her, but I'm still motivated to get her something she'll truly enjoy.
Like giving a gift to your own mother, going with things she can use, she needs, or go along with her hobbies are safe bets. When in doubt — ask your significant other for their opinion.
Carole Shashona Empower Candle , $70, A mazon
Not only does this candle smell luxurious and amazing, but the scent is specially crafted to inspire feelings of positivity, and banish negative energy. It's best suited for a mother-in-law with a strong personality of ambition, fearlessness, and leadership.
All That I Am Decoupage Glass Tray , $54, A mazon
We owe our mothers so much — life, love, and endless amounts of home-cooked meals and advice. And you might not be your mother-in-law's biological child, but I'm sure she'll still appreciate the sentiment.
"Home Sweet Home" Typography Art Print , $5, Etsy
Home really is where the heart is, and nobody knows that better than moms. Plus, how chic is this floral print?
My Therapy Funny Novelty Wine Glass , $17, A mazon
I think most of us rely heavily on our moms and other female figures to act as our therapists. But wine helps, too. Share a glass with your mother-in-law with this cute glass.
Cashmere Gloves , $58, J.Crew
These gloves are the epitome of fashion and function. Your MIL will love them as the weather gets colder and will feel special that they're made from fancy cashmere.
F1 Red Eye Pak, $20, Flight 001
If your mother-in-law does a lot of traveling, like to visit her grandkids, this travel set is a must-have. It comes with an eye mask, sassy luggage tag, and a TSA-approved clear pouch.
Hillary Clinton for President in 2016 Coffee Mug , $14, A mazon
My future mother-in-law is Team Hillary, so this is the perfect mug for her. Doesn't she look epically presidential, too?
Cama Sheet Set , $180, Cama Home
Everyone loves new sheets — and this amazing set by Cama Home, which comes with one top sheet, one fitted sheet, and two pillow cases, is as luxurious as it gets, at an amazing price. Your mother-in-law won't be able to thank you enough.
Thank You for Raising the Man of my Dreams , $18, Etsy
I'm not usually one for sentimental stuff like this. But considering she had a lot to do with the way my soulmate turned out, I would totally give my future mother-in-law this gift.
Box of Chocolate Soaps , $28, Uncommon Goods
Obviously, consuming chocolate is the best way to enjoy it, but these chocolate soaps are pretty cool too. Your mother-in-law will probably always have a chocolate craving after her showers.
Family Recipes Book , $83, Etsy
Recipe cards or apps are cool and everything, but your MIL will appreciate being able to leave a lasting memory of her cooking to the next generation. The wood cover makes this book an attractive kitchen decor item as well.
Lemongrass Eucalyptus Bath Body Lotion Scrub Spa Set , $28, A mazon
After the stress of the holidays and just generally being a responsible adult, anyone would be happy to relax with lotion, body scrub, bath crystals, and more in scents of lemongrass and eucalyptus. Each set also comes with a brush and sponge.
California Shaped Cutting Boards , $48, A mazon
Mother-in-law missing her home state? Or is she happy just being surrounded by family over dinner? Either way, this cutting board is a unique choice.
Garmin Vivofit 2 Fitness Band , $59, Amazon
Your mother-in-law is probably a really busy lady, but she'll still need to make time for exercise. Even if she just takes a walk around the block everyday, a fitness tracker is a great way for her to stay motivated.
Monogram Letterpress Stationery , $24, Etsy
These cards are perfect for thank you notes, or for everyday correspondences. Both the letter and the color can be customized to fit your mother-in-law's taste.
Wine Pairing Towel Set , $28, Uncommon Goods
Even the most knowledgeable wine drinker might have trouble remembering all the best wine pairings. These red and white wine towels give you lots of options, and double as kitchen towels.
NARS Pierre Hardy Nail Polish Pairs , $9, A mazon
NARS is a trendy brand of nail polish, so your mother-in-law will feel super in the know. Plus, the neutral color is great for everyday, and the plum purple is sophisticated for special occasions.
Wander Bubble Bath , $33, A mazon
Bath bombs are all well and good — or you could get your mother-in-law something a bit classier. This jasmine, cypress, and water lily-scented bubble bath is so pretty looking, she might not even want to use it.
The Botanical Hand Lettering Book, $12, Amazon
If you have an artsy MIL — or a recently retired mother-in-law who might need some help keeping busy — this is a beautiful book. It teaches you how to create hand drawn script and floral accents that are perfect for cards, prints, and other gifts.
Monogram Jewelry Box , $24, N ordstrom
Mothers tend to get a lot of jewelry from their kids — so they definitely need a few places to put it all. This box is simple, but the monogram still makes it feel personal.
SO Women's Moccasin Slippers , $12, Kohls
Warm slippers are always a good option, and these grey moccasin-style ones are pretty stellar. Comfy enough to be worn around the house, chic enough to wear everywhere else.
"Notorious RBG," $13, Amazon
I think we can all agree that Supreme Court Justice Ruth Bader Ginsburg is a badass lady. She's spent her career fighting the patriarchy, and any feminist mother-in-law will love learning more about her amazing life.
Looking for more holiday cheer? Check out Bustle on YouTube.