16 '90s Commercials To Give You Holiday Feels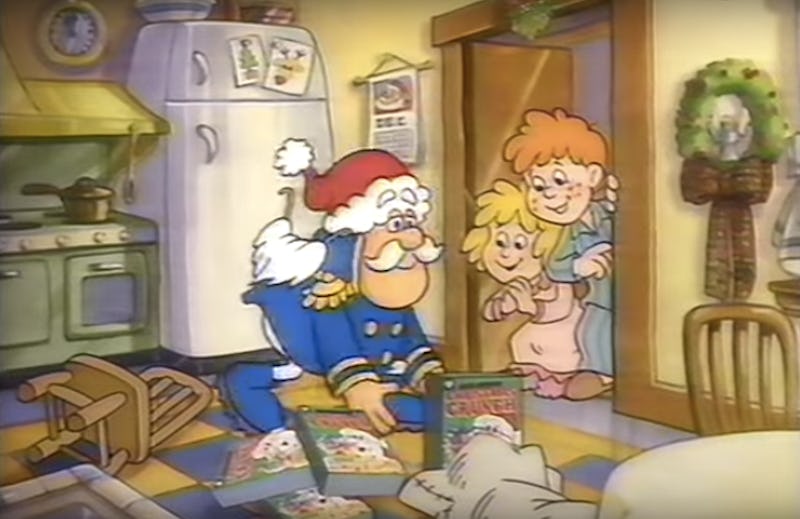 From the TV shows to the fashion trends, there isn't much from the '90s we are unwilling to remake. But of all the things I am nostalgic for, the forgotten gem of the past is definitely the bizarre holiday commercials from the '90s. These beautiful 30 to 60 second nuggets of Christmas and '90s culture are not talked about nearly enough. Thanks to the perfect marriage of holiday cheer and '90s-era technology, the decade was riddled with masterpiece commercials.
What if I told you there was a commercial where a girl is alone in the woods, and makes a snowman that summons a clown? What if I told you there is another advertisement where a woman tries to convince you that a water filtration system is a good Christmas gift? Or that a bunch of grown human adults dressed as toys mix a bowl of walnuts around and around? Would you believe me? Well, you should, because whether you remember or not, all of these exist — and more.
Say what you will about '90s commercials, you can't fault companies for trying. They definitely get an A for effort. I scoured YouTube for holiday commercial gems from the '90s, and found 16 that I consider to be diamonds. Enjoy!
1. McDonald's Snowman
In this one, the building of a snowman summons a clown, and the clown takes a child into the night. Precious.
2. Peanuts Chex Mix
I actually love this one. Maybe because Chex Mix is so delicious.
3. Kmart feat. Rosie O'Donnell
One of the lyrics in this advertisement is "cool CDs."
4. Kellogg's
In this gem, adorable English children give their Santa Claus cornflakes instead of cookies, and he gives them gifts anyway.
5. Radio Shack
The real star of this commercial is the gigantic cellphone the Radio Shack employee pulls out.
6. Christmas Crunch Cereal
Yes, yes, a thousand times yes.
7. Sega Genesis
This kid loses his mind when he unwraps a Sega Genesis. Just wait until he sees how much better video games get in the future.
8. Kodak Film (and two free batteries!)
I mean, who can say no to TWO free batteries?
9. Brita Water Filter
In this ad, a woman tries to convince you that a water filtration system is a good Christmas gift.
10. Blockbuster
Gotta love those one-take, carefully choreographed commercials.
11. Bounty
Who is the real child here?
12. Diamond Walnuts
I promise you that if toys come alive at night, the last thing they are going to do is bake something for the humans to enjoy later.
13. Long John Silver's
In this one, an elf gets another job offer, and the only thing that will make him stay is some of Santa's popcorn fish.
14. Famous Footwear
A man transforms into an elf before our eyes in this commercial.
15. Oreo
If I told you this commercial gave me the chills, would you think I'm insane?
16. Energizer Bunny
Santa oversleeps for Christmas, literally the only day a year he has to work, but the Energizer Bunny saves him.
Looking for more holiday cheer? Check out Bustle on YouTube.