21 Quotes To Inspire Your New Year's Resolutions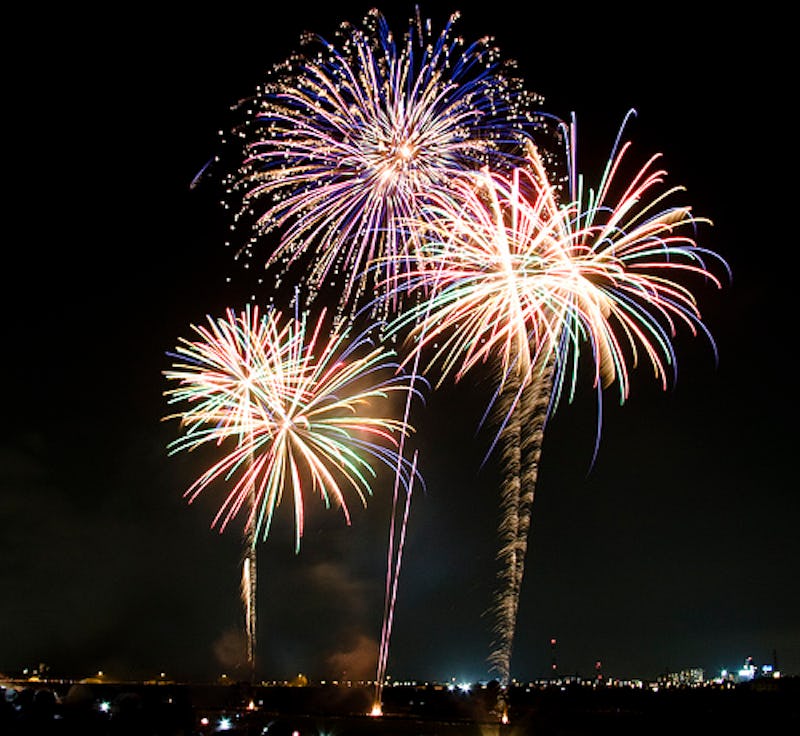 I am a firm believer in New Year's resolutions. A New Year's resolution is the procrastinator's dream. I mean, why start exercising now, in mid-December, when you can just make it your resolution for 2016? Why not just have that second (or third) slice of pie, and resolve to eat better in the new year? Why work on your novel when you can just make a resolution to be productive and successful and famous and well-dressed and wealthy next year?
But then, inevitably, the day will come. January 1 will roll around and you'll have to face the music. Are you really going to follow through on your resolution to meditate every day and start calling your mom more often? Is this the day you finally follow through on your dream of learning the clarinet? ...Or are you just going to sleep off your hangover and polish off some of those leftover holiday cookies?
Well, you could just make your resolution to "take it easy" and keep doing you. Or, if you have lofty ambitions for your 2016 self, you could look to some of your favorite authors for inspiration. Sometimes you just need a gentle, literary nudge in the right direction to come up with a resolution you might actually keep:
1. "Let me be something every minute of every hour of my life. Let me be gay; let me be sad. Let me be cold; let me be warm. Let me be hungry ... have too much to eat. Let me be ragged or well dressed. Let me be sincere — be deceitful. Let me be truthful; let me be a liar. Let me be honorable and let me sin. Only let me be something every blessed minute."
— Betty Smith, A Tree Grows in Brooklyn
2. "If you retain nothing else, always remember the most important rule of beauty, which is: who cares?"
— Tina Fey, Bossypants
3. "You can't stay in your corner of the Forest waiting for others to come to you. You have to go to them sometimes."
— A.A. Milne, Winnie-the-Pooh
4. "Don't Panic."
— Douglas Adams, The Hitchhiker's Guide to the Galaxy
5. "If you don't understand, ask questions. If you're uncomfortable about asking questions, say you are uncomfortable about asking questions and then ask anyway...Then listen some more. Sometimes people just want to feel heard. Here's to possibilities of friendship and connection and understanding."
— Chimamanda Ngozi Adichie,
Americanah
6. "If you look for perfection, you'll never be content."
— Leo Tolstoy, Anna Karenina
7. "The best teacher is experience and not through someone's distorted point of view."
— Jack Kerouac, On the Road
8. "We are all in the gutter, but some of us are looking at the stars."
— Oscar Wilder, Lady Windermere's Fan
9. "Well-read people are less likely to be evil."
— Lemony Snicket, The Slippery Slope
10. "Not being heard is no reason for silence."
— Victor Hugo, Les Misérables
11. "I know not all that may be coming, but be it what it will, I'll go to it laughing."
— Herman Melville, Moby Dick
12. "You may not control all the events that happen to you, but you can decide not to be reduced by them."
— Maya Angelou, Letter to My Daughter
13. "You can't eat straight A's."
— Maxine Hong Kingston, The Woman Warrior
14. "Fairy tales are more than true: not because they tell us that dragons exist, but because they tell us that dragons can be beaten."
— Neil Gaiman, Coraline
15. "Sometimes you just have to put on lip gloss and pretend to be psyched."
— Mindy Kaling, Is Everyone Hanging Out Without Me? (And Other Concerns)
16. "Don't let the bastards grind you down."
— Margaret Atwood, The Handmaid's Tale
17. "We are what we pretend to be, so we must be careful about what we pretend to be."
— Kurt Vonnegut, Mother Night
18. "It is our choices, Harry, that show what we truly are, far more than our abilities."
— J.K. Rowling, Harry Potter and the Chamber of Secrets
19. "One cannot think well, love well, sleep well, if one has not dined well."
— Virginia Woolf, A Room of One's Own
20. "I want to be around people that do things. I don't want to be around people anymore that judge or talk about what people do. I want to be around people that dream and support and do things."
— Amy Poehler, Yes Please
21. "When we strive to become better than we are, everything around us becomes better too."
— Paulo Coelho, The Alchemist
Images: bayasaa/Flickr, giphy (22)