How To Care For Oily Skin That's Dry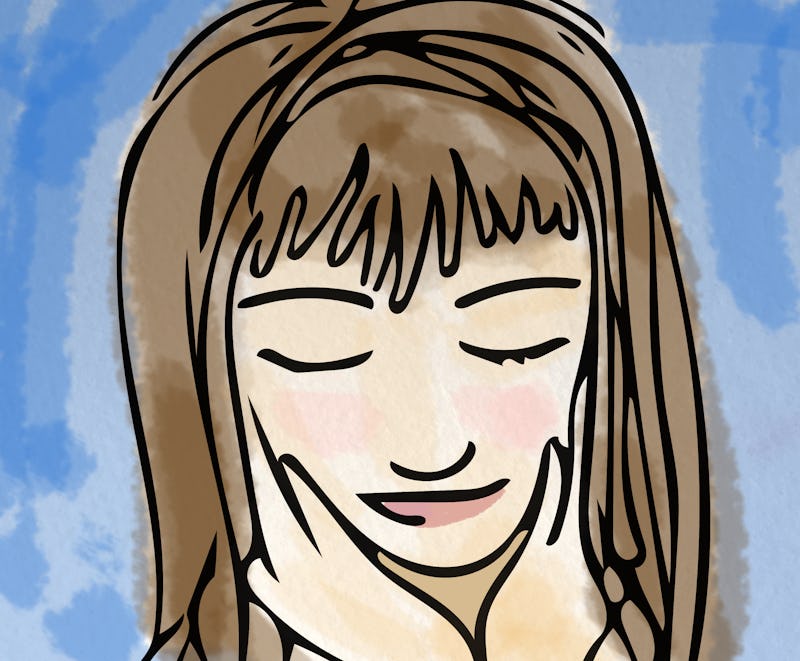 The multitude of skincare products out there these days can be overwhelming, but it's a little bit easier to filter through the madness when you at least know your skin type and needs. But if you feel like your skin is multiple types, then things start to get complicated. For example, what do you do if you have oily skin that is also super dry? I mean, that is an oxymoron if there ever was one. Don't worry — your problem is a lot simpler than it sounds, and is actually pretty common.
If you have oily skin, you're probably pretty adept at caring for it by now, but there might be certain times (especially in the winter with that super cold weather) that your skin feels simultaneously oily and dry. You might feel like you're going crazy because that basically defies logic, but you aren't. If you see your normal oil/shine on your skin, but your face feels tight, it's not dry — it's actually dehydrated. It doesn't sound like there's much of a difference between the two, but there definitely is.
While both dry and dehydrated skin might feel similar, they are treated in different ways. Dry skin lacks natural oil, so it needs it added through products. If you have oily skin, you already have plenty of that oil, so what your skin is lacking is moisture. Instead, you need water to help rehydrate your skin and get rid of that tight feeling.
Stick to products, like these seven to shop, that are oil-free, but offer moisture and hydration.
Lay off the acne-fighting cleansers and switch to a hydrating cleanser until your skin is rehydrated.
It's super important to let your skin repair while you sleep, so choose a moisturizing lotion for night.
Derma E Hydrating Mist, $11, Amazon
Skincare isn't just for the morning and night — help your skin stay hydrated all day long with a facial spray.
Vichy Aqualia Thermal Awakening Eye Cream, $29, Amazon
You want that hydration to last as long as possible.
5.Hydrating Cream
Ponds Bio-Hydratante Light Hydrating Cream, $27, Amazon
Cream is generally heavier than lotion, but this one is light enough that it won't clog pores.
Boots Expert Sensitive Hydrating Serum, $8, Amazon
Use a serum before your moisturizer to lock in hydration.
MyChelle Ultra Hyaluronic Hydrating Serum, $41, Amazon
Hyaluronic Acid is amazing for restoring moisture to skin, so you definitely want to add it into your routine.
Want more beauty tips? Check out the video below, and be sure to subscribe to Bustle's YouTube page for more hacks and tricks!
Images: Cora Foxx/Bustle; Drugstore.com; Anton Maltsev/Fotolia