10 Cozy Robes To Live In This Winter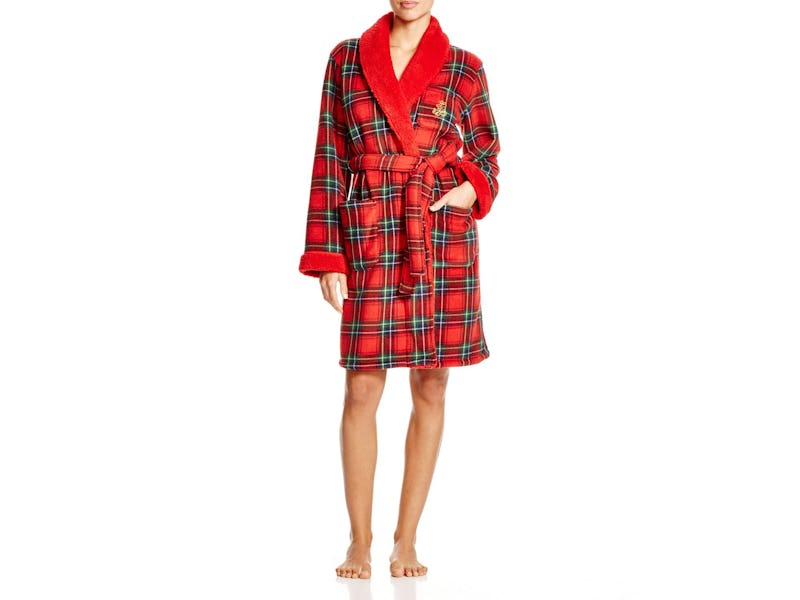 Want to step up your comfort game this season? Look no further than a cozy winter robe that'll not only get you in the winter spirit, but keep you warm as well. While I'm always down for a set of matching pajamas, the ultimate level of cozy is only reached by a robe. It's basically like wearing a blanket around you at all times that also happens to be pretty cute.
While robes as outerwear has actually been a huge trend this season, my favorite type of robe is the one I get to wear indoors. You know, when I'm at peak laziness, pairing them with my largest sweatpants and cat t-shirt (yes, I have multiple). Jil Sander, Diane von Furstenberg, and Chloé have all made their versions of robes to actually wear in public, and they're all incredibly chic. In fact, they're my next investment.
But I'm talking fleece, guys. I'm talking terry cloth and I'm talking the quirkier, the better. Because after all, doesn't being huddled up with your closest friends and family during the holiday season give you the unbreakable pass of being 100 percent yourself and comfortable? I mean, I know I'm going to spend my five days of vacation in the same outfit (read: pajamas and robe). Maybe I'll even brush my hair once or twice. I said maybe. No promises.
Below, find the perfect winter robes that you'll never want to take off once you put them on. And who says you have to?
Daizies By Flowers By Zoe Buffalo Snowflake Robe Red, $18, Target
With the matching eye covers, too? Need.
Lauren Ralph Lauren Dalton Fleece Shawl Collar Long Robe, $55, Dillards
Who doesn't want to sleep in this? No one.
ASOS Curve Snowman Robe, $16, Asos
This robe is so stupidly cute, it hurts.
Jane & Bleecker New York Reindeer Games Double Knit Short Robe, $58, Bloomingdales
Though this robe has reindeer all over it, it still manages to look pretty damn chic.
Snowflake Plush Robe, $59, Seventh Avenue
Just look at how soft this robe looks.
Three J NYC Alex Flannel Robe, $110, Shop Bop
Nothing says wintertime quite like flannel does.
What better way to get into the holiday spirit than this number?
Women's Holiday Fairisle Robe, $18, Target
If you're going to go for a pop of color, no better time than the holidays!
Lauren By Ralph Lauren Bonded Sherpa Short Robe, $88, Zappos
Yes. Sherpa. Don't be surprised if you and the robe become one.
Grey Snowflake Robe, $20, Zulily
Throw on a pair of grey leggings, and you've got yourself a groutfit.
Because who actually wants to wear clothes on vacation? I know I don't. As far as I'm concerned, a robe, slippers, and sweats are perfectly acceptable to step out in, whether you're heading to the grocery store, or grabbing a coffee. The world has an understanding: Robes reign supreme.
Want more style tips? Check out the video below, and be sure to subscribe to Bustle's YouTube page for more hacks and tricks!
Images: Courtesy of Brands