11 Nonfiction Books By Women For Every Book Club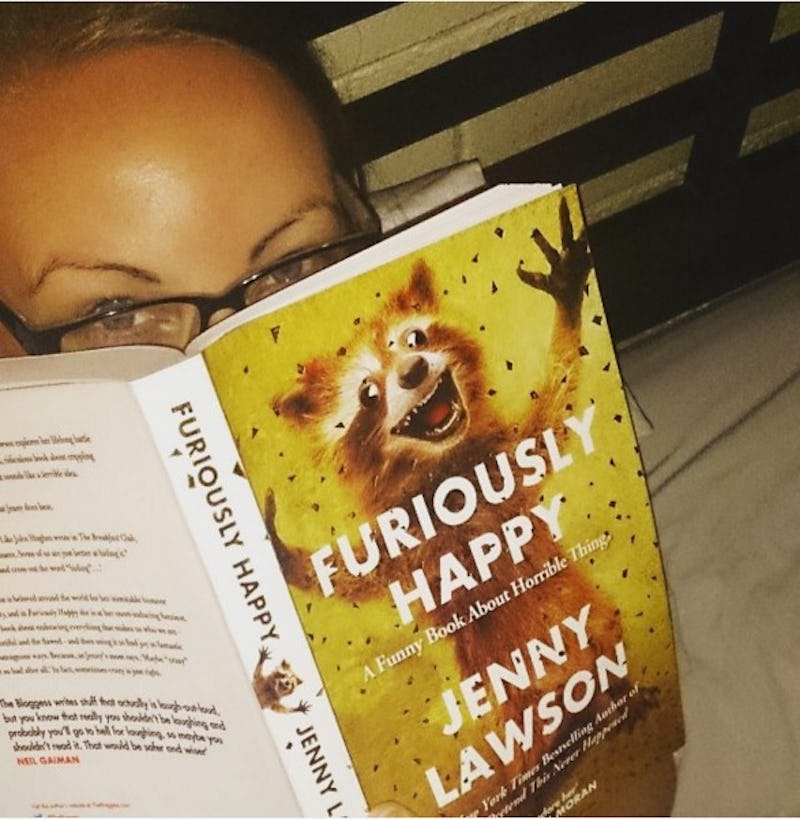 Last year, you (and everyone else in your book club) fell in love with Cheryl Strayed's Wild, so this year, you're looking to add more nonfiction books by women to your reading roster. Seeing how badass women writers are, especially when it comes to memoirs and essays, I can't blame you for wanting to have more of them in your life and the lives of your fellow bibliophiles. Women are killing it in nonfiction, after all.
From moving coming-of-age stories to hilarious outtakes from real life, nonfiction books by women have everything your book club could possibly want and more. They're inspiring stories of overcoming adversity, personal narratives of love and loss, and poignant discussions about gender, race, class, and so many other crucial topics that are important to women. Women's nonfiction books are certainly touching and thought provoking, but they're also filled with funny anecdotes, laugh-out-loud mishaps, and life's most outrageous moments. In other words, they're filled with plenty of material to keep your group chatting through brunch, tea, cocktails, or whatever way your book club spends its time together.
For your reading pleasure, here are 11 nonfiction books by women you need to read with your book club — because you can never have too many inspiring women or too much reading material in your life, right?
The "Godmother of Grunge" will leave your book club with plenty to discuss after you've finished her rock 'n roll memoir. An intimate look at the her childhood, life in the music scene, her love life, and even her future, Kim Gordon's memoir is personal, engaging, and completely absorbing, especially for the hardcore music fan. From the ultimate cool girl, Girl n a Band is the perfect dose of music, pop culture, and art for your book club.
You've always wanted to know what it's like to work in a crematory, right? Okay, maybe you haven't, but once you read Caitlin Doughty's morbidly funny memoir, you will never think of funerals, morticians, or death the same way again.
If your book club has been avoiding science-related books for fear they'll be to dull, then you need to step outside your groups comfort zone and try Rebecca Skoot's brilliant and moving book. The Immortal Life of Henrietta Lacks tells the story of the dark a troubled history of the HeLa cells — cells that were used to discover the polio vaccine, aided in gene mapping, and to this day is used in cancer studies, but cells that were unknowingly taken from a poor, dying black women in the "colored" ward of John Hopkins hospital. A close look at medical ethics, family history, and issues of race and class, this science book is one your whole book club won't be able to stop discussing.
Pearl Cleage doesn't actually have to be your mother for you to soak up her wisdom, experience, and incredible storytelling. Things I Should Have Told My Daughter is a beautiful self portrait of Cleage in the 1970s and 1980s, when she was struggling to create her own identity while grappling with questions of race, gender, and art. This is the kind of book that will inspire your entire book club to be strong, be brave, and never give up.
If your book club is looking for a vibrant, charming, and witty coming-of-age story, look no further that The Liars' Club. Though it's celebrating its 20th anniversary this year, Mary Karr's childhood memoir about growing up in an oil-soaked Texas town is still sharp, cynical, and absolutely hysterical. And if your club can't get enough of Karr (which, trust me, it won't), you can read her other two memoirs, Cherry and Lit.
You've probably seen her outrageous web series, so you know how hilarious Issa Rae is, but it's time to share her humor with everyone in your book club. The Misadventures of Awkward Black Girl is a collection of shamelessly awkward experiences in essay form that will have your entire reading group in stitches.
A powerful story of survival, The Underground Girls of Kabul exposes the complicated truth about being a "bacha posh," or a child born a girl, but raised as a boy for years. Investigative journalist Jenny Nordberg uses real women's stories to explore this practice with clarity and compassion.
Admit it, you've always wanted to read a book about witches in book club, but you've been too shy to ask. While The Witches isn't a supernatural love story, there's still magic in its storytelling of the complicated history of what really happened at the Salem Witch Trials. Though lengthy, this well researched, evocative book is worth the effort.
So many memoirs feature dysfunctional families, but Tracy K. Smith recounts her home life as not only happy, but almost idyllic. Ordinary Light is a celebration of Smith's unbreakable bond with her family, especially her mother, and an examination of how those relationships shaped her. It's a touching examination of the intersection of family and self, and everyone in your book club will love it.
Blogger and author Jenny Lawson's latest book might be about dealing with mental illness, but that doesn't make it any less laugh-out-loud funny than her other work. As the title would leave you to believe, Furiously Happy is a humorous look at some pretty grim situations, but with Lawson's expert pen, even the most depressing (and I mean that literally) situation has an uproarious and even marvelous silver lining.
11. M Train by Patti Smith
Since everyone in your book club has probably already read Just Kids, it's time to tackle Patti Smith's latest revealing memoir. Just as personal as her last, M Train takes you back inside Smith's world where she shows us everything, from her Greenwich Village coffee shop to Frida Kahlo's home in Mexico to the grave sites famous writers, all the while giving insight to her creative process and intimate thoughts, dreams, and despairs. Trust me, this is a book you want to read with others so you can talk it to death.
Image: picsbetweenthelines/Instagram