'Scream Queens' Could Go From College To Camp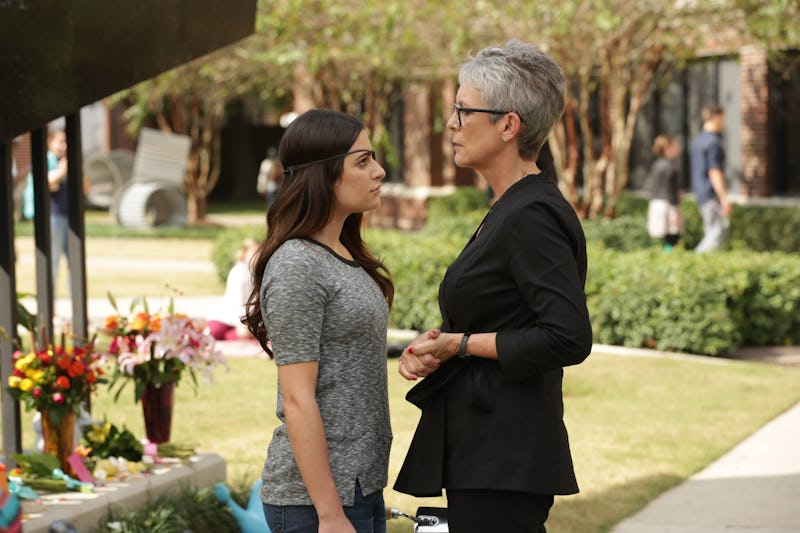 After weeks of having absolutely zero clue who we could blame for the murders at Wallace University, the Scream Queens finale revealed just who was behind those Red Devil masks. It turns out that the second Red Devil killer wasn't Grace, Chanel, or even Pete. Instead, the person behind the costume was none other than Hester herself. She was the second bathtub baby and the brains behind the entire operation, with her final act of revenge being sending the Chanels to a mental institution. (Unfortunately for Hester, they happen to absolutely love it there.) Hester has survived her killing spree and gotten away with murder — and we haven't seen the last of her yet. According to actress Lea Michele's interview with E! Online, Hester will likely be back if Scream Queens is renewed. With that settled, the real question is: what would Season 2 of Scream Queens be about?
No one can officially confirm what Season 2 of Scream Queens will be about, solely because we don't yet know if there will even be a second season. However, that hasn't stopped the cast and crew from dropping some hints about their hopes for the show's potential sophomore season. Prior to the show's premiere, creator Ryan Murphy told Entertainment Weekly that each season would connect to one another.
Whoever survives—and there will be people who will survive—they will go on next season to a new location and a new terror. Unlike American Horror Story, which completely reboots, this has some of the continuity in that some of the characters and some of the relationships continue into a new world.
Basically, that means that while some of the students from Wallace may return for Season 2, it won't be in the same setting. We also know that Scream Queens tends to borrow from slasher movies, rather than supernatural horror films like Murphy's other series American Horror Story does.
A young cast, plus limited settings of slasher flicks? There aren't exactly a plethora of classic story ideas there, which is why when Oliver Hudson (Wes) told Watch What Happens Live! to "think summer camp" when it comes to Scream Queens Season 2, the clue seemed pretty legit. Could the sorority sisters still left at Kappa head to a summer camp as counselors, only to find themselves at the center of yet another murder mystery?
It's totally possible, but there is one recent development that may make it more of a challenge. Entertainment Weekly recently reported that a "summer camp horror series" described as "John Hughes meets John Carpenter" called Dead Summer has received a series order at ABC Family. That might be one reason for Scream Queens to avoid the camp thing entirely, though the show could still use elements of films like Friday the 13th by setting the new location somewhere outside of civilization — where no one can hear these queens scream.
If Scream Queens follows in the tradition of American Horror Story, it may take a few more weeks before the officially new setting of the second season is revealed — again, assuming that Fox wants to keep the series around. If not, we'll have to settle for an already-announced Season 6 of American Horror Story and the upcoming American Crime Story to get our fix of Murphy's anthologies. But I'm keeping my fingers crossed that we have yet another killer waiting in the wings.
Images: Patti Perret/FX; Giphy (2)