Tina Fey & Amy Poehler Reprise Beloved 'SNL' Roles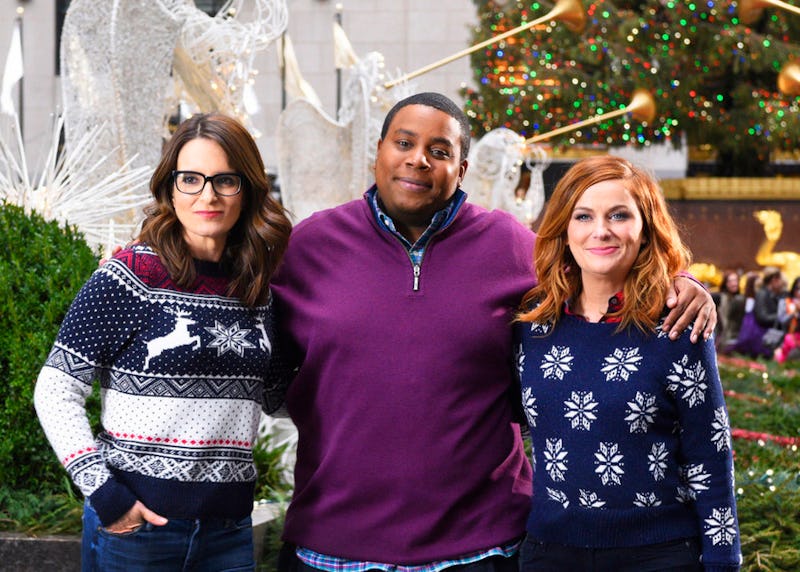 Less than 20 minutes into the episode, my holiday wish was granted when Tina Fey and Amy Poehler played Sarah Palin and Hillary Clinton on Saturday Night Live. The skit kicked off with Hillary Clinton (Kate McKinnon) getting ready for bed and a night of productive dreaming — but then she was visited by her 2008 self, played by Poehler. And, boy, they had a lot of catching up to do. McKinnon's Clinton had lots to share with her "young, naive" 61-year-old self. When Poehler pushed her to name the 2016 Republican frontrunner, McKinnon wisely told her to find something to hold onto — but Poehler collapsed anyway, before getting up to high-five McKinnon as they giddily celebrated the fact that they're going to be president.
Then another visitor appeared — none other than Sarah Palin showed up in a cloud of smoke. Per usual, she looked confused and exclaimed that she'd just "landed in the bedroom of a lesbian couple." Once she realized she was in Clinton's home, Palin was sure to offer her condolences to Clinton on that unsuccessful 2008 presidential bid. "I heard that after you lost, you had to become a secretary," she said sympathetically. The Hillary pair tried to explain to her that there's a difference between a secretary and a Secretary of State, but she didn't seem interested.
Fey went on to brilliantly spoof Palin's incoherent, now-infamous rant about raising the minimum wage. This sketch was a brilliant blast from the past that showed us why we love Fey and Poehler so darn much — especially when they're working together. (As if we needed another reminder.) They truly made these two roles iconic, and the holiday episode would have been incomplete without their portrayals of Palin and Clinton. After all, Fey and Poehler have helped us survive many an election year.
Predictably, viewers went wild with excitement:
Before the skit ended, Palin provided some words of advice to Clinton: "If it gets too hard, just quit. Who cares?" But, Clinton is never one to take Palin's advice — either on Saturday Night Live or in real life.
Image: NBC
Watch the full video below: