Tina Fey & Amy Poehler's 'SNL' Promos Are Gold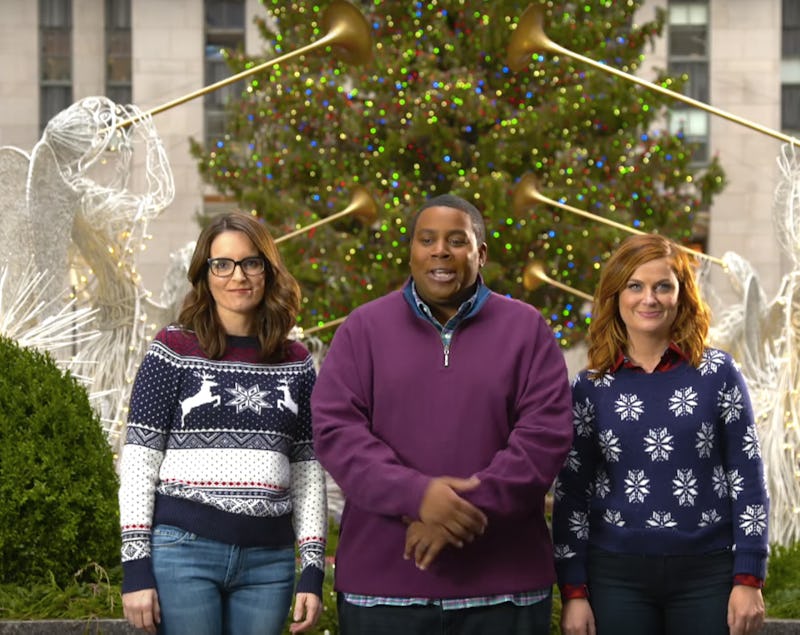 Tina Fey and Amy Poehler are ready and set to host Saturday Night Live on December 19. The two funny ladies were a staple on the show during the early '00s, and have had their fair share of memorable SNL sketches to boot. Between everything from being the first two female Weekend Update anchors to starring in a slew of comedy movies together, there really seems to be nothing they can't turn into a comedic success — and on Saturday, they will prove once and for all why they were the queens of SNL. Proof: To prepare for the show, and in typical SNL style, the new promos for Fey and Poehler's much anticipated SNL appearance have arrived, and they are just as funny as you would imagine.
While it is easy now to assume Poehler and Fey together equals crazy success, their rise to the top of the comedic throne was a long time coming. Their return to SNL is, obviously, received with open arms from the entire nation, because they will once again return to the place where they captured America with their talent and poise.
But, with the bar set so high, did Poehler and Fey truly do it best when it comes to recent SNL promos? Here is where they fall among the greatest.
11. Jimmy Fallon
It is basically impossible not to fall out of your seat laughing when Jimmy Fallon and Justin Timberlake are together. In just this short promo alone I was crying ridiculously hard from laughter.
10. Paul Rudd
In case you were wondering if Paul Rudd was a lost One Direction member, he clears that up in this promo. For the record, no one should be wondering that.
9. Miley Cyrus
Classic Miley Cyrus!
8. Tina Fey & Amy Poehler
There is so much anticipation for the new SNL episode hosted by Fey and Poehler, and this promo put everyone at ease. While it may not have been the best of the recent times, it still proves that Saturday's show will be worth the watch.
7. Kerry Washington
Kerry Washington and Eminem — yes, that's right, Eminem — make a hilarious pair in this clip. Even though Eminem was only the musical guest, his banter with Washington, or lack thereof, really made this one for the books.
6. Josh Hutcherson
Josh Hutcherson can do no wrong in my book. End of story.
5. Matthew McConaughey
Matthew McConaughey is a character in and of himself, so paired with Kate McKinnon, this promo was pure creative genius. I would watch a whole show dedicated to these two just talking back and forth to each other.
4. Elizabeth Banks
Elizabeth Banks really shined during her SNL episode, and this promo proves why.
3. Chris Pratt
Chris Pratt fending off the advances of Kate McKinnon is perfect. The two were so good, they almost had me convinced he might need a restraining order after the show.
2. Ryan Gosling
In this promo, Aidy Bryant has some crazy fangirl moments in front of Ryan Gosling. We were all thinking it — but Bryant nailed it.
1. Amy Schumer
Amy Schumer and Vanessa Bayer really need to have an hour long special together. These women are funny on their own, but put them together, and comedy magic is created.
SNL has a way of bringing out the best in people, so the promos are just the icing on the cake. I'm sure Fey and Poehler have a lot of that SNL spirit still left in them, which will make the episode worth watching. You can see Fey and Poehler host SNL on December 19 on NBC.
Image: Saturday Night Live/YouTube