Tammy's Nephew Was Not Welcomed By The 'RHOA'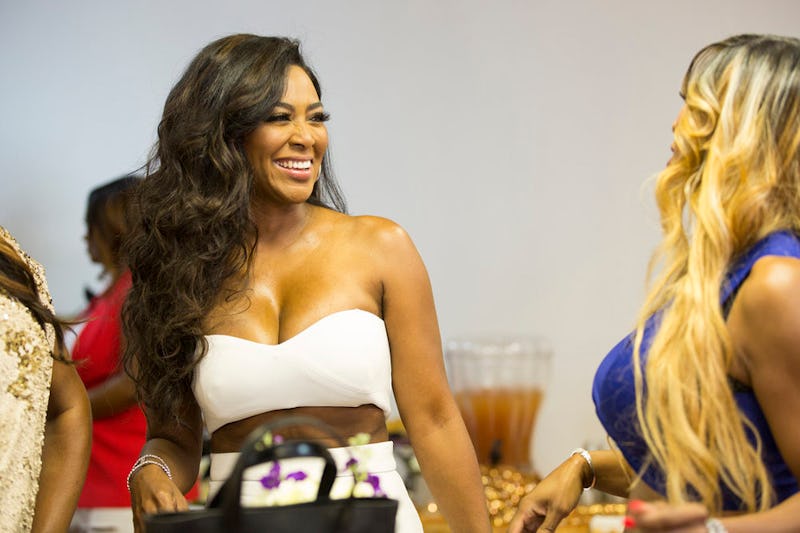 If last week's episode of Real Housewives of Atlanta was all about how unpredictable new addition Tammy can be, then this one was all about how crazy her relatives can get. Kenya threw out Tammy's nephew, Glen, in a dramatic scene that culminated with Tammy getting hurt, and Kim leaving the trip. Tammy's nephew and the guys that Porsha picked up at the bar probably shouldn't all have been invited back to the place where all of the Housewives were staying. While Porsha was flirting, Phaedra was playing her wingman, and everyone else was at least enjoying a few too many cocktails, poor Kandi and Kim were just trying to live through the night while they were both sober — and all of the drama was not a welcome sight.
But even before Kenya prompted the dramatic outburst, Tammy's nephew did seem to be on edge and even a little defensive after his aunt invited him and his brother out to hang out with the Atlanta ladies while they vacationed in the tropical Florida city. While everyone was being loud, he was quiet and even seemed to be in a bad mood the entire time. Initially, he clashed with Kandi, saying that she "snapped" at him and wasn't being respectful to him, just for not answering the question of how she was feeling right away.
And after talking to Kandi about the awkwardness of his attitude, Kenya made the decision to send Tammy's nephew home. Sheree seemed shocked and Phaedra said that he had never made her feel uncomfortable, but after the accusation, Glen got extremely angry, and even started to push and hit away the security personnel who were presumably working for the RHOA production. And in the commotion, Tammy wound up falling to the ground and needing to go to the hospital after Glen allegedly pushed her (it's always hard to tell with editing), according to Kenya's story. And according to some Tweets Kandi posted, the story about Tammy coming back in the middle of the night happened after the cameras turned off.
While most of the ladies seemed to think that Kenya was in the wrong for telling Glen to leave, Kandi and Kenya were in total agreement: it's unacceptable for someone to act that way in a group setting. Glen wound up being forcibly escorted out of the house, and one thing that Kenya said is certainly true: "You can't provoke someone into pushing a woman." Whether Kenya made the situation more or less intense is up for debate, but Glen's behavior is not.
Image: Mark Hill/Bravo