'RHOA' Just Got Rid Of One Of It's Rivalries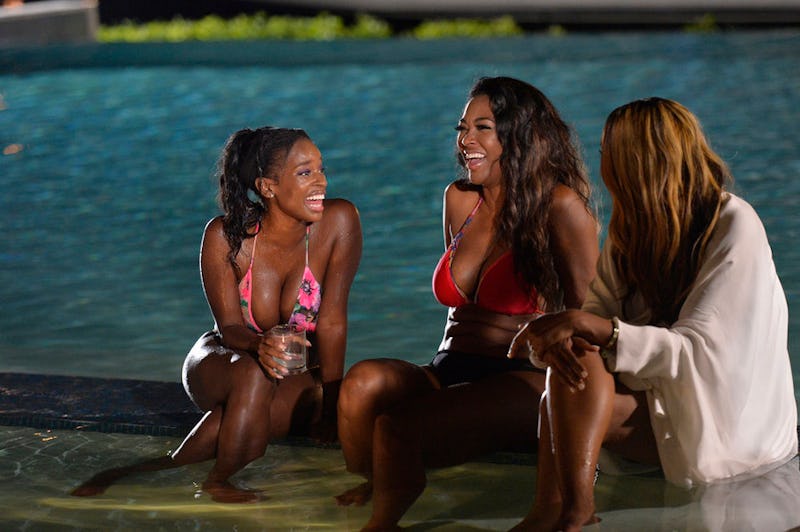 Kenya Moore & Shereè Whitfield seemed like two trains headed for a direct collision, as least as of the last episode of Real Housewives of Atlanta. So that's why, when Kenya & Shereè made up during just the third episode of the season, it was almost a little disappointing. So far, no showdown moments like the ones between Kenya and some of her other enemies, like NeNe or Phaedra, have happened between her and Shereè.
But did these two neighbors manage to keep up their friendship, or are they already fighting again? Because, let's not forget — over the course of this episode, Kenya suggested that they should have a Good Times-style "rent party," suggesting that Shereè literally couldn't afford to pay rent in her home. And then she kept insisting that Shereè had received a bunch of citations that made the neighbors dislike and complain about her, while Whitfield claims she only got a single fine, for erosion on the construction site. Kenya's offer of friendship also seemed mighty shady, and a little condescending.
Let's look to social media to be the judge — is there a new rivalry brewing? Or could these two actually remain BFFs?
Wow — so to Kenya, they're still friendly, but Shereè is more hesitant. Interesting... perhaps in recognition of the behind-the-back shade Kenya was throwing. Though Shereè knows how to take care of herself, shade-wise, getting in that hilarious color contacts dig.
But even though they still aren't super tight, these two probably should become friends. In the same way that Shereè's various attempts at starting a business (like her clothing line) always managed to go horribly wrong, so too was Kenya's hair product launch a complete disaster. Even though it's more fun to watch Real Housewives of Atlanta fight with one another, if Kenya and Shereè have to get along for the whole season, hopefully they'll at least try to collaborate on something so fans can watch the hilarious consequences.
Image: Rodrigo Valera/Bravo