Sasheer Zamata Might Just Redeem 'SNL'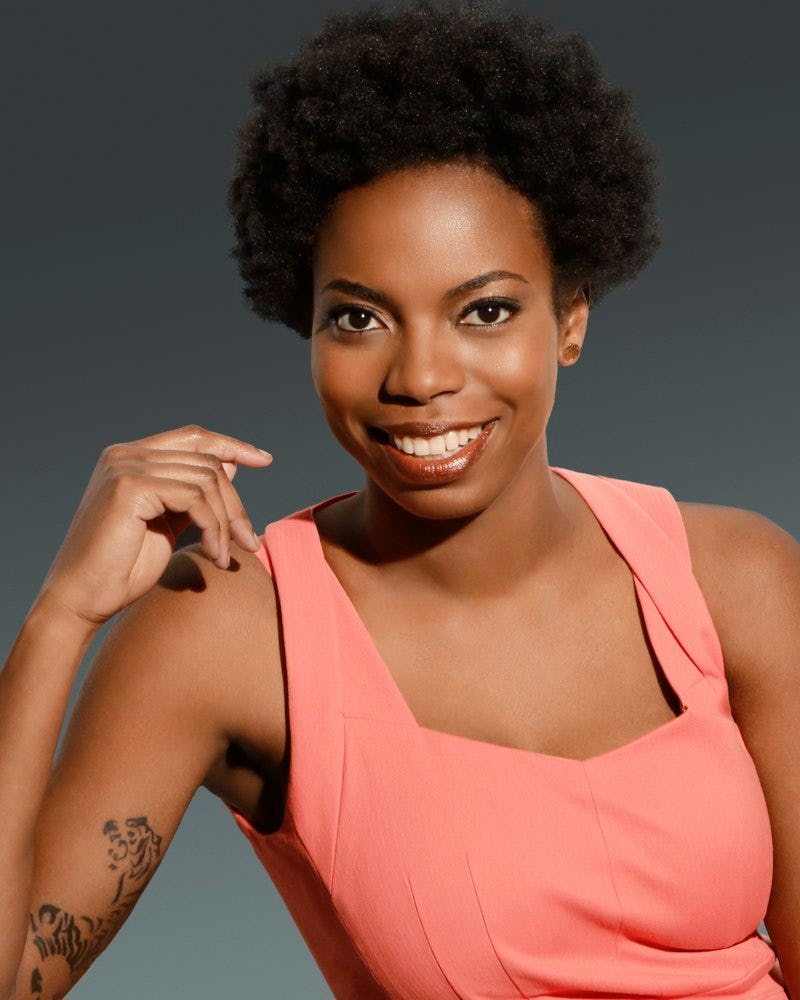 Where were you on Saturday night? If you were Sasheer Zamata, you were killin' it and shuttin' it down on your first night as a new cast member on Saturday Night Live. Zamata, the first black woman on the show since 2007 (and only the fifth OF ALL TIME), debuted on the first episode after winter break, with Drake as host and musical guest. Like all new players, Zamata was not given an excess of airtime, but she was allotted more than most (she performed in 5 of 11 total sketches). And her few appearances spoke volumes — not only of her merits as a comedic actress (obvi many) but of the potential that SNL has to redeem itself this year.
At least, we can hope. Of course the pressure was tenfold for Zamata to perform and do it well as opposed to "regular" new players, and she rose to the occasion. But so it goes for one of only three black women on the 38-year old sketch show, which, at the tail of last year, had to answer for its glaring lack of diversity. It seemed like her performance hung in a precarious balance: if she were given TOO much stage time, it could seem a little overcompensating on the part of Lorne Michaels and co., to further assert their newly minted Open-Mindedness.
Zamata was not the star of any particular sketch, but she was hilarious as Rihanna in the opening credits for "Blossom" on the BET "Where Are They Now?" bit. And, in the wake of SNL's hiring of two new black female writers, LaKendra Tookes and Leslie Jones, it could mean a good year (finally) for Saturday Night Live. Despite its epic shortcomings in diversity, SNL has forever remained a cornerstone of culture (even though now we all just watch it clip for clip on Hulu) and it somehow maintains its relevance, and with Zamata on the cast, it is finally moving in a forward direction.
SNL should tread lightly, though. As Jet Magazine editor-in-chief Mitzi Miller told Robin Young of Here and Now :
I want this young lady to succeed. Our entire community wants her to succeed, because if she's talented, then she deserves that, and we want to get behind her. But she's always going to carry the stigma of, 'You only got hired, you only got brought on, because of the color of your skin. And that's not fair to anyone. This was a publicity stunt, it backfired, and now people are uncomfortable. And the bad thing is that this young lady is going to bear the brunt of it for the rest of her time there. No matter how successful she goes on to be, people are going to remember how she got hired. That's going to be part of her history now.
Unfortunately, Zamata will not be held to the same standards as the other new cast members, whose value as SNL players will only be judged by their comedic talent. In no way should Zamata be held responsible to Adequately Represent a Black Voice on the show, but the danger is definitely there that she could become a monolith. Her talents, though, are more than enough for her to be a breakout star (and hopefully, down the line, become a wildly successful SNL alum).
I want to try and forgive SNL's very transparent motives on the influx of new black female hires (don't write us off as irrelevant, we have black employees!), because I think any presence of black voices on SNL is a great thing. They have to be responsible, though, and utilize Zamata, Tookes, and Jones to add value and relevance to the show, and not to write or act as symbolic apologies for the show's whiteness.
I am actually looking forward to the season, which is something I have not been able to say in years.
Image: Dana Edelson/NBC