The Best National Costumes At Miss Universe 2015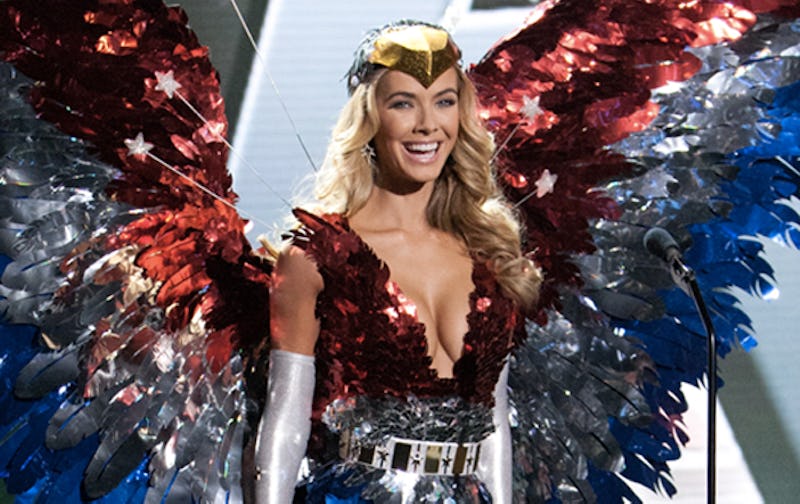 One of the most exciting parts of watching a pageant is seeing all of the beautiful looks of each contestant. Such is the case with some of the national costumes at Miss Universe 2015. To present every woman, 80 in total, each contestant introduces herself, as well as her country, dressed in their respective national costumes. This is perhaps my favorite part of the entire competition, as we get to see all of their insanely intricate looks (read: Miss Universe Hungary dressed up as a Rubik's cube).
Though the evening gown section is also a time to ooh and aah at all the beautiful gowns and get some serious #dressenvy, nothing is quite as jaw dropping as seeing all the glitz, glamour, and glitter of the national costumes. As a woman born and raised in the Philippines, I can't tell you how proud I felt when I saw Miss Universe Philippines rocking a classic Filipiniana dress — A gorgeous white and pearl gown with puffed sleeves.
There were so many memorable looks, from dragon-inspired costumes, to feathery-wings, to the most intricate headpieces I've ever seen (shout out to Miss Universe Indonesia and Miss Universe Dominican Republic). But there were also some more subdued get-ups that were equally gorgeous, like Miss Universe France's minimal dress and glittery Eiffel Tower decals on her body, to honor the recent Paris Attacks.
Below, find some of the best national costumes at Miss Universe 2015, and prepare to be completely stunned.
USA
Netherlands
Guyana
Indonesia
Dominican Republic
Guatemala
Ireland
Puerto Rico
Philippines
France
Australia
Thailand
Mauritius
Malaysia
Jamaica
Guatemala
Great Britain
Austria
Curaçao
Belgium
Japan
Venezuela
South Africa
Mexico
Colombia
Austria
Each country, like each woman, all had unique looks that spoke to their home country. But the best look of all was the pride that each and every contestant carried with them as they represented their nation. Good luck, ladies!