Where Is Brendan Dassey Now?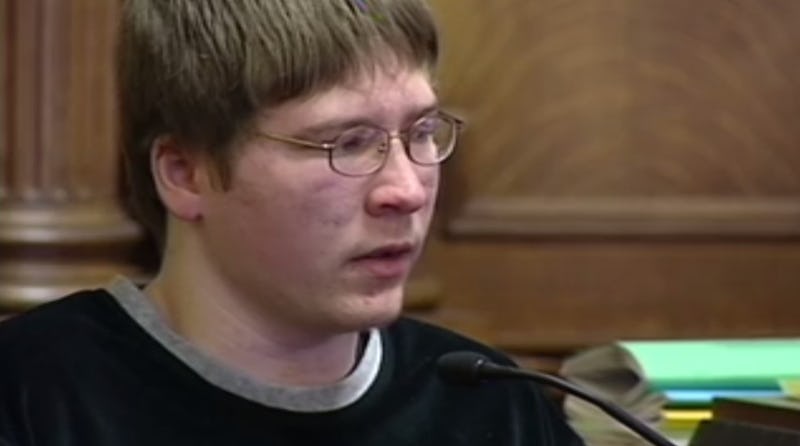 The latest true crime drama has unfolded on Netflix, and it's as harrowing a tale as there ever was. Making A Murderer tells the story of Steven Avery, a man who was exonerated after spending 18 years in prison for a rape that he did not commit. Two years after Avery left prison — on the very same day that a bill was to be passed in his name that would create stricter standards for police investigations in Wisconsin — he was once again charged for a brutal crime. This time, Avery was charged with the murder of young photographer Teresa Halbach. However, Avery wasn't the only person who was ultimately found guilty of Halbach's murder: Avery's teenage nephew Brendan Dassey was also found guilty, despite alleged evidence that his testimony was coerced.
Dassey became involved in the Avery case after he was interviewed by the police in what became a lengthy interrogation. Dassey and Avery's defense team alleged that Dassey was manipulated into admitting that he had something to do with Halbach's murder, as the police allegedly asked leading questions about what happened to the victim and continually insisted that Dassey tell the police "the truth," even if doing so would make him look "bad," as seen during Dassey's trial on Making A Murderer. Dassey, who the docu-series portrays as being learning impaired, admitted to the police that he was a part of the murder, but later recanted his confession at his trial. Avery has never corroborated any part of Dassey's story.
During Dassey's trial, the teenager insisted that he was innocent, and said on the stand that he may have gotten some of his brutal claims about the crime from the James Patterson novel Kiss the Girls. Ultimately, the jury believed that the prosecution's argument was valid, and Dassey received a sentence of life in prison at the age of 17, with no parole, for 41 years.
According to a title card within Making A Murderer, Dassey is currently spending his life sentence at the Green Bay Correctional Facility in Green Bay, Wisconsin, the same place where his uncle Steven served eight of his 18 years for his since exonerated rape charge. Barb Dassey, Brendan's mother, told the docu-series that Dassey wanted to try to get his high school diploma while in prison, but missed "everyone" on the outside.
Dassey did not give up on on clearing his name. In 2013, Dassey's lawyers filed a petition for a new trial with the Wisconsin Supreme Court that claimed his constitutional rights were violated due to "ineffective assistance of counsel" and "an involuntary confession." That fits in with what the defense suggested in the first place: that Dassey's so-called "confession" was really the work of police manipulating a man of low I.Q. into corroborating the story they wanted him to. The police have denied this claim at the trial. The 2013 appeal was ultimately denied, but the legal team was not done attempting to score Dassey another shot at proving his innocence. In November of 2014, Dassey's lawyers took his petition to federal court. It is unclear at this time whether the appeal has been denied or is still pending.
Image: Netflix