What Happened To 'Making A Murderer' Lawyer Kratz?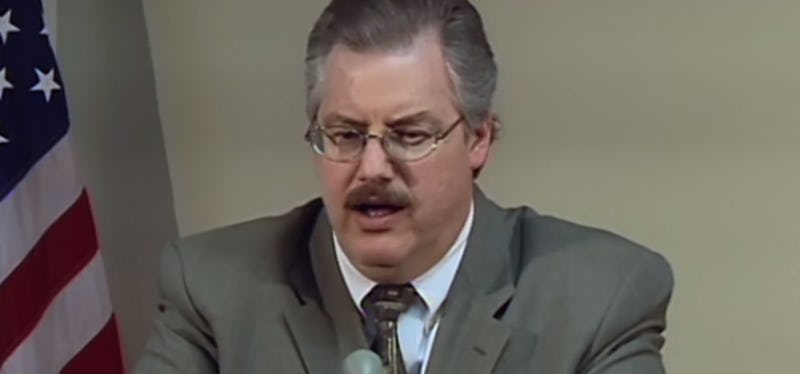 Netflix's new true crime docuseries may make you question everything you think you know about the justice system. Making A Murderer examines the 2005 murder of 25-year-old photographer Teresa Halbach and the trials of the men accused of killing her, Steven Avery and Brendan Dassey. District Attorney of Calamet County, Wisconsin Ken Kratz served as the special prosecutor on Avery's trial. Kratz and the prosecution won the case; the jury was convinced that Avery was guilty of the murder of Halbach. However, years after Kratz helped send Avery to prison, Kratz himself came under fire for alleged inappropriate and unethical behavior.
Avery had previously served 18 years in prison for a rape conviction before DNA evidence exonerated him, and is currently serving a life sentence for Halbach's murder. He remains in prison despite suggestions in Making A Murderer that the Monitowoc County, Wisconsin sheriff's department — the same department that ultimately put him away for rape — could allegedly have framed him for this crime, which the department vehemently denies.
When Avery's attorneys asked members of the sheriff's department of Monitowoc County about possibly planted evidence during Avery's trial, all members interviewed denied the claims. Whatever you believe about the Avery case, the allegations against Kratz in 2010 certainly add a twist. In 2010, Associated Press writer Ryan J. Foley reported that claimed that Kratz had been inappropriate towards a victim of domestic violence, Stephanie Van Groll.
Kratz, who at the time was the Calumet County District Attorney, was prosecuting Van Groll's ex-boyfriend, the man accused of nearly choking her to death in 2009, when, according to Foley's report, Kratz reportedly sent Van Groll messages indicating that he was interested in a romantic and sexual relationship with her. The AP report claimed that, though Kratz initially kept his text messages friendly, he allegedly became more aggressive, and, according to Foley, wrote: "I have the $350,000 house. I have the 6-figure career. You may be the tall, young, hot nymph, but I am the prize!"
At a news conference in 2010, Kratz admitted that he did send nearly 30 texts to Van Groll in hopes of pursuing a relationship, and stated that his texting was "inappropriate." Kratz also said at the conference that he was "embarrassed and ashamed" for the texts that he sent to Van Groll.
Van Groll ultimately went to the police with the messages because she was worried that Kratz would stop prosecuting her ex-boyfriend if she rebuffed his advances any further, according to Foley. The Department of Justice took over the case in March of 2010, but found that, while Kratz acted "inappropriately," he did not commit any ethical violations. From there, Kratz chose to step down the from the Crime Victims Rights Board, where he served as chairman, and self-reported his text messages with Van Groll to the state Office of Lawyer Regulation.
Shortly after Foley published the piece, two more women stepped forward to claim that Kratz had sexually harassed them as well, CBS News reported. The second, unnamed woman, claimed to the Associated Press that Kratz asked her on a date to see an autopsy performed. Bob Craanen, Kratz' lawyer, stated that her claim was "completely bogus," and that, though Kratz did take the woman on a date, he never asked her about an autopsy. Law student Maria Ruskiewicz also came forward to the Associated Press and claimed that Kratz asked her for sexual favors in exchange for him supporting a pardon for a drug charge Ruskiewicz had received years earlier. At the time Ruskiewicz came forward, CBS News reported that Kratz was receiving in-patient therapy, and that his attorney Craanen did not have a response to the claims.
In September of 2010, CBS reported that Kratz went on medical leave. He told the Associated Press in a phone interview that he received six months of psychotherapy after the text messages were revealed to the Office of Lawyer Regulation and would continue receiving therapy, reports CBS News. Making A Murderer claimed in title card that Kratz had suffered from a prescription drug problem. Kratz decided to resign from his position as District Attorney in October of 2010, stating in a media conference that he had lost the respect of the people he represented.
CBS reported that Kratz, who was working as a defense lawyer since resigning as District Attorney in Calumet County, Wisconsin, had his law license suspended for four months beginning June of 2014. The ruling came after the Office of Lawyer Regulation reopened the case created after Van Groll reported the inappropriate text messages. According to Fox, Kratz testified in a state Office of Lawyer Regulation hearing in 2012 that prescription drugs "lowered his inhibitions," which led to him texting Van Groll inappropriately. In addition to having his license suspended, Kratz was forced to pay $23,904 to cover the costs of the disciplinary proceedings.
Although Kratz's behavior does not have any bearing on the case within Making A Murderer, he stated to Fox 6's partners at WLUK in Green Bay, Wisconsin, that he has received threatening messages and insults following the release of the docuseries. Today, what appears to be Kratz' website shows that he is working as a defense attorney in Wisconsin.
Image: Netflix