Adorable Notebooks Are Designed Just For Lefties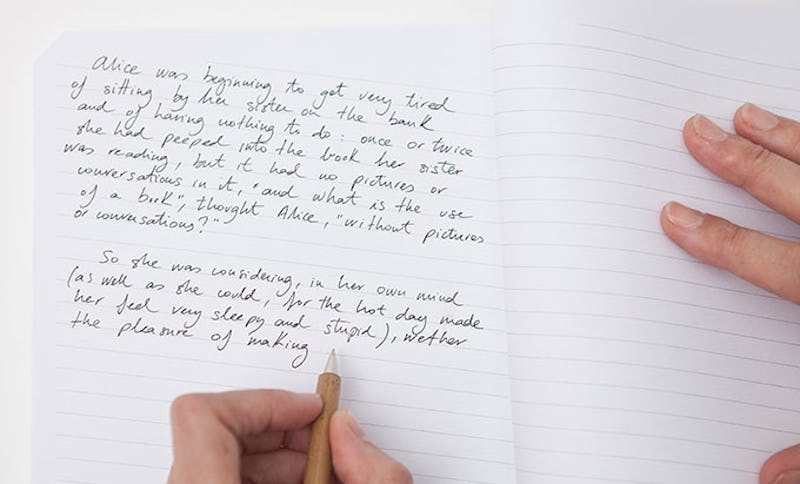 The every day struggles of our lefty population is being taken on by a man and his notebooks for left-handed writers. These notebooks are designed to prevent all of the annoying and downright dumb setbacks that lefties experience daily. While I personally have never had the same problems due to my right-handedness, I totally sympathize! It would suck having to conform to a standard that doesn't feel natural to me. That is why I avoid rompers and drinking red wine.
Imborable, an international company based in Spain, noticed that lefties are either washing their hands due to pens smudging or holding their pens in weird and uncomfortable ways. That's not ideal for anyone! That's why they created a notebook with slanted lines for comfortable writing. If you are thinking that this is a waste of time because there aren't that many lefties —you'd be wrong. There are a ton of them! According to the company's Kickstarter video, there are around 732 million people out there who are left-handed. That's not a small drop in the bucket.
Imborable has calendars, journals, notebooks and little notepads, all designed to make life easier for lefties. That's a pretty great goal to set for oneself. Check out their Kickstarter video that explains their business model, products and standards below.
Not bad, right? I really dig their designs.
1. The Problem
Ugh. Smudged hands. This sucks!
2. The Solution
Slanted line paper! Such a quick fix, I'm surprised no one has come up with something quite this cool. Wait until you see all of the designs below. It will have you wishing you were a lefty.
3. The Basic Design
Quality paper products that are also environmentally friendly.
4. The Other Designs
Froot Loops, people. They have Froot Loops on the covers. I don't know about you, but if I had a lefty in my life, this would be the perfect stocking stuffer.
Images: Kickstarter/ Jaime de la Puente