16 Festive Christmas Brunches To Enjoy This Year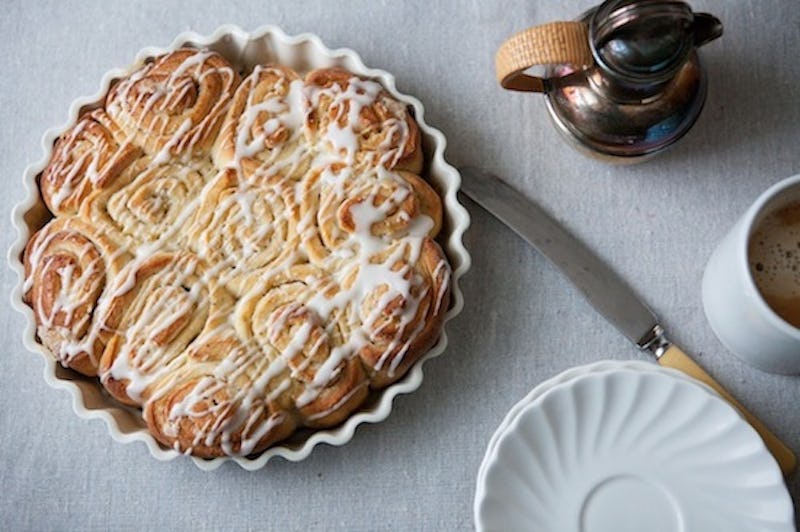 It's pretty universal that Christmas morning used to be the most exciting part of the holiday if you grew up waiting to open your presents from Santa that were left under the tree. But as I've grown older, I have come to not just appreciate Christmas morning because it offers a great window for gift-getting and receiving, but because it allows me to indulge in some of my favorite Christmas brunch recipes. Seriously, if you're not trying out some holiday breakfast recipes, then you are missing out on a great variety of Christmas-themed foods.
Sure, I admit that there are certain pros and cons to eating breakfast on Christmas morning. But it doesn't have to get in the way of your present-opening if you let it. Trust me — you can take a break between opening what's under the tree, and tackling what's in your stockings. And if that break is filled with amazing egg dishes, warm baked goods, or irresistible pancakes, it will be well worth it. You may even choose to go extra festive by adding peppermint to your breakfast, or trying out a unique eggnog recipe for your first meal of the day.
The point is, Christmas only comes around once a year. So you may as well go all out, right? These 16 recipes will help you celebrate in the tastiest way possible.
1. Eggnog Cinnamon Rolls
You can't deny the allure of eggnog during the holiday season, and A Beautiful Mess harnesses it for its full potential.
2. Candy Cane Bagels
I love bagels, but bagels that look like candy canes? Half Baked Harvest has won the game.
3. Cinnamon-Sugar Streusel Baked French Toast
The holiday season makes me want to turn my oven on more often, and A Cozy Kitchen's baked French toast is a great excuse to do just that.
4. Holiday Buns
These simple and sweet buns by Mel's Kitchen Cafe can easily become a holiday tradition.
5. Chocolate Chip Peppermint Scones
These scones by Naturally Ella would be great both on your dessert table and on your breakfast buffet.
6. Kale And Potato Breakfast Hash
For a savory, hearty start to your day, try out A Beautiful Mess' breakfast hash. Pro-tip: Break out the Sriracha for this one.
7. Eggnog Chocolate Marzipan Babka French Toast
Chocolate, eggnog, marzipan, oh my! Half Baked Harvest's fancy French toast is a sweet tooth's dream.
8. Overnight Gingerbread French Toast Bake
If getting out of bed is hard enough, you'll love A Cozy Kitchen's overnight French toast bake. Just pop it in the oven as soon as you roll out of bed, and your home will smell amazing in no time.
9. Whole Wheat Gingerbread Pancakes
Heat up your griddle — Naturally Ella's are a simple morning dish to make just after all the presents are unwrapped.
10. Cardamom-Lemon Sticky Buns
Fragrant cardamom and citrus make Five and Spice's sticky buns an unexpected yet tasty alternative to traditional cinnamon rolls.
11. Drunken Monkey Bread
A touch of bourbon only makes A Spicy Perspective's gooey, sweet pull-apart breakfast all the more decadent.
12. Christmas Breakfast Strata
For lovers of all things savory, it doesn't get much better than The Kitchn's strata filled with eggs, sausage, and plenty of cheese.
13. Slow Cooker Cheesy Breakfast Potatoes
The best part about Damn Delicious' breakfast potatoes? All you have to do is throw the ingredients in your Crock-Pot, and you have one incredible breakfast.
14. Cinnamon Eggnog Oatmeal
If you're not looking to make a fuss, then Marla Meridith's eggnog oatmeal is an easy way to feel festive Christmas morning.
15. Red Velvet Peppermint Doughnuts
Or, if you're looking to go extra indulgent, you can't go wrong with Inside BruCrew Life's unreal red velvet doughnuts.
16. Holiday Breakfast Wreath
Not only is The Kitchn's cranberry-almond wreath super festive, it's also easy to make ahead a time — so no stress!
Looking for more holiday cheer? Check out Bustle on YouTube.
Images: A Cozy Kitchen (3); A Beautiful Mess (2); Half Baked Harvest (2); Mel's Kitchen Cafe; Naturally Ella (2); Five and Spice; A Spicy Perspective; The Kitchn (2); Damn Delicious; Marla Meridith; Inside BruCrew Life