J. Law Shares Good News For Gale & Katniss Fans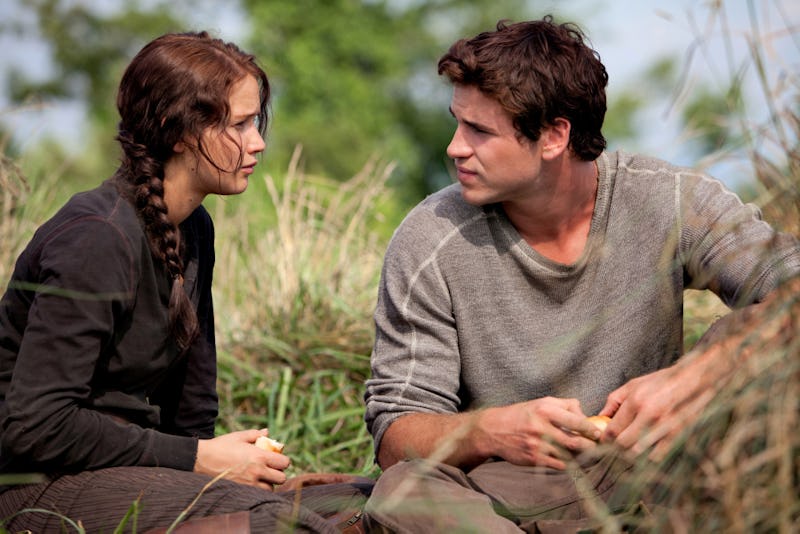 It's been covered before in many different ways by many different people, but Jennifer Lawrence is incredibly relatable. So when Lawrence appeared on Watch What Happens Live with Andy Cohen, it wasn't a matter of what she would say that would make us all go, "OMG, she's just like us!" It was a matter of when. That was sort of the case when Lawrence admitted to kissing Liam Hemsworth off-camera, who, as all Hunger Games and non-Hunger Games fans know played Gale Hawthorne to her Katniss Everdeen in the film. However, it was her reasoning that was more relatable to the universe than which side of the eternal Hunger Games 'ship war you fall on. "Liam and I grew up together. Liam's real hot. What would you have done?" Lawrence asked. OMG, she's just like us!
Of course, that wasn't the only relatable confession that Lawrence made during the game — apparently, she smoked weed with her brother prior to one of the Oscars ceremonies, but she won't reveal which one — but this is the confession that is most relevant to Hunger Games fans. After all, when Cohen pointed out that he would pick Gale over Peeta any day, Lawrence replied, "I did. At one point." And then broke out laughing. Whether you're Team Gale or Team Peeta or Team Katniss doesn't matter, either during the franchise of films or even during this interview. Because, the fact of the matter was, Katniss did choose herself, and then she chose Peeta as everything that she wanted for herself — so Team Gale fans totally deserve to have this small consolation prize in a 'ship war that got almost as ugly as the Harry Potter 'ship wars that used to blossom back in the day. Almost.
Honestly, if there was anything that the Hunger Games films made clear, it was Gale barely ever had a chance when compared to Peeta. The Hunger Games: Mockingjay — Part 1 was basically "Katniss wants to get Peeta back and Gale hangs around in the background going, 'Um, hey, hi, I'm here too'": The Movie. (It's true, and you know it's true.) But, when the cameras weren't rolling, the fact that Lawrence and Hemsworth have kissed is just another reason for me to love her. While we don't get the context under which they've kissed — despite the fact that there have been rumors that Lawrence and Hemsworth have dated, I don't believe that they ever did — Lawrence is basically proving that even celebrities can make out with their hot friends and not have it be a big deal until years later when they have to admit it on an Andy Cohen show. And, even better, she sounds damn proud of herself, as she should be.
Check out the game below, and allow this to be your bright spot of hope in a dark world Team Gale fans. And Team Peeta fans? Well, take comfort in the fact that what happens off-camera in no way reflects what happens on-camera, or vice versa, because your 'ship is safe, and I'm positive that Lawrence still loves it as much as you do.
Image: Lionsgate; Giphy