For Love & Lemons Is Hitting The Beach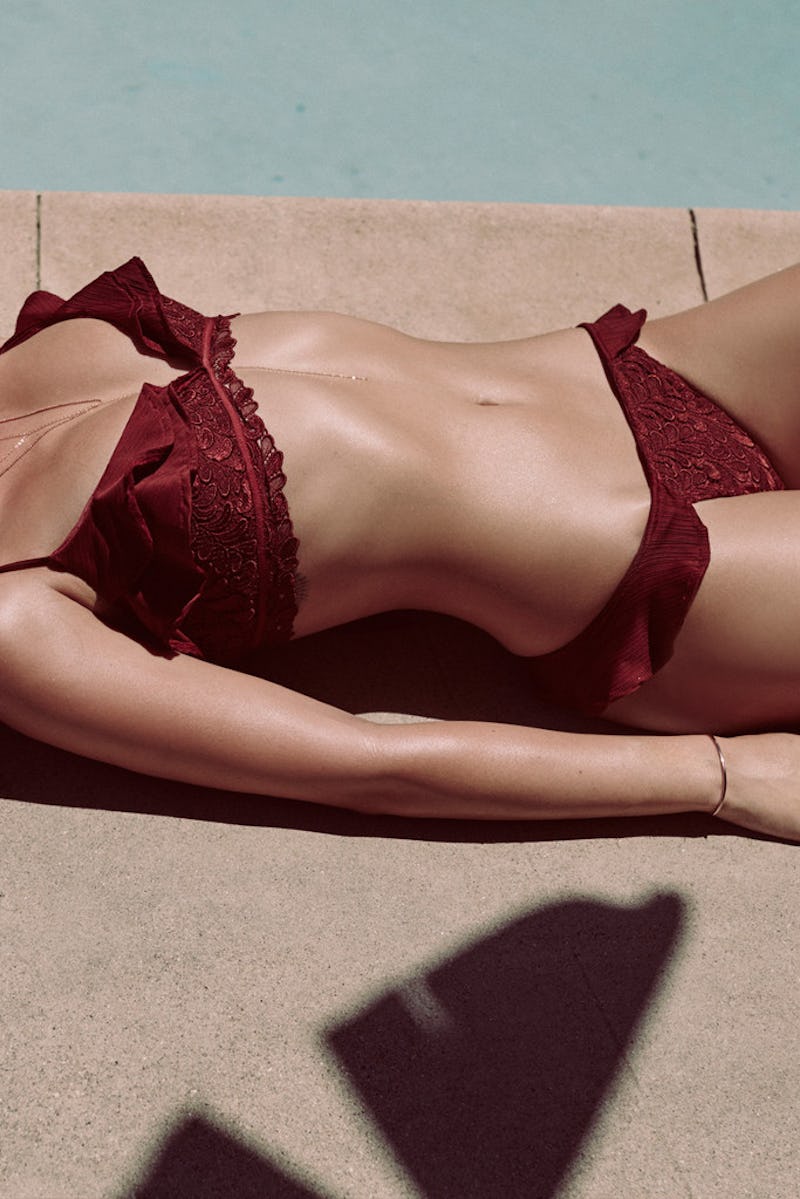 With the holidays in full swing, I've seen just about all of the sequins and ugly Christmas sweaters I can handle (OK, who am I kidding? I live for this time of year). But, when For Love & Lemons releases a debut swim line, it's a welcome reprieve, no matter how big of a sucker you are for that Rudolph knitted pullover. The brand's got me feigning for summer with this new collection. Snow, hot cocoa — it's been great, but I'd be willing to trade for the beach and a piña colada right about now. Oh yeah, and I'll take a few of these suits to complete my summer dream.
Of course, this collection has all of the same delicate touches you'd expect from this brand. Crotchet and lace add femininity to sexy silhouettes, and you're left with all you could ever really ask for from a swimsuit. Perhaps the greatest thing of all is that the suits are already ready to shop, so if you're looking to get that summertime feeling a little early, For Love & Lemons has got you covered. Now, all you need to do is cancel your holiday plans and book that tropical vacay, instead.
Believe me — if your family saw these suits, they'd understand. They're just that good. Take a look at what the collection has to offer, and get ready to feel the sand between your toes (even if it's only in your head). A little daydreamin' never hurt nobody, you know?
1. Rivera Bikini
Rivera Underwire Bikini Top, $117; Rivera Bikini Bottoms, $108; For Love & Lemons
A lace-up bikini? For Love & Lemons knows the way to my heart.
2. St. Tropez One-Piece
St. Tropez One-Piece, $194, For Love & Lemons
This super sexy lace number is just what I'd expect from the brand, and I can't get enough of it.
3. St. Tropez Bikini
St. Tropez Bikini Top, $176; St. Tropez Bikini Bottom, $162; For Love & Lemons
This deep red reminds me of sangria, and I love to wear this suit as I sipped sangria by the pool. Wouldn't you?
4. Valencia Bikini
Valencia Bikini Top, $167; Valencia Bikini Bottom, $140; For Love & Lemons
It wouldn't be For Love & Lemons without hints of lace.
5. Sangria Triangle Bikini
Sangria Triangle Bikini Top, $108; Sangria Triangle Bottom, $117; For Love & Lemons
This skimpy two-piece would be a great thing to wear in the topic heat.
6. Crochet Cover Up
Rivera Crochet Cover Up, $252, For Love & Lemons
You need this super intricate crochet cover up to really top off your look, of course.
Just when you thought you couldn't be any more ready for a vacation, these suits just got you in the mood, didn't they?
Images: For Love & Lemons (6)