'Star Wars: Episode VIII' Feels Lightyears Away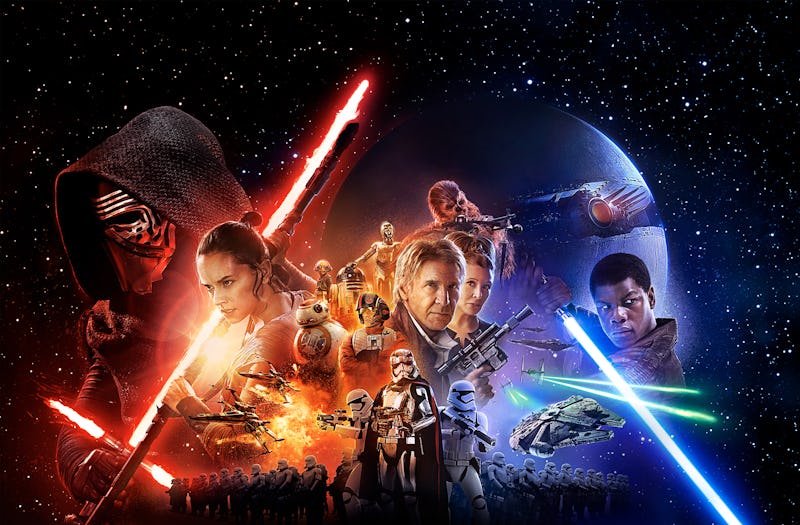 You ordered your tickets in October, you waited patiently for weeks, you braved the line at the theater, and finally you got to see Star Wars Episode VII: The Force Awakens. But now the adrenaline rush has worn off and you don't know what to do with yourself. You're in a cinematic slump, and all you can think about is when will the next Star Wars movie come out. After all, the thought of waiting what could be years for another film in the franchise just feels exhausting, doesn't it?
Thankfully, it won't be that long. The next Star Wars movie is just one year away; Rogue One, a stand-alone story, debuts on Dec. 16, 2016. But if you're more concerned with the next "real" Star Wars movie, aka the next one in the new trilogy, you'll have to wait a bit longer. Star Wars Episode VIII is set to be released on May 16, 2017. This release date coincides with the 40th anniversary of the first-ever Star Wars film, Episode IV, which hit theaters in May 1977. So in some ways it might seem like an unbearable wait until Episode VIII, but when put into the perspective of a 40-year-old film franchise, 17 months doesn't seem like that bad of a break, does it? Plus, the studio is releasing little tidbits of information here and then to give viewers a peek at what the new film will be like. Below is what is known about Star Wars: Episode VIII so far.
Rian Johnson Will Direct
The first piece of info to be released about the film was that Rian Johnson will be the director, a fact that was announced in 2014. Johnson is currently most well-known for his film Looper; you know, that one where they put a prosthetic nose on Joseph Gordon-Levitt. Clearly, he has a knack for sci-fi, but only time will tell how he handles a series as big as Star Wars.
The Entire Episode VII Cast Will Return
At the London Premiere of The Force Awakens, producer Kathleen Kennedy confirmed to Bang Showbiz that all main cast members of the current film will be returning for Episode VIII. Probably a good move, since the current cast formula is clearly working out pretty well based on the film's financial success.
Filming Will Begin In January
Kennedy also revealed at the premiere that the cast members don't have a huge break between shoots, as principal photography for Episode VIII will begin in January. However, Entertainment Weekly reported that some sequences for the film were already shot in Ireland this past September.
It Won't Be The Last One
Star Wars movies comes in groups of threes, and so there will be an Episode IX t o round out this trilogy. The ninth film will be released in 2019.
Even if you're super anxious for the release of Stars Wars: Episode VIII, take some solace is knowing that the film is definitely on track.
Images: Walt Disney Studios Motion Pictures (2)