'Star Wars' Is Just Getting Started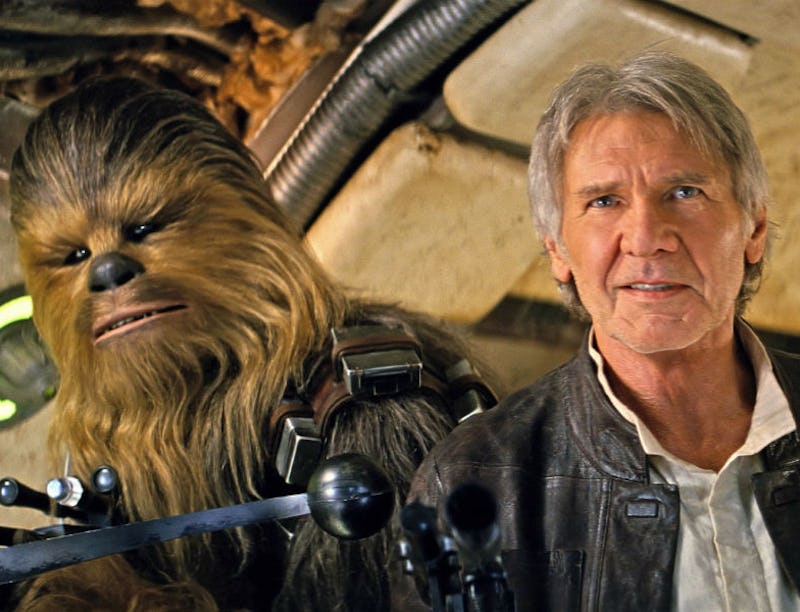 On the night of Dec. 17, 2015, the world will never be the same, because Star Wars Episode VII: The Force Awakens will open in theaters. Not only will it make a bajillion dollars, but it will also continue the adventures to the original trilogy — and maybe the prequels, but personally, I'm totally fine if they just leave those on the shelf. It will also introduce the franchise to a whole new generation of Star Wars geeks to carry on the legacy that George Lucas started in 1977. Because let's face it, Star Wars is not just a movie. It's a pop culture institution that everyone knows about, and for nerds like me, it was our childhood. So you'd forgive me for anxiously wondering just how many Star Wars movies there will be — I need to know what, exactly, I can look forward to for the next couple of years.
Strap yourself into your X-Wing fighter, because you will be getting a fair share of Star Wars movies for the next couple of years — five films, to be exact. Not that I'm in any rush; right now, the world is just chomping at the bit as we wait for the opening of The Force Awakens. It's already broken box office records, gained praise for its racially diverse cast and female lead character, and created some iconic characters like the rolling ball droid, BB-8 and the villanous Kylo Ren — and the movie hasn't even come out yet!
And soon after, The Force Awakens will jumpstart a whole new life for Star Wars with a brand new trilogy and spin-off movies from the franchise once a year from now until 2020. So if you're a diehard Star Wars fan, you might want to get your calendars out and mark down these important dates.
Rogue One: A Star Wars Story (Dec 16, 2016)
In one year, we'll be treated to Rogue One, starring Felicity Jones. The first standalone spin-off movie of the franchise takes place before the events of Star Wars IV: A New Hope.The story is about a group of bounty hunters who plan to steal the plans for the original Death Star, and it's being labeled it as a heist movie. Think Ocean's Eleven but in space.
Star Wars: Episode VIII (May 26, 2017)
Filmmakers were so tight-lipped about The Force Awakens that it's no surprise there is no evidence what this sequel will be about. The only news that has been released is that Rian Johnson (who gave us the awesome movie Looper) is writing and directing. I can live with that.
Star Wars Anthology: Han Solo (May 25, 2018)
A standalone Han Solo origin story directed by the guys who gave us The Lego Movie (Phil Lord and Chris Miller)? Please and thank you.
Star Wars: Episode IX (2019)
Jurassic World's Colin Trevorrow will direct the final installment of this trilogy with a script written by Rian Johnson. Will someone turn to the dark side? Will there be Ewoks? Will Jar Jar make a cameo? Who knows what will happen in this grand finale. All I know is that I am nerding out over all of this.
Star Wars Anthology: Boba Fett (2020)
Director Josh Trank (Fantastic Four) was supposed to take the reins for this one, but since he left there have been rumors about whether or not it will still happen. But rest assured, according to Lucasfilm president Kathleen Kennedy, the Boba Fett movie will still happen.
Perhaps all of this will be the set up to yet another trilogy. I'm sure nobody would mind that.
For more Star Wars, check out Bustle's Youtube channel:
Images: Walt Disney/Lucasfilm (2); Giphy (4)