''How I Met Your Mother' Got New Year's Eve Right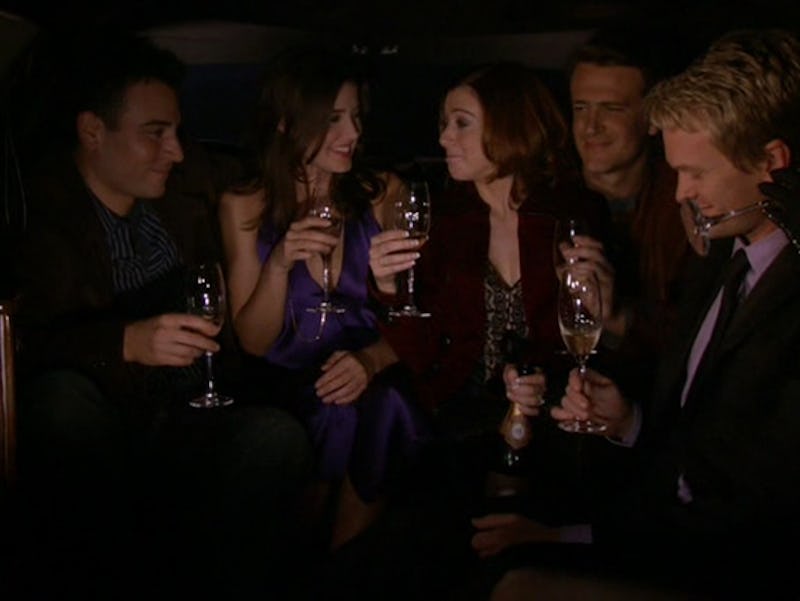 Since most holiday episodes of television tend to focus around Christmas or Thanksgiving, it's always pleasant to see another celebration represented from time to time. For example, the New Year's Eve episode of How I Met Your Mother "The Limo" is an understated classic. It's Season 1, Episode 11. Remember the early days of HIMYM? We were all so innocent. I particularly love this episode because it really gets the emotional roller coaster that is New Year's Eve right. It's maybe the only time that the holiday doesn't look great on television.
In the episode, our gang attempts to have the ultimate New Year's Eve by renting a limo and traveling to multiple epic parties. Except they don't make it to most of the parties. From traffic to car trouble and missed communication, everything that could possibly go wrong does, but against all odds they manage to have a good time and stay psyched. It's also a bottle episode, because the whole story takes place inside, or just outside, the limo.
Especially if you live in New York City, though I think some of these are universal. (No, out of town friends and family, I'm not going to Times Square to watch the ball drop on New Year's Eve. I don't hate myself.) If you're already wary about ringing in the new year, revisit "The Limo" with me as we remember what it gets right about New Year's Eve.
1. You Try To Get Psyched
Every December, we muster up all of our remaining holiday cheer and try to pull it into the last night of the year.
2. It Kind Of Sucks
Barney, who is always psyched, calls New Year's Eve "the single biggest letdown of a night every single year." Plus, maybe I'm just settling into a grandma personality, but the kind of chaos that is being out on New Year's Eve is no longer appealing to me.
3. Everyone's Hungry
Whatever your plans are, don't forget to eat!
4. Stay With Your Friends
The gang gets separated, and it's the worst. The key to New Year's Eve is to keep everyone close.
5. The Shoes Are Never Worth It
New Year's Eve is the time for your sparkliest ensemble, but you're almost always paying for it when January rolls around. Lily ends up having to quit the party to change shoes — learn from her mistakes! Bring a backup!
6. You Meet Some Weird People
Between Not-Moby, Ted's overly friendly co-worker, and Barney's foreign (and trashed) date, the episode nails the kind of strangers that infiltrate your squad on New Year's Eve.
7. Calling People Is Pointless
The circuits were jammed in 2006 when this episode took place and I'm not sure if that's still a thing in 2015. Still, between dead batteries and public transportation, you may be out of luck.
8. The Littlest Things Bum You Out
What finally breaks Barney is losing his "Get Psyched Mix," and he quickly spirals into a year-end depression.
9. Sometimes, Miracles Happen
Fine, call me romantic, but while not everyone's New Year's Eve is When Harry Met Sally worthy or anything, sometimes everything pulls through. As cynical as the How I Met Your Mother gang gets over the course of the night, they manage to get in the spirit before the clock runs out.
Images: CBS (2); f*ckyeahhowimetyourmother/Tumblr (6)