Lazy Makeup Ideas For Rough Mornings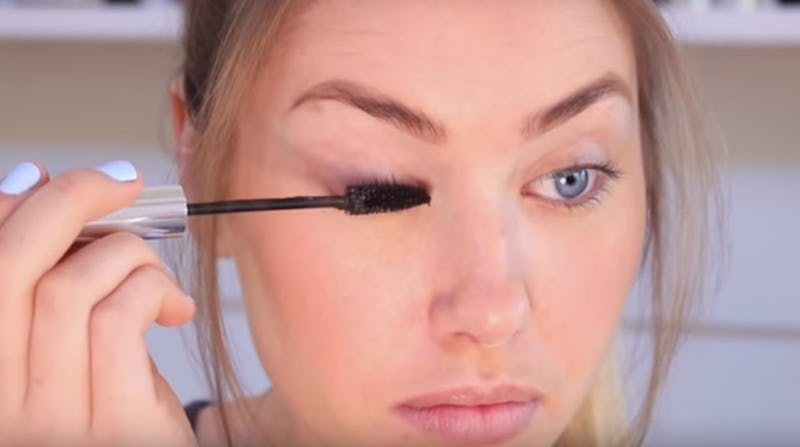 There are some days when it's totally acceptable to stay in your pajamas forever and no one can judge you. A PJ day generally means not doing your hair and makeup, but what if you're in a situation where photos might be taken? You probably don't want to look like you literally just rolled out of bed. On the other hand, looking too done up is kind of ridiculous — I mean, you're lounging around the house, not wearing a cocktail dress and heels. So you need to perfect that lazy girl makeup look for those mornings. It's the perfect way to look polished enough for photos, without looking like you made too much effort.
Putting on a full face of makeup can also take a lot of time, and given that you're probably not feeling that life if you're having a lazy day, you don't want to be the one holding everyone up spending an hour getting ready. But as long as you pair your makeup down to a few essentials (maybe some blush or bronzer, mascara, and a natural lipstick or gloss), you can get ready in less than ten minutes. And that is something your family will thank you for.
If you need some inspiration for natural, quick, and lazy makeup ideas, try these seven tutorials.
1. "No Makeup" Makeup
Nothing says natural like looking like you aren't wearing anything at all.
2. No Foundation
Skip the foundation on lazy mornings and let your skin breathe.
3. Five Minute Makeup
The faster, the better.
4. Mascara
All you need to make your eyes pop is some mascara, then keep the rest of your face bare and natural.
5. Bronzer
If you don't want to bother with eye makeup, give your skin a little glow.
6. Nude Lipstick
Save the red for the evening.
7. 10 Minute Glam Makeup
If you do want to look a little more "done," then this tutorial will help you nail your routine in 10 minutes.
And if you need some hair inspiration, try these messy but chic hairstyles.
Want more beauty tips? Check out the video below, and be sure to subscribe toBustle's YouTube page for more hacks and tricks!
Images: YouTube