The ONE Holiday Treat You Need, Starring Bacon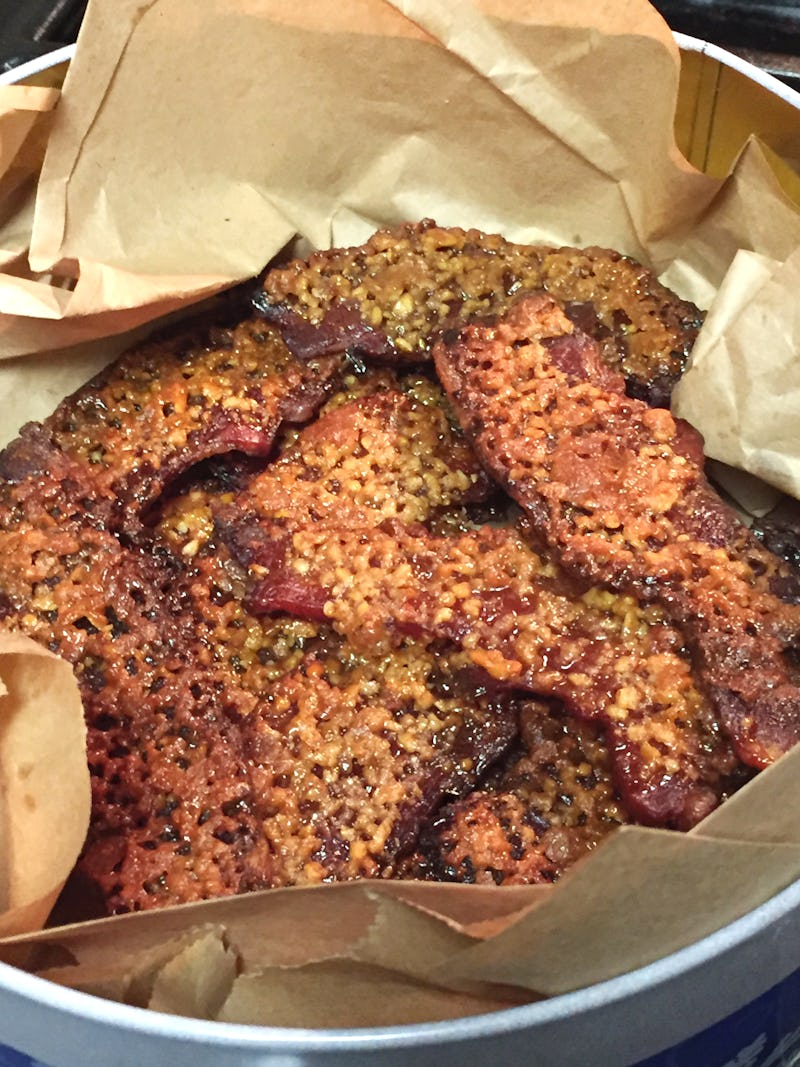 Christmas cookies and candy canes and eggnog are great and all, but there's really only one thing I want this holiday season — bacon. Good for more than just brunch, this quintessential breakfast food becomes the thing holiday dreams are made of thanks to this amazing almond bourbon candied bacon recipe, aka the only recipe you need on your radar this season (or any season, for that matter). Recipe creator Heather Travier devised this amazing creation by combining her love of bacon with different candied bacon recipes she's tried over the years, and the result is pure deliciousness. Actually, it kind of makes me feel bad for throwing around the word "delicious" so freely with other recipes — this is where it's at, people.
Not only is this easy, it's also efficient — the recipe only requires 15 minutes of prep time, and one batch is enough to serve 10 to 12 people, meaning this is the last-minute recipe you've been missing. Light brown sugar and maple syrup perfectly complement salty, thick-sliced bacon, while a shot of bourbon and a pinch of cayenne give it an unexpected kick. Honestly, give this a try, and you may never go back to Christmas cookies ever again. I mean, why would you when you could have bacon?
Ingredients:
1/2 cup light brown sugar, lightly packed
1/2 cup sliced almonds (optional)
1/4 teaspoon ground cayenne pepper
2 tablespoons pure maple syrup
1 shot of bourbon
1 pound thick-cut bacon
Directions:
1. Preheat oven to 400 degrees. Line a cookie sheet with foil, and place a cooling rack on top. Set aside.
2. Add brown sugar and almonds to the bowl of a food processor. Pulse until almonds are finely chopped. Add cayenne pepper, maple syrup, and bourbon, and pulse until just combined to make a crumbly, sticky paste.
3. Cut bacon in half cross-wise, and place on top of rack. Be certain that the slices do not touch each other. Use a spoon or your fingers to pat down the almond-brown sugar mixture evenly among the slices of bacon. (It's OK if it's in chunks — it will spread out evenly in the oven.)
4. Bake for 20 to 25 minutes, or until tops are browned but not burned, or until bacon is crisp with most of the fat rendered off. Remove from the oven and place on a paper towel-lined plate.
5. Serve at room temperature, and enjoy!
Note: Make sure you bake bacon to your desired degree of doneness. If bacon is undercooked, it will not crisp as it cools.
Looking for more holiday cheer? Check out Bustle on YouTube.
Recipe courtesy of Heather Travier; Images: Heather Travier