16 Healthy Smoothies To Sip In 2016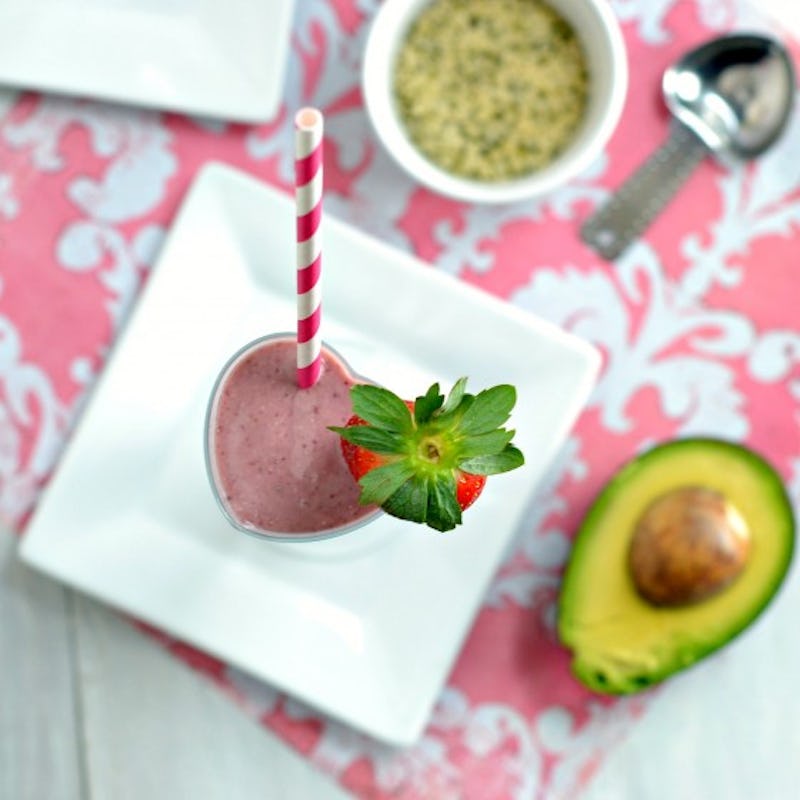 The New Year means it's time to buckle down once more on our goals of healthy eating and improved wellbeing — and to break in that blender we got for Christmas. So, I'm turning to some healthy smoothie recipes for a nutritious and delicious start to 2016. Smoothies are an easy way to get some more vitamins into your diet. Plus, they're super fun to drink, so what's not to love?
Keeping your New Year's resolutions can be a challenge without a plan of action. Simply saying that you want to be healthier without actually making a change does nothing. If your goals can be tackled with just a few different lifestyle changes, then you're far more likely to actually achieve them. Having a fruit or veggie-filled smoothie can start your day off on the right foot, making it easier to become a morning person and to eat healthier. So it's about time you start using that blender more often — the results may just be even better than you thought.
These 16 easy smoothie recipes will help you to bounce back from a holiday season of indulgent eating. Grab some fruits and vegetables and get blending — it's going to be a refreshing new year.
1. Green Apple And Spinach Smoothie
Trying to ease into the green smoothie grind? A Beautiful Mess shows that a little apple can go a long way.
2. Strawberry Almond Smoothie Bowl
Skip your morning oatmeal with this fruity bowl by A Cozy Kitchen.
3. Cherry Revitalizer Smoothie
You're going to want to stock up on fresh cherries to make this energizing smoothie with Averie Cooks.
4. Sunshine Smoothie With Coconut, Clementine, And Turmeric
Banish winter colds with this Vitamin C-heavy smoothie by The Kitchn. Turmeric will give your immune system a serious boost.
5. Green Smoothie
Kale smoothies don't have to be boring. Mango and banana make A Spicy Perspective's green smoothie perfectly tropical.
6. Raspberry And Coconut Smoothie
A sprinkle of dried coconut on top of A Beautiful Mess' smoothie makes it feel like a deceptively healthy dessert.
7. Mango Banana Coconut Smoothie With Chia Seeds
For an extra creamy drink, A Cozy Kitchen uses coconut milk to make this smoothie.
8. Tropical Green Smoothie
Don't worry about spending major cash on out-of-season produce. Averie Cooks uses frozen fruits and vegetables to make this vibrant drink.
9. Green Smoothie With Spinach, Pear, And Ginger
The Kitchn shows that a little bit of ginger goes a long way in this zesty beverage.
10. Blueberry Black Tea Smoothie
Need a bit of a caffeine boost? Naturally Ella proves that black tea and blueberries are a perfect match.
11. Clementine Sunshine Smoothie
With just four ingredients, you'll want to keep making Cookie and Kate's clementine smoothie again and again.
12. Happy Digestion Smoothie
Next time you have a stomachache, bring out the blender. Oh She Glows puts avocado, ginger,and pineapple to good use.
13. Strawberry Avocado Smoothie
Avocado is good for more than just guac! Cara's Cravings uses it to make a strawberry smoothie creamier than ever.
14. Power Of Pink Smoothie
This vibrant smoothie by Oh She Glows has a surprise ingredient: beets! These vegetables make this drink one healthy detox beverage.
15. Green Monster Smoothie
Almond milk, spinach, and banana are a golden trio when it comes to smoothie-making, as Naturally Ella proves.
16. Banana Almond Smoothie
If you're an almond butter fanatic, you won't be able to get enough of Cookie and Kate's banana almond smoothie.
For more food ideas, check out Bustle on YouTube.
Images: Cara's Cravings (2); A Beautiful Mess (2); A Cozy Kitchen (2); Averie Cooks (2); The Kitchn (2); A Spicy Perspective (2); Naturally Ella; Cookie and Kate (2) ; Oh She Glows (2); Naturally Ella (2)