'RHOA' Showed More Business Fallout From Kandi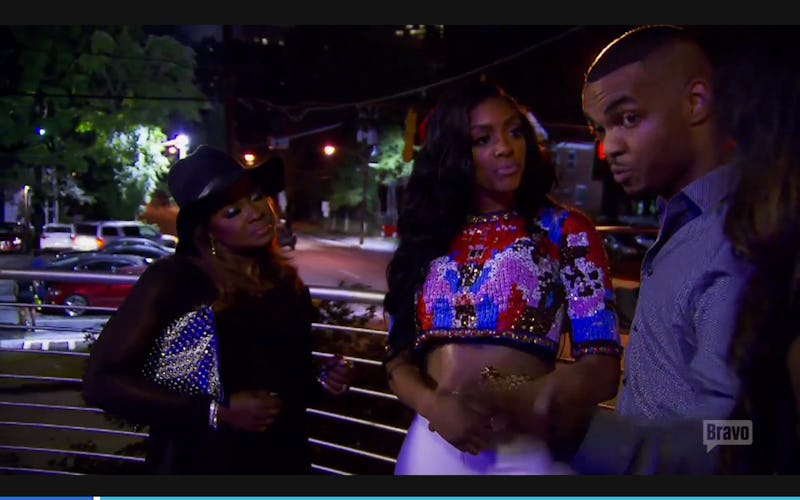 Friends don't let friends go into business with one another. While this episode of Real Housewives of Atlanta did feature one successful business arrangement between two 'wives (well, current 'wife Kandi and former recurring star Demetria McKinney), it also showed just how hard it is for two friends to be in a business relationship together, with Todd & Phaedra planning a meet up to discuss their workout video receipts. But for some reason, Kandi's employee Don Juan & Porsha Stewart fought over the failed business deal, even though the others were happy to leave it until that meeting.
But when Don Juan overheard Porsha and Phaedra joking about money, he quickly stepped in and started suggesting that it was more than just money that had damaged Phaedra & Kandi's friendship. While no one denied that, it was Porsha who jumped in and started aggressively defending their right to talk privately about the issue without Don Juan's interjections.
Phaedra already had a hard enough time in this episode sending her older son, Ayden, off to kindergarten, in a scene that might have actually made me a little teary. Pretty sure Ayden is the cutest baby in the world and being forced to watch the little guy so scared of heading off to school for the first time should count as emotional torture.
But the worst part of the fight is that Porsha went for some vaguely homophobic and sexist comments while trying to brush off Don Juan, saying he needs to "change his tampon." Yeah, it's a mostly harmless comment, but Real Housewives of Atlanta has always had issues with crossing lines of homophobia and suggesting that men are being too womanly when they get involved in personal arguments. If only Porsha didn't feel the need to go there.
Unfortunately, this seems like it may continue to affect Kandi & Phaedra's formerly close friendship. But in the next episode, it looks like this meeting between Phaedra and Todd might finally put the question of which one of them is right about the financial arrangements to rest. While they might not be able to repair their friendship overnight, let's hope that they can at the very least settle the business side with this meeting.
Image: Bravo (screenshot)